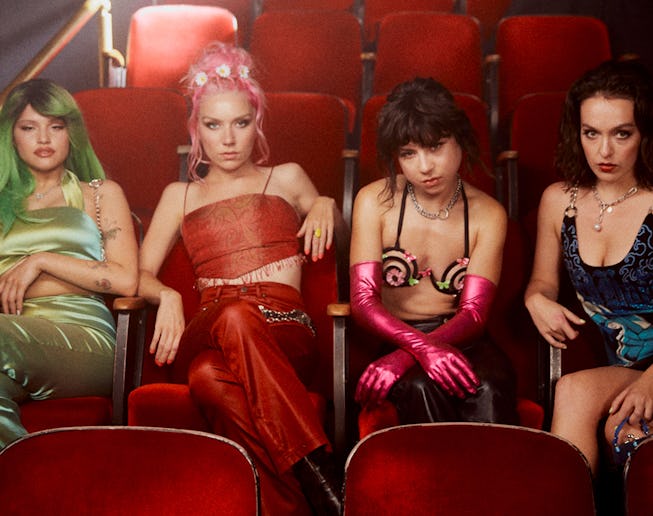 Nasty Cherry Explain Each Track On Their New EP, 'Nasty Cherry: The Movie'
The third EP from the Charli XCX-curated rock band has arrived.
The world first met Nasty Cherry in 2019, through the unscripted Netflix docuseries, I'm With The Band: Nasty Cherry — which followed their journey from complete strangers to forming an all-girl rock band put together by none other than Charli XCX herself. Now signed to her label, Vroom Vroom Recordings, the band is on their third EP, Nasty Cherry: The Movie, dropping on Friday.
Comprised of Gabbriette Bechtel (vocals), Chloe Chaidez (guitar), Debbie Knox-Hewson (drums), and Georgia Somary (bass), the group managed to get together enough during 2020 to create a sleek body of work. The new EP is a tight five songs, led by simple, synth-based single "Lucky." Below, the women of Nasty Cherry break down the EP's five tracks, in addition to premiering a performance of "All In My Head."
1. Six Six Six
We wrote "Six Six Six" with Charli, and from what I remember, we had a slower start with this one. We all took a long cigarette break, went back in, and it fell into place. We switched around the order of guitar melodies and put lyric melodies in "the wrong" places... it felt like a beautiful accident how it all came together. Charli made this process really exciting, turning our frustrations into a badass track. -Gabi
2. What's The Deal
When we wrote "What's The Deal," we started with bass and it came together pretty quickly. It feels like a soothing departure from the vibe of the rest of the EP, and we were definitely in a calmer, more reflective place that day in the studio. Literally one of the highlights of the whole writing process was watching Georgia improvise sweet nothings into a vocoder. I think it's on our Instagram somewhere. You should enjoy it, too. -Debbie
3. Her Body
"Her Body" is a song about a fresh breakup, where someone's ghosted you to get with someone else; you've got past the hurt and are now navigating anger and vulnerability, and wanting to tease that person about it. It was one of the first songs we wrote together after months apart, and we wrote it with Charli, so there was this really fresh energy in the room. We all drew from our own experiences with this situation to write the song, so it's a collective f*ck you to those situations where you've been sidelined for someone else. -Georgia
It's a very, very groovy song. Quite possibly, our grooviest? It's a liberating number about women's anger towards romantic relationships gone wrong. It's one of my favorite Cherry songs to date!" -Chloe
4. All In My Head
We were having a super slow day in the studio. We drank loads of coffee and ate loads and paced about, then "All In my Head" arrived out of nowhere and was practically finished in an hour. Chloe started singing something like the chorus and we all immediately had the same ideas for it. We wanted it to sound tragic and beautiful in its simplicity. Yves Rothman (our producer) completely got the vision and made it magical. -Debbie
5. Lucky
"Lucky" was one of the first songs we wrote. Our intention for the EP was to write about friendship and how much we love each other, and we were happy to be writing during this time. We came up with the idea of using the initials of our first names (G-G-D-C) as the chord progression, because how f*cking cute is that?! And the song came naturally, we were all gawking 'aww' through the entire process. -Gabi
Watch an exclusive live performance of Nasty Cherry's "All In My Head," below:
Nasty Cherry: The Movie is available on digital streaming platforms now.