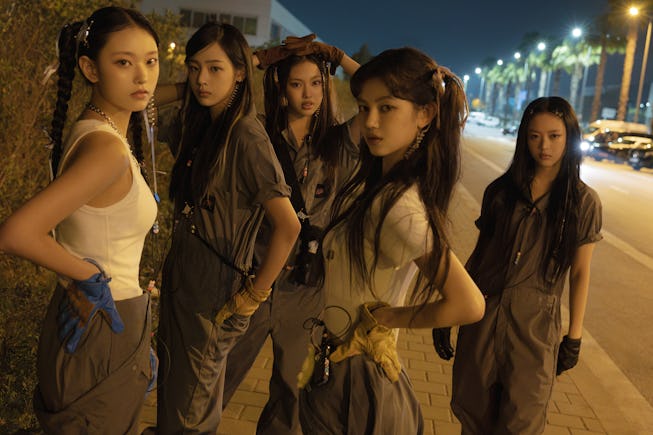 Ador
The NewJeans Hype Is Here & Now
Their 'Get Up' EP brings the biggest hits of the summer — while leaving you wanting more.
NewJeans may be new to the scene but make no mistake — their global takeover is already underway. The five teen popstars – Hanni, Minji, Danielle, Haerin, and Hyein – soft-launched into the mainstream in July 2022, debuting with their four-track self-titled EP. Following that record-breaking mini album and explosive back-to-back singles "ditto" and "OMG" at the top of 2023, the girl group has catapulted back onto our playlists with a series of unapologetically vulnerable confessions that prove they're the most exciting rising stars in K-pop at the moment.
NewJeans' latest mini album, titled Get Up, tugs on the Y2K heartstrings, and all five members are more confident than ever as they bring the biggest hits of the summer. With a runtime of just 15 minutes, every song is under three minutes, but they're nonetheless impactful. Min Hee Jin, the CEO of ADOR and creative mind behind NewJeans, told Billboard earlier this year that she wants the group to "break the stereotype that only certain styles of music would be able to succeed in the so-called mainstream industry." With Get Up, they do just that: breaking the barriers of the traditional K-pop method with a diverse roster of sounds ranging from high-octane pop to Jersey and Baltimore club, U.K. garage, and R&B and hip hop-inspired blends.
Since their debut, NewJeans has been cashing in on the early 2000s aesthetic in a way K-pop hasn't seen before. The group's creative direction seems to prioritize reaching (and resonating with) a global audience, from its experimental storytelling down to the impeccably kitschy styling that resembles a portal back into an early aughts slumber party. On top of that comes NewJeans' ultimate charm: their ability to turn repetition into a mesmerizing trance rather than interrupting the groove with overly-complicated song structures.
You hear it on the prologue "New Jeans," their collaboration with Powerpuff Girls, the early '00s superhero trio from Discovery's Cartoon Network, as they celebrate the series' 25th anniversary. With a vibrant music video channeling the show's strong sense of girlhood, the members introduce the concept of NewJeans and, in turn, an aspiration for their fans: "Look, it's a new me/ Switched it up, who's this?/ All eyes on us, NewJeans/ So fresh, so clean," followed by the chorus, "New hair, new tee, New Jeans, do you see?"
NewJeans doesn't want to be unattainable. Instead, they want to knock down the barrier between artist and fans: to feel all the more accessible as close friends, and not just idols. On "ETA" — a two-minute track exploding with funky instrumentals that nod to early 2010s K-pop sounds — they act the part as supportive ears amid drama in their close circle. "I saw it before but when you weren't there/ Sprinkling his gaze everywhere, so dazzling/ Honestly between us, he's been totally lying," they sing. These are the brutally honest observations only a BFF would have the guts to share.
NewJeans are making a habit of releasing music videos that are just as appealing as their music by enlisting A-list cameos, renowned directors, and eccentric locations all over the world to amplify the story they want to convey. "Cool With You" is one of the best examples on the album, with both its video — featuring cameos from Squid Game's HoYeon Jung and actor Tony Leung — and its lyrics weaving a modern adaptation of the Greek myth Psyche and Eros. In the video, HoYeon plays Eros, who gives up her godly status and chooses love, while NewJeans appear as her guardian angels following along. The dreamy ballad is similarly melodramatic. "What ending are you headed to?" they sing. "What's the best when I'm here right beside you?"
Get Up can be a mixed bag. At times, the album feels underwhelming and underdeveloped, leaving you hungry for more. Like the 40-second interlude "Get Up," which speaks to an over-obsession with a crush and fans argue should be a full-length.
The highly anticipated "ASAP" also falls short of expectations in comparison to the other meatier tracks, despite the hype built around leaked snippets. It makes you wonder if their label is falling into the traps of current music consumption habits, appeasing short-form content algorithms in this age of streaming. Maybe they have plans to expand some of the tracks, or maybe not, but only ADOR knows the answer to that.
Nonetheless, NewJeans' rapid rise to stardom has been a sight to witness. It's not every day you see such a young, rookie girl band — they're all between 15-19 years old! — reach such acclaim with only 13 songs under their belts, most of which go wildly viral. The gargantuan lead single "Super Shy" proved that power, amassing tens of millions of views in days and sparking a global dance craze. The NewJeans hype is here and now — are you getting on?