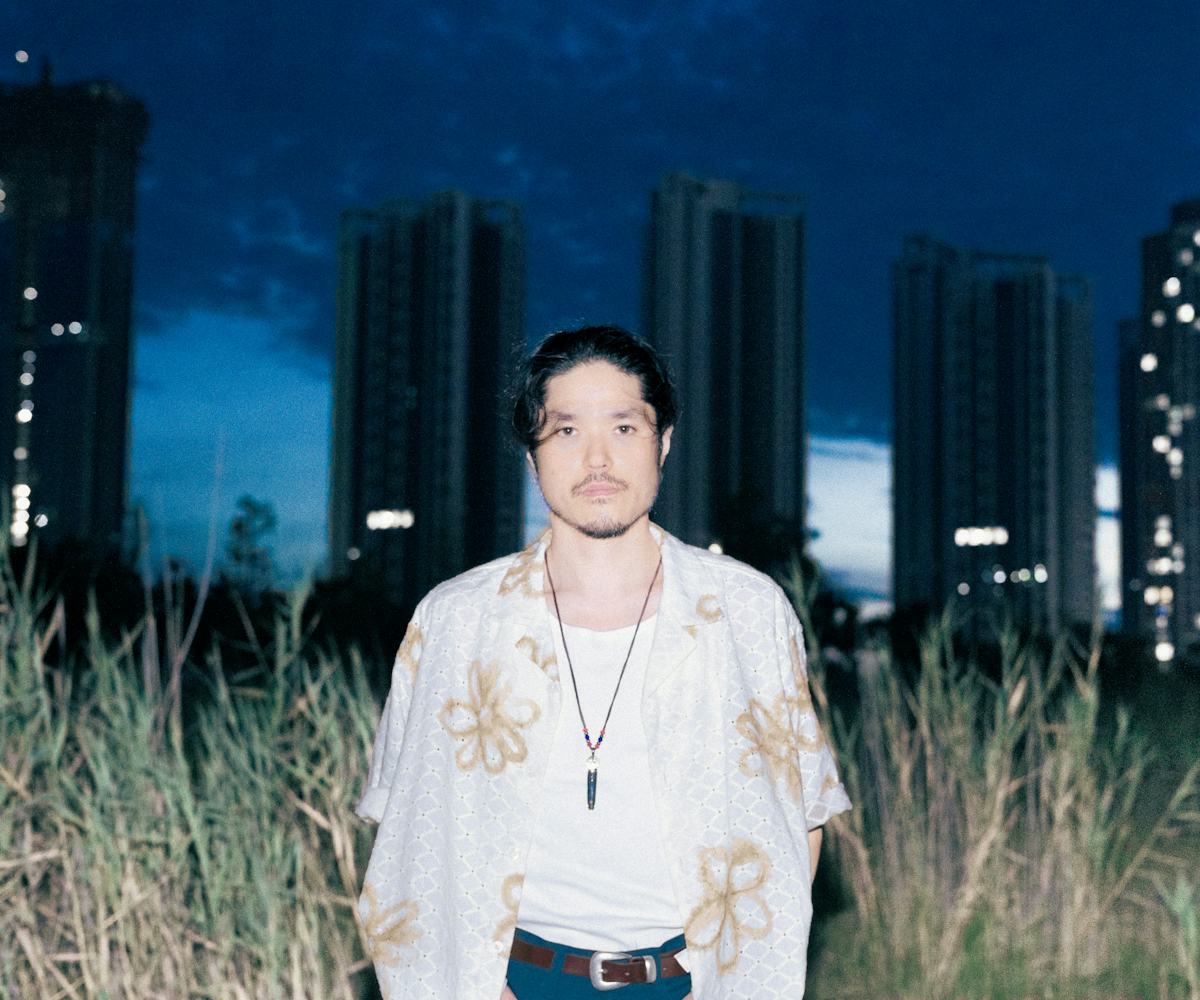 Abi Raymaker
Producer 250 On K-Pop, Trot & His Music Philosophy
A conversation with the electronic producer at Pentaport Rock Festival.
250 has had a busy 18 months. After years of working behind-the-scenes creating K-pop remixes and hip hop beats, the South Korean producer, musician, and DJ is stepping into a new spotlight thanks to his 2022 debut album PPONG and work as a producer for the breakout K-pop girl group NewJeans.
Born Lee Ho-hyung, 250 is the magic ingredient to NewJeans' youthful, Y2K-leaning sound. He's the main producer and writer behind hits "Hype Boy," "Attention," "Ditto," and "ETA," songs that lean on eclectic, dance-forward beats and feel like an expansion of what the K-pop genre can sound like. As the girl group has skyrocketed in the global music arena over the past year, so has his own solo discography and profile: in March, the producer and DJ received four major awards at the Korean Music Awards, including Artist of the Year, Album of the Year, Best Electronic Song, and Best Electronic Album, all for PPONG.
PPONG is named after the genre ppong-jak, an offshoot of Korea's soulful trot genre that tends to be more upbeat and feature electronic sounds. Unlike modern Korean pop genres, trot lyrics rarely contain non-Korean words and tend to use melodies that follow versions of the pentatonic scale, taking influence from the Japanese and Western music that dominated the early 1900s when trot was conceived. Although both genres are generally considered by younger Koreans to be cheesy and of an older generation, trot has experienced a comeback in recent years. 250's energized take on the genre on PPONG manages to infuse trot's characteristic yearning nostalgia with updated touches of humor and vitality — qualities that spill into his K-pop production, too.
Before 250 took the midnight stage at Pentaport Rock Festival in Incheon, South Korea on Saturday night, the producer sat down with NYLON to discuss his debut album, trot, and his philosophies on producing. His fashion style mirrors his music — nostalgic, stylish, and no-frills — and he cracks a dry joke before we start the interview.
This interview has been edited and condensed for clarity and length.
Can you explain the difference between the Korean genres of "ppong-jak" and "trot" to someone who has never heard of either genre before?
To be honest, it's a bit hard to talk about the difference to people who are hearing it for the first time. The sound itself is different, so there's definitely a noticeable difference when you just listen to it. On the flipside, I think it might help to explain what they share in common. Both genres, though different, are about good sadness, and about taking a step away from the sadness to view it more objectively, to repurpose it as material for entertainment.
How does it compare to other countries' music?
I don't think people living in different countries are that different. I think we all live a similar life, and as we live there's inevitable sadness that builds up. As the sadness builds up, there's an inevitable way of dealing with that sadness that develops in each country. I think this is how Koreans deal with that sadness, through ppong-jak.
Can you explain the personal significance of your album PPONG?
First of all, PPONG is my first album. I'm a producer who usually works on other people's music, not a performer like a singer or rapper, so the process of making a solo album was quite a mission for me. It was a question of how to make my own music for the first time, to represent my career as a musician, to represent my deeper self as an artist… Now it feels like I've been able to sync up the 250 that has been working as a producer with the 250 that I wanted to present, a musician who makes his own music. So to me, that's very meaningful.
You said you've listened to ppong-jak since you were young. Is this how you first became interested in music? How did your interest in music begin?
When I first heard ppong-jak, I didn't really like it. To be honest, when I was young, I actually hated ppong-jak: it was too loud, it was too fast, I just didn't like it.
When I was in my first year of middle school, my house and school were really far apart. It took around an hour and a half for me to get to school — by Korean standards, that's really far — so I would have to leave my house at around 6 a.m. to get to school on time. When I woke up in the morning, I didn't want to go to school, and then after a day of school I didn't want to go home because all my friends lived nearby the school, and I didn't want to spend an hour and half going home alone. I think music was what filled those lonely moments for me. Since then, I realized how important music can be.
Do you remember what artists or genres of music you were listening to at the time?
I liked hip hop a lot back then because I was in my first year of middle school. I was listening to Cypress Hill, Seo Taiji and Boys, Puff Daddy, Tupac, Notorious B.I.G., Wu-Tang Clan… And there was a compilation album with all the Grammy nominees that I listened to often, and I also listened to a lot of pop music through the Now [That's What I Call Music]! compilations. What I liked the most was hip hop, but through those compilations I started to listen to various other kinds of music.
If you didn't like ppong-jak at first, how did you end up liking it enough to make a project of it?
To be honest, I'm still not sure whether I like it or not. It took me about seven years to make the PPONG album. I could feel that ppong-jak music was deep inside me, but I thought it was too old-fashioned and too obvious. But then, I thought if this music is a part of me this deeply, whether I like it or not, it would be better to acknowledge and explore it. I don't dislike ppong-jak anymore, but I wouldn't necessarily say I like it. I listened to it with interest, it was fun, that's what I'll say.
"I'm interested in finding the characteristics or clichés that can define a genre, and I enjoy mixing them with those of other genres of music."
It's almost like you ran an experiment to find music you didn't like and kept going deeper and deeper into it. Are there other genres of music that you don't like currently but are interested in?
Something I've always been interested in is what defines a genre itself. We're at a rock festival today, but I think each band plays really different music. They use similar instruments, but still, it makes me think about what rock is. Hip hop ranges from the old-school hip hop I heard when I was young to the Travis Scott album that came out recently. But it's all hip hop, so what defines the genre? I'm interested in finding the characteristics or clichés that can define a genre, and I enjoy mixing them with those of other genres of music.
How do you choose artists to work with?
In the case of K-pop, I don't choose the overall blueprint for the artist, so I just make the best things I can with what I am given. I also talk a lot with rappers. I know what kind of person I am. I imagine what I could create based on their existing music. Sometimes, if the music contains certain parts but is missing others, I can tell I would enjoy filling in certain parts.
What do you think your biggest strength as a producer is?
In my opinion, I don't distinguish strongly between different kinds of music. I don't limit myself, thinking "this should sound like this," but rather I bring different things from my different experiences and genres and mix it all up. I think that's my strength.
What do you think about the diversity of K-pop? And in the future, how do you think it can develop?
I had a friend who was the team leader of a foreign K-Pop songwriting team. He was Swedish. I asked him what K-pop is, because I didn't really know myself. He said that in K-pop, anything seems possible. In the genre-sense, it's hard to differentiate. People talk about "the formula of K-pop". But I don't really understand that, because K-pop is really just pop music made by Koreans. So whatever we do, we don't need to follow any specific rules because no one can tell us something we made isn't K-pop. I'm a K-human, so if I make music, it can be K-pop. I think anything is possible if you think about it that way.
As far as pop music or international music, is there any specific producer, genre, or label you're interested in right now?
My favorite producer is Timbaland, and my favorite musician is Prince. Prince, Ryuichi Sakamoto, and Shin Hae Chul are my musical heroes.
What are you working on right now?
These days, I've been working on K-pop songs. In my current situation, I can freely create different songs and show them to K-pop companies to see if they are interested in them. Otherwise, I'm thinking about my next album more seriously — I want to release an album within a year and a half.
What have you decided about the album so far?
I've decided on the title, and I'm thinking about what direction to go in… The most important thing to me is that when I release it, it feels like my own album. So if I'm able to follow that feeling and make something true to myself, I think it will turn out well.