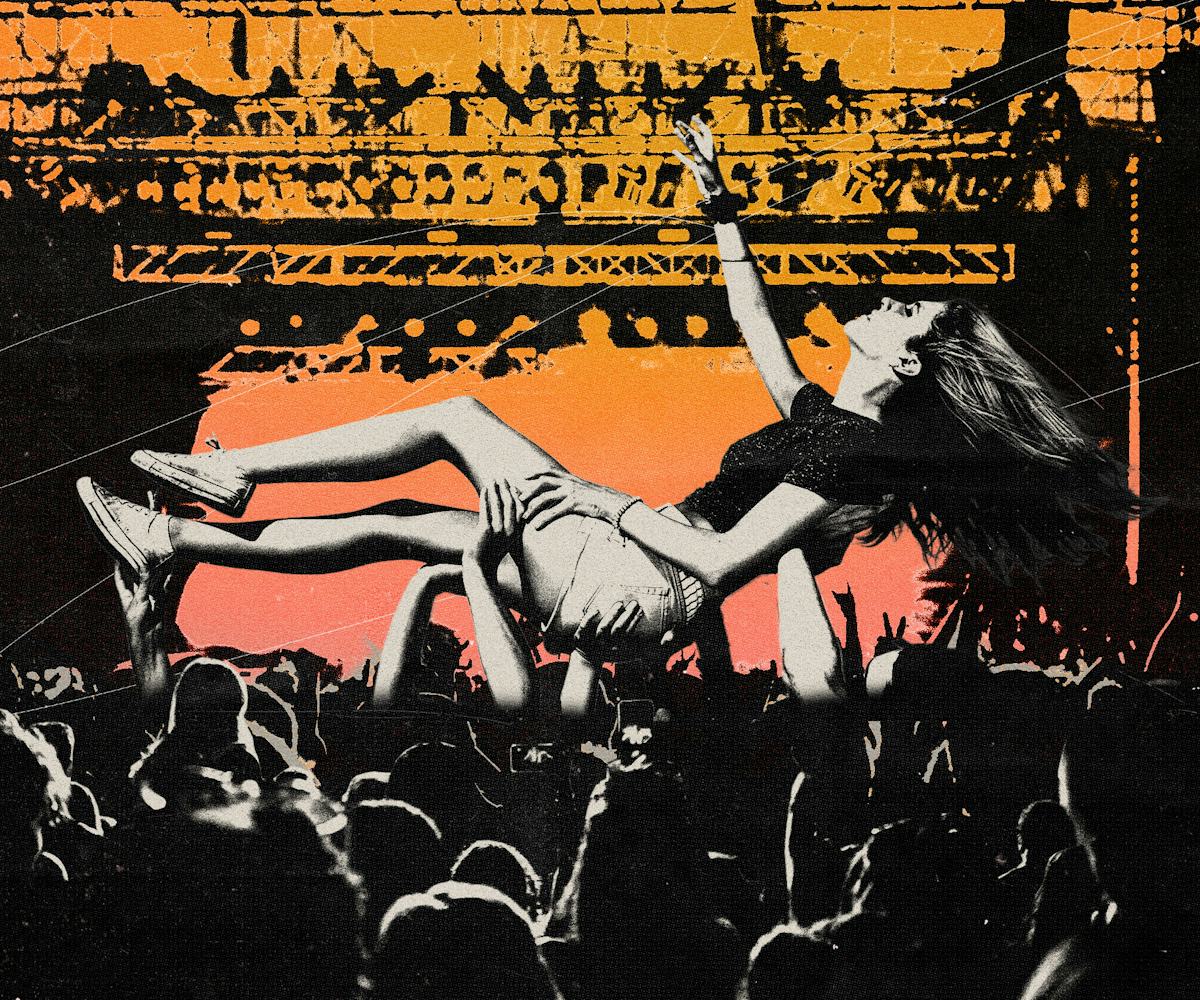 Lindsay Hattrick/Nylon; Getty Images; Shutterstock
The Rise Of The Genre-Specific Niche Music Festival
Over the past few years, a wave of genre-led festivals has rolled in. What's behind the trend, and how long will it last?
During festival season, most music lovers' eyes are glued to the stalwart giants: Coachella. Ultra. Lollapalooza. But over the past few years, a wave of smaller, more niche festivals has started to fill in the gaps between these massive, multigenre events. There are now more options than ever for festival goers to pick from, and numerous genre-based communities cropping up within the newer entrants' festivities.
Planet Bluegrass, which produces festivals in Colorado, has focused on the community surrounding its slate of events for 35 years. President Craig Ferguson believes they're the oldest independent music festival producer in the industry, and with three annual festivals — Telluride Bluegrass, Rockygrass, and Rocky Mountain — Planet Bluegrass's output is tightly linked both to genre and community.
"When we started doing Telluride [Bluegrass Festival], there were maybe half a dozen festivals in the country of any real name," says Ferguson.
As more niche festivals arise, he feels it's related to more options, and to "people maybe being more careful about their choices." He adds that, for some, large gatherings can still be "a stigma of the pandemic."
"I kind of like to think that all that time inside rekindled a desire for community," Ferguson says. "And that's what festivals are all about."
Community is the core of genre-specific festivals, according to Stacy Vee, Goldenvoice's Vice President of Festival Talent. The festival promoter is most famous for putting on Coachella and Stagecoach, but in recent years, the company has expanded its slate to introduce a range of smaller, genre-specific festivals, like Just Like Heaven — whose 2023 lineup reads like a list pulled from 2010s Tumblr — the '80s goth and new wave-focused Cruel World, and Splash House. Last year, Goldenvoice also debuted Palomino, its latest one-day event dedicated to country music, with Kacey Musgraves, Willie Nelson, and Jason Isbell on the lineup.
Vee, who has spent 21 years with the company, likens these more niche festivals to a reunion, where fans know each other from the scene and, backstage, artists run into friends and former stage-sharers. She believes there's a burgeoning interest in genre-specific festivals as a response to listeners being inundated with multiple styles of music in the streaming era. "Sometimes it can get overwhelming," she explains. "So then you just go back to your all-time favorites."
"What's interesting is in regards to Just Like Heaven and what I intentionally focused on this year, is, well, these are artists of the time," adds Vee of curating these festivals' lineups. "While these are artists that are in our arsenal of MVP artists that you go back to again and again, so many of them have amazing new boundary-pushing music."
Vee also sees these festivals as offering a more low-key experience overall — a major plus for those not willing or wanting to stick it out for multiple days in the hot sun. "With these niche, one-day festivals, they're usually located pretty close to a major market," she says. "So you can just head on over to the show, enjoy a beautiful day of music, and then go home and sleep in your bed that same night."
Amber Campbell, an avid festival goer who lives outside of Portland, Oregon, echoes Vee's thoughts, as she says she's grown to value the community at events like Lost Lands and the now-shuttered SnowGlobe Music Festival.
"Each festival has a different vibe, and it's nice to get a different perspective of each one. And each festival attracts a different crowd of people as well. That's a really big part about going to festivals, and can make or break your experience there," Campbell says. "I want to explore more festivals now that I have the opportunity to, because everything is going to be a little different."
She adds that, "I would rather go to a smaller [festival], because I'm going for the artists and to enjoy myself and to listen to the music that I listen to every single day."
Goldenvoice is far from the only promoter expanding into the niche festival space due to shifting music trends. As pop-punk and emo underwent a resurgence in recent years — with Machine Gun Kelly, Travis Barker, Mod Sun, and more leading the way — the initially controversial When We Were Young Festival immediately sprung up to answer to veteran and rookie pop-punkers alike, bringing old-school headliners like Bring Me The Horizon, A Day to Remember, and Avril Lavigne to its inaugural 2022 event. (Bamboozle Festival, Atlantic City's infamous emo beach bash, also planned to come out of retirement this year to put on its first event since 2012 with Limp Bizkit as headliners; sadly, organizers allegedly never submitted the required paperwork to put on the event, causing it to be canceled.)
At the end of the day, for Treefort Music Festival co-founder and festival director Eric Gilbert, larger multi-genre festivals and smaller single-genre festivals serve their own different purposes and communities of music listeners, as well as offer their own pros and cons. While it shouldn't be the case for them to be pitted against each other, they sometimes are — and as a result, smaller festivals can get snuffed out. "I think it's a detriment if the big ones are suffocating out other opportunities," he says.
There are, however, some music genres that have thrived in the niche festival space to create giant festivals of their own, with EDM among the most successful. Pasquale Rotella, CEO of Insomniac, an electronic music promotion and festival production company, first held an event with 300 people in the early '90s. Today, Insomniac produces over a dozen EDM festivals (most notably the massive Electric Daisy Carnival), many with a specific subgenre in mind — whether it be house/techno, drum and bass, trance, or a number of others.
When asked to compare smaller festivals with larger ones, Rotella suggests that "there could be two small, intimate, great parties that feel very different from one another."
He notes that certain EDM genres — like drum and bass, particularly — are cyclical in popularity: "Everything comes back and it comes back a little different." Maybe that's something for all genre-specific festivals to bear in mind: if you withstand the ebb of the trend cycle, it'll come back around.
After Coachella's arrival in 1999 came boutique festivals, but there were boutique or niche festivals before Coachella hit the scene, too. Think of the early days at Newport Folk Festival or Strawberry Music Festival in the '80s. It all comes back around, prompting the question of how long this wave will last. SnowGlobe Festival shuttered after nine years in 2021; New York City's Panorama, which highlighted multiple genres and featured a rare headlining set from Frank Ocean, ran 2016 through 2018 and has yet to return.
"I know before the pandemic, there was a conversation about, 'Have we reached the end of the festival saturation?' I guess, apparently not," says Planet Bluegrass's Ferguson. "But you know, again, I'm waiting to see the survivability of some of this new stuff. I think it sounds cool, and it's new, but I'm kind of wondering: if the economics weren't there before the pandemic, what changed?"