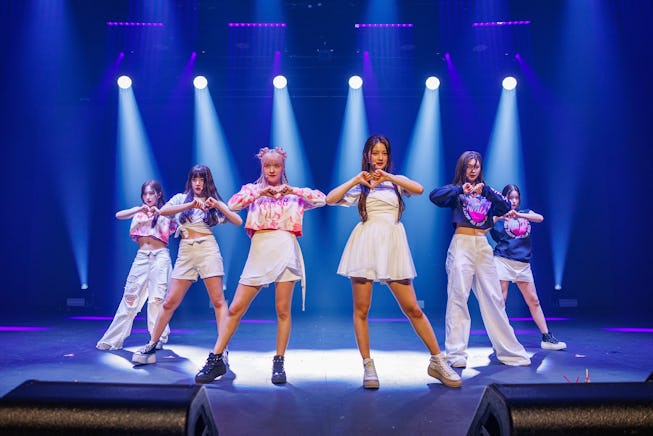 Alive Coverage
K-Pop's NMIXX Share Their First US Tour Diary
The K-pop rookies talk pre-show rituals, jet lag, and meeting their fans.
Last week, K-pop rookies NMIXX wrapped up their first-ever live shows in the United States as part of their debut showcase tour, Nice To Mixx You. The three-week romp took the group to eight cities across the U.S., including jam-packed theaters in Seattle, Los Angeles, Dallas, Brooklyn, and more. As the tour name suggested, it was a long-awaited introduction of sorts as the energetic Lily, Haewon, Sullyoon, Bae, Jiwoo, and Kyujin finally got to meet their U.S. fans, NSWERs, for the first time, face to face.
For the members of NMIXX, the best and worst parts of touring are all rolled up into one: getting to experience, sight-see, and shop in new cities, while also having to go without talking to their families consistently and suffering through the jetlag of traveling quite literally across the globe. Still, the girls took every moment in stride, taking the time to explore and rest during their days off, before revving back up to 100 to deliver their energetic, and participation-heavy live shows.
"My favorite [part of tour] was NSWERs cheering us on and supporting us at the concert halls," Sullyoon tells NYLON. "I don't think I can ever erase that from my memory."
Below, the members share their favorite memories from tour through the form of an intimate and candidly shot tour diary — featuring selfies taken in hotel rooms, backstage, and while exploring L.A. — and talk about the best and worst parts of tour life, pre-show rituals, and meeting their U.S. fans for the first time.
Photos courtesy of NMIXX.