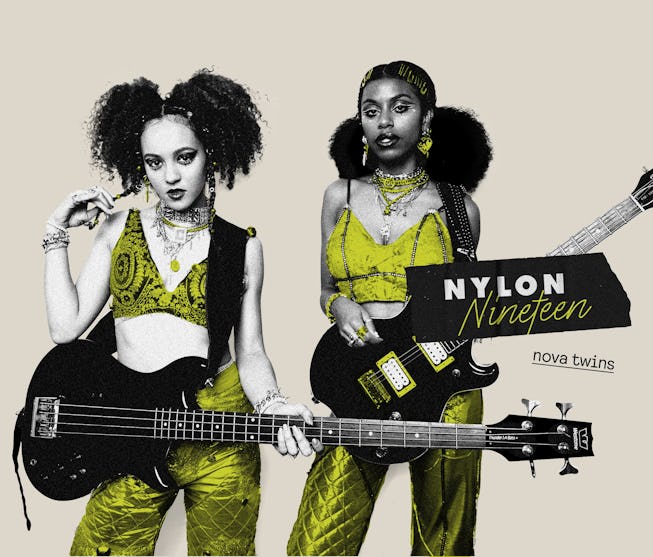 How The Nova Twins Are Leading A New Era Of Heavy Metal Music
The duo talk new album 'Supernova' and their "telepathic" bond.
Amy Love and Georgia South — the English duo known as the Nova Twins — are spearheading a new era of heavy metal music. As Black artists in a typically white-dominated space, they've redefined what it means to be a part of the genre. "Our music is for the underdogs," South says. "We want people to celebrate their uniqueness and come out the other side feeling so powerful they can take on anything!"
The childhood friends are longtime musicians with a soft spot for early-aughts R&B and hip-hop. "That guided us when we were younger and gave us some kind of stability," Love explains. "Then we wanted to venture out and were met with people saying, 'You don't belong here.'"
Though they're not actually twins, the two have always operated on the same wavelength. "We do so many twin telepathic things, it's so weird!" South says. So when they recognized the lack of representation, and respect, for Black heavy-metal artists, they decided to introduce themselves with a bang.
In 2014, Love and South released their first EP, Nova Twins. The 5-track record opens with a message aimed directly at their adversaries. Paired against the daunting sound of an electric motor, Love belts, "We're on your hit list / Topic of the day / Writing on the wall / Yeah you know my name's on it." The record is a passionate rallying cry that defied expectations. Soon after its release, the Nova Twins garnered a group of eager listeners. "We often touch on messages of empowerment, justice, and being a bad bitch in general," Love says, reflecting on why their fans are drawn to their music. "People come to our shows to let their hair down and to be a part of something."
Six years after writing their EP, the Nova Twins dropped their debut album, Who Are The Girls? The record garnered critical acclaim from artists like Tom Morello of Rage Against the Machine, who called them "an incredible band who deserves to be huge," and Oli Sykes, the lead vocalist of Bring Me The Horizon, who deemed them one of his favorite bands before asking to work together on the track "1x1." Even without the celebrity shoutouts, their album racked up millions of streams and established Love and South as seasoned heavy-metal artists. Now with nearly 8 years of experience under their belt, and an army of dedicated fans by their side, the duo is preparing to drop their next project, Supernova (out June 17, 2022 via Marshall Records).
Love describes the record as a fusion of "dreams and nightmares." With a mix of eccentric songs, Supernova is more of a shape-shifter than their previous work. "You've got the dark things that have happened, but then also the fun and colorful light to the shade," South explains. "You'll have a giant lollipop coming at you, but then it turns into a beast."
If there's anything you should know about Nova Twins, it's that they like to warp expectations. That sentiment covers every aspect of their art, from the music they write to the costumes they wear on stage. Both Love and South like to style themselves in bright, sometimes hyper-feminine, attire to combat the perception of what a heavy-metal artist looks like. "People just assume that women who dress colorfully can't play," says South. "We want to change that for everyone. We want to change the way that people look at heavy music."
Supernova encompasses that mission entirely. From their electric track "Cleopatra," which was inspired by the Black Lives Matter movement, to the shameless sex-positive song "Puzzles," or "Fire and Ice" — their ode to all the "sad girls" and "bad girls" — there's a bit of something for everyone.
Ahead of the album's release in June, Nova Twins took the NYLON 19 and talked about their go-to drink orders, favorite break-up songs, and the relatable bad habits they're trying to fix.