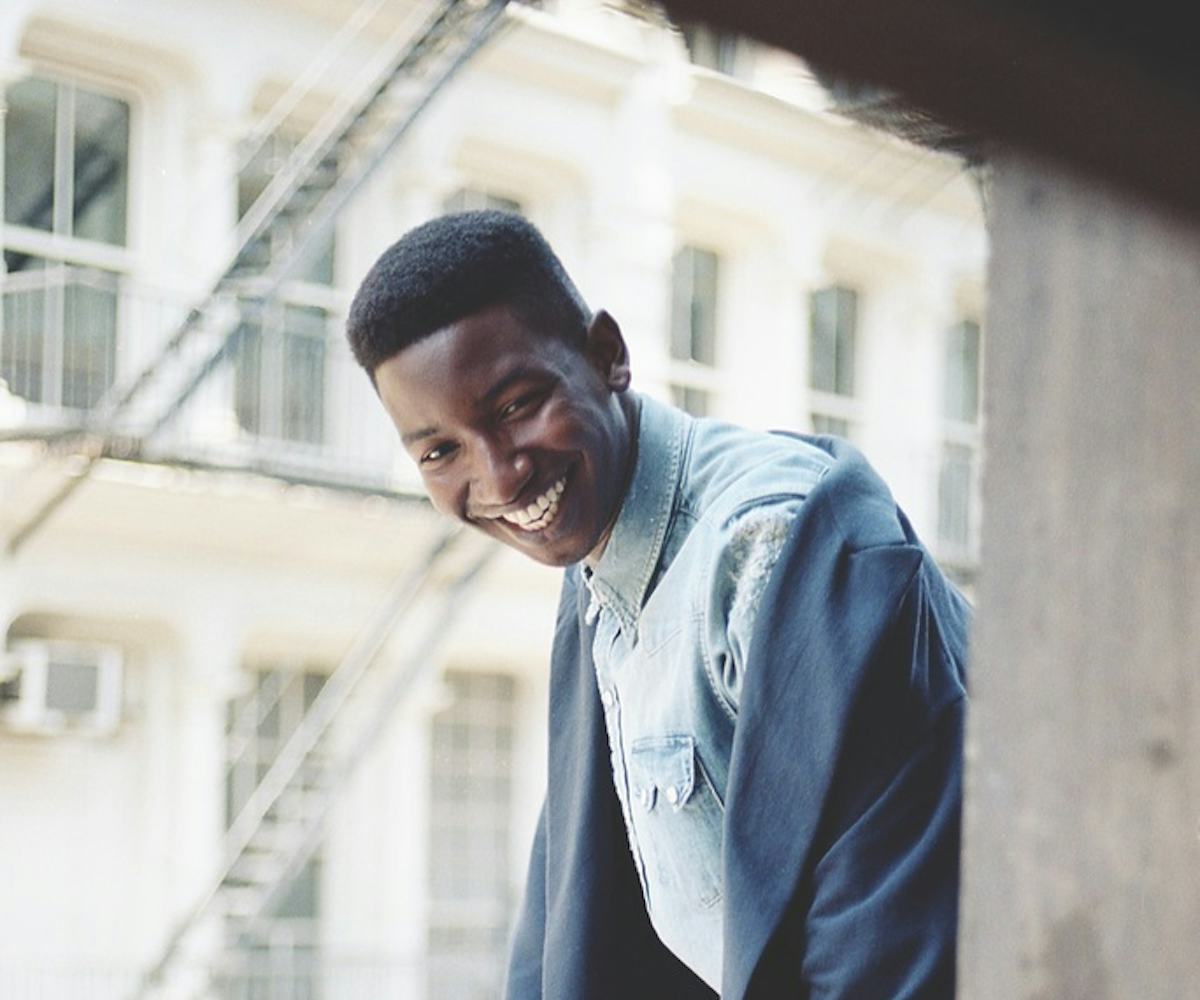 Photographed by Carla Tramullas. Styled by Memsor Kamarake. Coat by Lacoste, shirt by Levi's Made & Crafted, jeans by Mavi
Mamoudou Athie Gets His Big Break In 'Patti Cake$'
The film hits theaters today
The following feature appears in the August 2017 issue of NYLON.
The character that Mamoudou Athie plays in Sundance and Cannes sensation Patti Cake$ is named Basterd, the Antichrist. He's a nearly mute, dreadlocked death-metal aficionado with multiple lip piercings and one light-blue contact lens that makes it look like he sacrificed an eyeball to Satan. Athie himself is the total opposite. A young-looking 28-year-old, his handsome face (free of all metal, markings, and weird contact lenses) emits light like a Chinese lantern. He's talkative and jovial, quick to laugh, and apologetic to a fault, saying he's sorry for everything including his reluctant Paleo diet habits to being a boring video subject. He loves everyone he's ever worked with and throws around the descriptor "genius" to everyone from his co-star Danielle Macdonald to his clown instructor at the Yale School of Drama.
When looking at the disparity between the two, it's clear why Athie turned down the role several times. "I didn't know if I was the guy for this movie," he says, tucking into a grilled chicken salad he describes as the best salad he's ever had (of course). "The casting director sent me a note and I kept on being like, 'I don't think this is for me.' My friend, who is also an actor, met with [director] Geremy [Jasper] and he said, 'I don't think this is for me, but I think it is for you, so you should meet with Geremy.' I met him and then I said, 'Oh, that's what he's going to make with this movie. I need to be in this movie!'"
Patti Cake$ is the first feature from Jasper, a seasoned music-video director, and tells the story of the titular rapper (Macdonald), who is trying to use her music to escape her dead-end New Jersey town. She starts a rap group called PBNJ, with the P standing for Patti, who works as a waitress, B standing for Basterd, N standing for Patti's nana, and J standing for Patti's best friend Jerry, an Indian pharmacy employee. They're a bunch of misfits who find each other, and Basterd goes from screaming at the "sheeple" at the local VFW hall to providing the beats that bring Patti's flow to life.
It's a star-making turn for Athie, even though he has about eight lines in the entire movie. "You have to have very clear thoughts," he says about playing an essentially silent character. "I know what this guy is and I know what he wants overall, and how he reacts in the moment. He's very contained. You just have to have a point of view about everything or else you're just like a stick in the mud. You have to be actively present and aware, but it has to be distilled."
Athie moved from Mauritania to D.C. suburb New Carrollton, Maryland, when he was six months old, after his father, a diplomat, got political asylum in the U.S. He initially got interested in acting because one of his two older sisters was in the business, and he always wanted to be just like her. She grew tired of it, but it stuck with him, and he pursued the passion (with his parents' blessing) by attending two performing arts schools after he graduated high school. "I was very comfortable doing my thing, being kind of weird and the fast-talking guy, but that was just a caricature of myself. I couldn't act," he says. "I was at Shakespeare in the Park and I was seeing these things and thought, 'I want to be able to do that and I don't know how.' So I went to grad school."
Since graduating from Yale, his career has been on an upswing. Along with the role in Patti Cake$, he played hip-hop pioneer Grandmaster Flash in The Get Down, Baz Luhrmann's Netflix series about the genesis of rap music in the Bronx in the 1970s. He's also in two yet-to-be-released projects: Oscar winner Brie Larson's directorial debut Unicorn Store, and the thriller Underwater, where he and Kristen Stewart play researchers whose subterranean lab is destroyed by an earthquake. But it's his two roles as a DJ in Patti Cake$ and The Get Down that have him joking that he's worried about being typecast. "I'm just going to do bar mitzvahs and bat mitzvahs and charge $10,000 a party," he says. "I'm not a musical person. Though I would like to be."
Though he's appeared in two projects that are both deeply rooted in hip-hop culture, he doesn't really listen to much of the genre. "I'm more old-school," he says. "I really like Tribe Called Quest. But who doesn't like Tribe Called Quest, unless they're an asshole?" He says that and laughs a bright laugh and shines a bright smile over his perfect chicken salad on what is sure to be another perfect New York day for the Harlem resident. That's Mamoudou Athie: sunny and warm, even when he's calling someone an asshole.