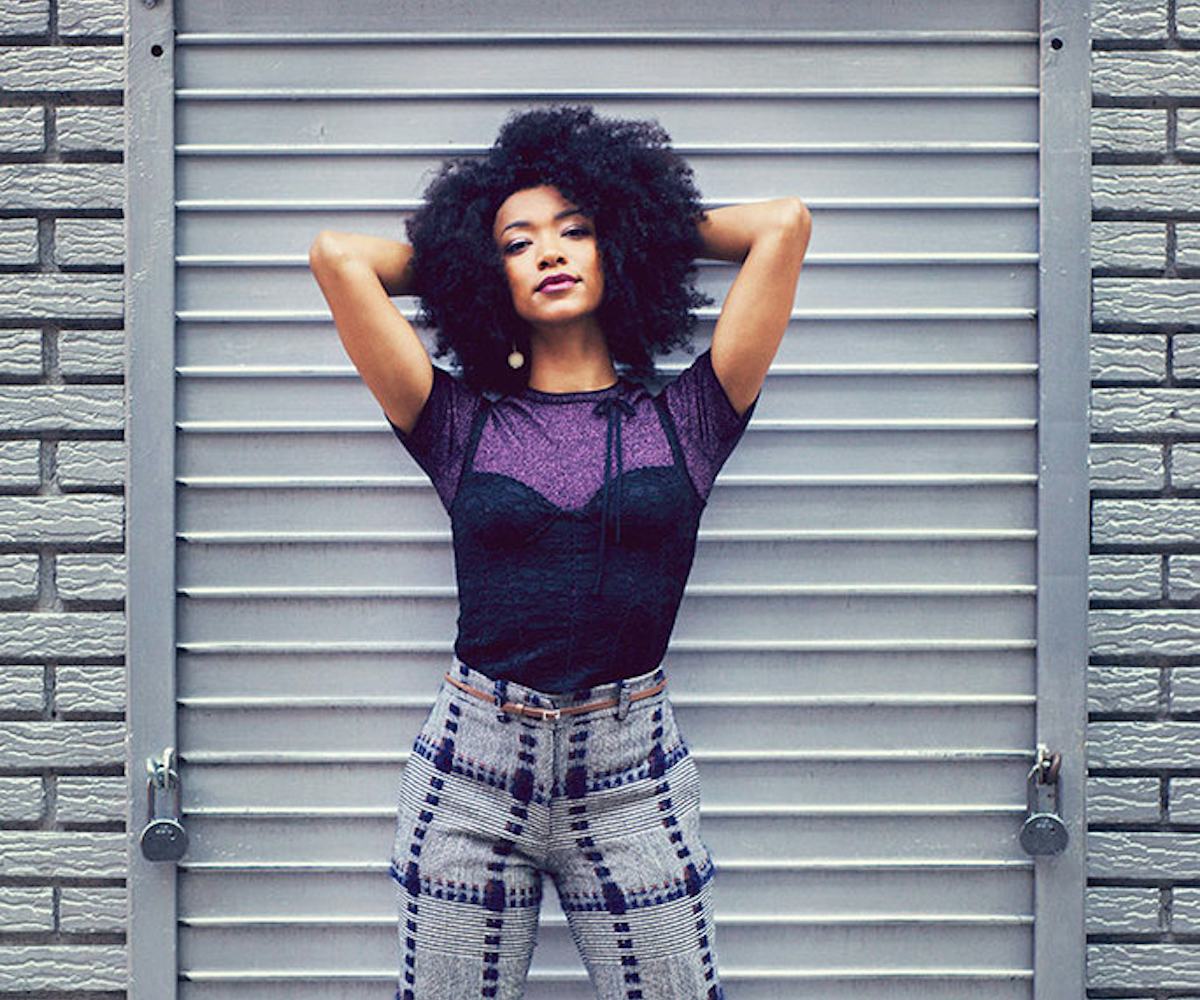 photographed by jonathan grassi
Sonequa Martin-Green Is Forging A New Path In 'Star Trek: Discovery'
The highly-anticipated show premieres Sunday
The following feature appears in the September 2017 issue of NYLON.This fall, a slew of new and returning series are hitting the airwaves and popping up on streaming services. Here, we spotlight some of the breakout stars that make those shows must-see TV. To read more from this series, click here.
Before you're permitted to speak with Sonequa Martin-Green, CBS sends you a politely worded email informing you that they will all but repossess your reproductive organs if you so much as think about tweeting out any spoilers for her upcoming series Star Trek: Discovery. But she's used to the whole hush-hush routine from her days on The Walking Dead, another creative property boasting a wide and intense fandom. The first thing she does after greeting you with a warm bear hug is joke about the nondisclosure agreement, and from there, she's off. Her next stop: the final frontier. 
Under Lock And Key: "I came to Discovery from another show that was highly secretive, so I was used to that. But Star Trek is locked all the way down. I couldn't confirm or deny any rumblings about what might happen on the show. I look forward to the point when everyone knows—it's more fun to engage! But I've gotten good at talking around stuff in public situations, finding ways to fully answer questions without really saying anything. You just pick one single aspect to expound on while leaving out the rest of the question. I could probably do all right in politics." 
A New Generation: "What makes Discovery distinct is how far we're taking serialized storytelling. We're building this show chapter by chapter as if it were a novel. Other iterations have had aspects of serialized storytelling, but we're going all the way with it. Aside from that, the interpersonal dynamics that we're tapping into set this apart. You can't explore the outside world without exploring the interiors of these characters, and this show finds the connective tissue between those two parts."
Forging Ahead: "The progress we've seen [in representation for women of color in the entertainment industry] is admirable, and we've got to at once celebrate that progress while continuing to press forward. A healthy discontent, I call it. Because you can't tip too far either way. You can't feel so pressed for change that you fail to recognize the change that's already taken place, but you can't get too complacent, either." 
Zzz-List: "If sleeping was a hobby, that'd be [mine]. I like to play with different times, too. The ideal nap scenario is that you get a break midday for some reason, like your schedule suddenly opened up. When does that happen, right? You go home, it's warm outside, there's a bit of a cool breeze so you can open your window. But there's no traffic outside, no cars making loud noises. Maybe just birds, and the faint sounds of children playing. Throw in a wind chime. And you just play some nature sounds, turn on your white noise machine, and you get 30 good minutes. Just long enough to reset, and then when you wake up, you have food somehow."
Bustier by Moschino, Top by Adam Selman, Pants by Simone Rocha, Shoes by Rachel Comey, Earrings by In God We Trust. Styled by Heather Newberger. Hair: David Cruz for Kevin Murphy at Art Department. Makeup: Anne Kohlhagen at Artlist for Christian Louboutin Beauty.