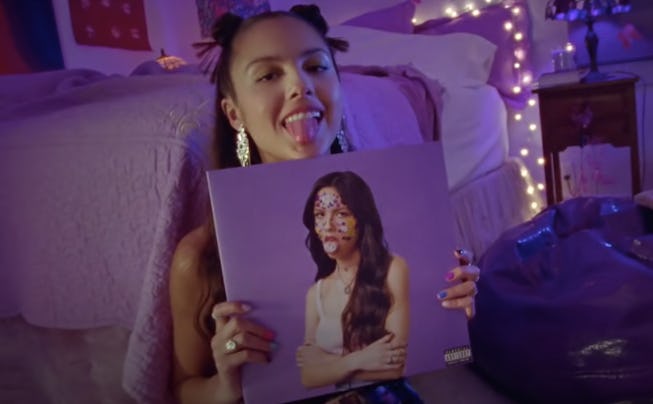 Disney+ screengrab
Olivia Rodrigo's 'SOUR' Doc Gets First Trailer
'Driving Home 2 U' will premiere on Disney+ on March 25th.
When Olivia Rodrigo released her hit single "Drivers License" in 2021, it was clear the music industry had a new star on the rise. With nostalgia-laced melodies, excellent storytelling skills, and a powerful voice to match, the NYLON cover star established herself as a one to watch in just four minutes.
Rodridgo's talent was only magnified when her debut album SOUR made it to streamers. A league of curious fans were eager to learn more about a rumored relationship with her High School Musical The Musical co-star Joshua Bassett, and the record delivered. Now, nearly a year after the album's release, the singer is preparing to launch her first documentary — Olivia Rodrigo: Driving Home 2 U.
Here's everything we know about the documentary so far:
Driving Home 2 U follows the making of SOUR.
Driving Home 2 U shines a light on the making of SOUR. Akin to a tell-all, the heartbreak album details a failed relationship with a boy who's "not the compliment type." Each song hints at the ups and downs of a new couple navigating early adulthood in Los Angeles. From the heart-wrenching lyrics in "Traitor," where Rodrigo clarifies her ex didn't "technically" cheat, to the disingenuous chorus in "Happier," the album is an emotional rollercoaster from start to finish, and the film will detail the album's creation and Rodrigo's state of mind during the experience.
The first Driving Home 2 U trailer shows Rodrigo in the process of perfecting SOUR — and heavily features Utah.
In the first official trailer for the film, Rodrigo revisits the roadtrip she would often make between Salt Lake City, Utah — where she was filming High School Musical: The Musical: The Series, and Los Angeles, where she was writing her album. (Songs from SOUR, in particular, "Drivers License," are rumored to be about Rodrigo's HSM co-star Joshua Bassett).
In the trailer, she's seen returning to that same stretch of highway for several performances — and also working on perfecting her album, at one point being told by a collaborator, "You're overthinking it!"
Driving Home 2 U premieres in March.
Alongside telling the story behind SOUR, the film will also include brand new live arrangements of the songs. Olivia Rodrigo: Driving Home To U is set to premiere on Disney+ on March 25, 2022.