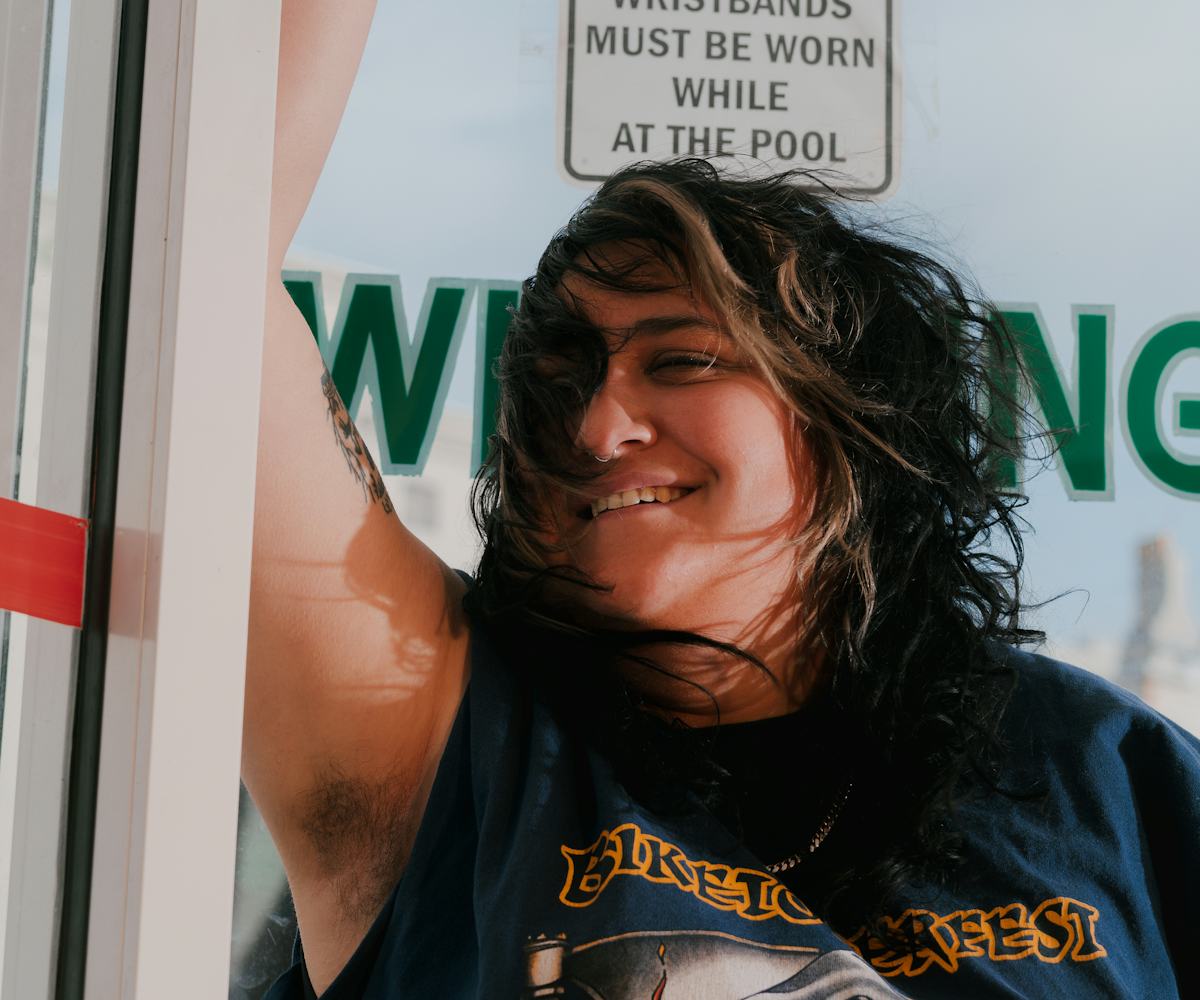 Tonje Thilesen
On 'Eye On The Bat,' Palehound Proves That Pain Pays Off
How heartbreak and a new creative process made the musician's excellent rock record.
Two pigeons are about to f*ck in front of me and Palehound's El Kempner.
It's one of the first genuinely hot summer days at Brooklyn's Herbert Von King park, and Kempner's gushing about their friend Melina Duterte of Jay Som, when they pivot mid-sentence to point out the avian commotion. "Sorry, there are two birds doing something I've never seen two birds do before," they say, eyes glued to the scene.
When I turn around, one pigeon is standing on the back of the other, like they're two acrobats caught in the middle of a delicate dance. After a few seconds, the one on the bottom flaps their wings and they break apart, their beaks returning to connect for a few moments. More wings flap, there appears to be tussling, and as we watch, partly awestruck, partly horrified — "What are they doing? Are they kissing? Oh, are they f*cking?" asks Kempner — we can't help but project some human meaning onto the whole affair.
"Now they're being awkward. Now they're like, 'Oh shit. She's leaving,'" narrates Kempner, when one of the birds finally flies away, putting an end to the spectacle that's now attracted many other onlookers. "I don't like that they do that. Yeah, I don't like that there's a penis involved over there. Sorry, I just don't like that at all."
It turns out Kempner knows a little bit about awkward (or even bad) sex — obviously not of the avian variety. They open their latest album, Eye On The Bat, with one such incident. Called "Good Sex," the meandering guitar song tells in careful, self-conscious detail of a lingerie surprise gone awry. It seems light and amusing at first — that is, until they sing the last lyric and you realize it's maybe, actually, a little sad. "Bad sex makes a good joke that anyone can get," they quip. "But good sex makes a bad joke that's only funny if you were there."
"Good Sex" is the striking Act I to the New York-based singer-songwriter's best record yet, a tender 10-song rock excavation built around the implosion of a relationship, as well as its aftermath. If the Brooklyn musician once shrouded their lyrics in dense imagery and metaphors, the songwriting on their new album is strikingly bare; words and feelings delivered whole and unprocessed on a platter. For Kempner, it signaled a creative level up that proved one thing: that turmoil is artistic gold.
"It confirms everything that I was so scared of about being a songwriter," says Kempner, sitting cross-legged and sipping on a tall boy of matcha milk tea, upbeat and even-keeled despite the subject matter. "Pain can really pay off."
It wasn't just a breakup that fueled Kempner's new album; it was also a complete rejiggering of their entire creative process, thanks to the pandemic.
Kempner and their band were at the height of a tour around the country when everything shut down in March 2020, triggering a traumatizing days-long trek back to New York right as hotels and fast food drive-throughs were closing. Then, forced inactivity and the ambiguous future of the live music sector at home exposed Kempner to the reality that "this is not a sure thing," they say. This divorce from the "career" side of their art meant the songs they were now writing — the beginnings of Eye On The Bat — didn't need to fit any specific expectations.
Kempner also began offering Zoom guitar lessons, a side-hustle that transformed their playing. In 2021 they rolled out their joint album with longtime pal, Jay Som's Duterte. That project, under their new band Bachelor, was written and recorded over two feverish weeks in January 2020 at an Airbnb in Topanga, and was a formative event for Kempner — the effects of which they were still feeling while writing Eye On The Bat.
"Bachelor was the best education for me," they say. "[Duterte] completely changed how I looked at being in a studio and how I looked at writing."
All of these colliding factors — plus their imploding intimate life happening on the sidelines — led to Kempner creating some of the most incisive songs of their career.
"I do feel like it's the album I'm proudest of that I've made."
Kempner has called Eye On The Bat a straight-up breakup record. On the second track, "Independence Day," listeners get that within the first three words: "We broke up on Independence Day/ Crying more, the next-door neighbor is rich/ Flashes of color on your face."
But in listening to its 10 songs, it's apparent that this descriptor is limiting. Eye On The Bat is about a breakup, but only as a conduit to explore the blur of everything else folded up into that time. Its title track is Kempner's rumbling, on-the-road folk ditty from that March 2020 road trip from Hell: "We're the only people for miles around/ And we're head banging to 'Paranoid.'"
Whether they're singing about a new budding relationship on the blissful "Route 22" ("Would you mind if I get stoned?/ Don't wanna bore you with my teenage habits") or ruthlessly scrutinizing their own faults on "My Evil" ("I've become the person I'd wanna punch in the face if they ever treated you this way"), it's their songwriting that lingers like an aftertaste, spinning words into bracing palette cleansers. It puts them on the level of other rock documentarians, like Mitski and Lucy Dacus.
Back at the park, looking back on the album, Kempner agrees it's the strongest material they've written. "There is a different feeling around this album where I feel like people believe in it more than they did before," they say. "I do feel like it's the album I'm proudest of that I've made."
Its release has coincided with a welcome revival of their live musician career: Palehound is touring again, and come September will open two huge shows for boygenius: "[The] biggest shows we've ever done. 5,000 to 10,000 capacity rooms."
If the traumas of their failed 2020 tour are looming large, they aren't fazed. In fact, Kempner declares enthusiastically, optimistically: "I feel like it's made me want to work harder, to do it right." That seems right. That's how you get to the good stuff.