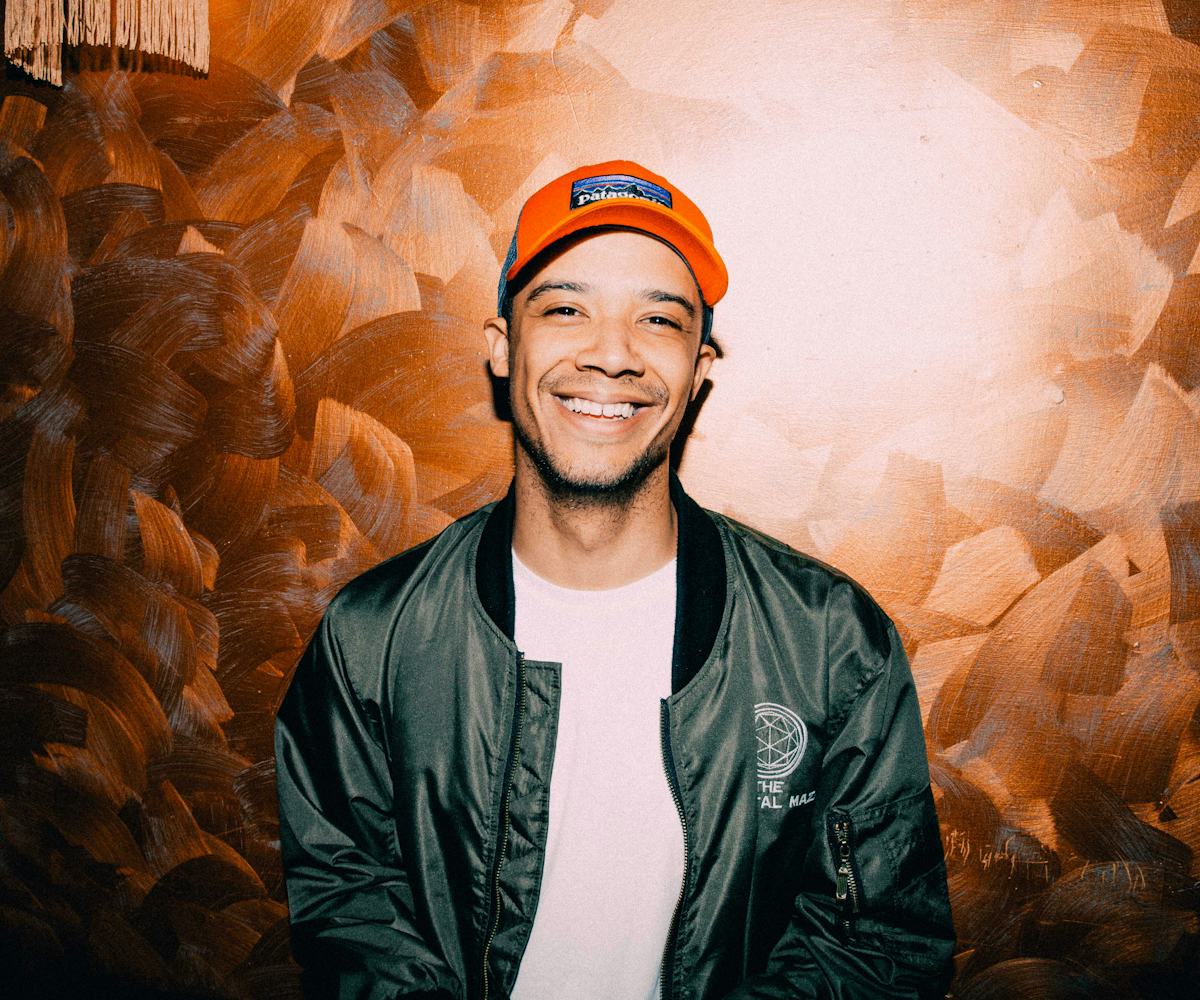 Photo by Louis Browne
'Game of Thrones' Star Raleigh Ritchie On His First Love
Before he led the Unsullied, Grey Worm wrote songs
After leaving his hometown of Bristol, England, for London at the age of 17, Raleigh Ritchie found himself in a dark place. He decided to enter therapy, and though he doesn't get into specifics, the transition shaped his outlook while providing him with deep empathy and emotional understanding for others. During his late teens and early 20s, Ritchie, under his given name Jacob Anderson, starred in a mix of British soap operas, dramas, and sci-fi series before landing his big break in 2013, on HBO's cultural juggernaut Game of Thrones. Playing Grey Worm, the steely, soft-spoken protector of Emilia Clarke's Daenerys Targaryen, Ritchie perfected a signature stoic composition as the castrated leader of the Unsullied. 
And while Ritchie has carved out a space as a fan favorite on the show, his anxieties about his place in the world still exist, and music has been a vehicle for him to voice such anxieties. Infusing soul, R&B, hip-hop, and pop into vulnerable catharsis, Ritchie released his debut album, You're a Man Now, Boy, last year to positive reviews. Before his sold-out show at NYC's Bowery Ballroom earlier this month, we called up Ritchie to discuss Game of Thrones, his newfound fame, and how being bullied led him to create art.
Do you consider yourself foremost an actor or a musician?
I just consider myself somebody that makes stuff. I don't like to sound pretentious, but I don't believe in this day and age anybody needs to choose just one thing, especially if you think about how much there is to do now. We're constantly looking at screens and constantly overstimulated. I think that actually now is the perfect time for people to do what they love and keep themselves active.
How did your background, growing up in Bristol, shape your style of music? 
Bristol is known for having quite a good success rate of music—Massive Attack and Portishead, that drum and bass, dance music scene. I never listened to that stuff when I was a kid, but my parents did, and my parents knew some of those people. I think I rebelled against that kind of thing. I'm still rebelling a little bit against dance music, and I'm not entirely sure what got into me from Bristol. Maybe it's—and you wouldn't know it from listening to my music—that I've got a kind of fairly laid-back approach to music. 
Did Game of Thrones play a part in your newer work? 
I don't really know how it could, to be honest. I write songs when I need to. That's how I write songs: when there's something that's bugging me. If something's troubling me and I don't really know how to articulate it to people directly, my friends my family or my girlfriend, then I'll write a song about it because I know I can articulate it that way. 
Can you tell us a little bit about the new album you have coming out? 
I'm going to go away pretty soon for a couple weeks and work on it every day intensely, and I think that's when the sound will materialize. But there's a lot to think about at the moment in the world, and I've been trying to figure out my place in it. 
In previous interviews, you've mentioned that you were bullied in school. Has that been something that motivates you?
I love making music. I wouldn't want it to be for revenge, if that makes sense. However, in a very literal way, as a result of being bullied, I shut myself out from the more social aspects of school and went and did my own thing. I spent a lot of my lunchtimes writing songs. I went off on my own and investigated music that I liked and thought about the kind of thing I wanted to do. So I guess, in some ways, it led to me doing this. But I'm not trying to be a success to spite somebody that hurt me. 
How have you been able to reconcile the fame that you now have? 
I don't really go to fancy parties, so I'm not really familiar with that kind of celebrity lifestyle. I don't dress up a lot. My girlfriend and I walk a lot and watch a lot of movies, and my friends and I go to the park or each others' houses. I don't find, apart from people coming up to me on the street wanting a selfie, that my life's really different. I don't think of myself as famous. 
What's been your favorite scene to shoot in Game of Thrones?
One of my favorite scenes was a scene where Grey Worm smiles, because I'm really bad at holding in laughter. Peter Dinklage and Conleth Hill and Nathalie Emmanuel, they're all really funny, but I'm never allowed to laugh because I've got to have this stoic face on all the time. So one of my favorite scenes was being able to smile. This sounds like a lie, it sounds like the thing somebody would say in a press junket or whatever, but obviously we're not just talking about Game of Thrones, so I feel like I can say it: I genuinely have never had a bad day on set. Game of Thrones is the best job in the world. 
What's the juxtaposition between when you're on set, surrounded by all of these talented people you love working with, and when you're off on your own creating music?
Sometimes it can be quite confusing, but they serve different purposes. When I write songs, I'm really inside my head; when I'm acting, I'm completely outside my head. I'm pretending to be somebody else and I don't have to deal with myself. I feel like I'm my smartest and strongest and most articulate self when I'm writing. I don't think I'm that good at talking about it. 
What do you want as your legacy?
The boring answer is that I don't really know yet. I feel like I'll know it when I feel it. But the fluffy answer is, and there's truth in it, that I just want people to be like, 'That guy was true to himself, and he did what made him happy and he tried. He worked hard, and he was nice to people.' That's a really important legacy for me: to work hard and be kind to other human beings.