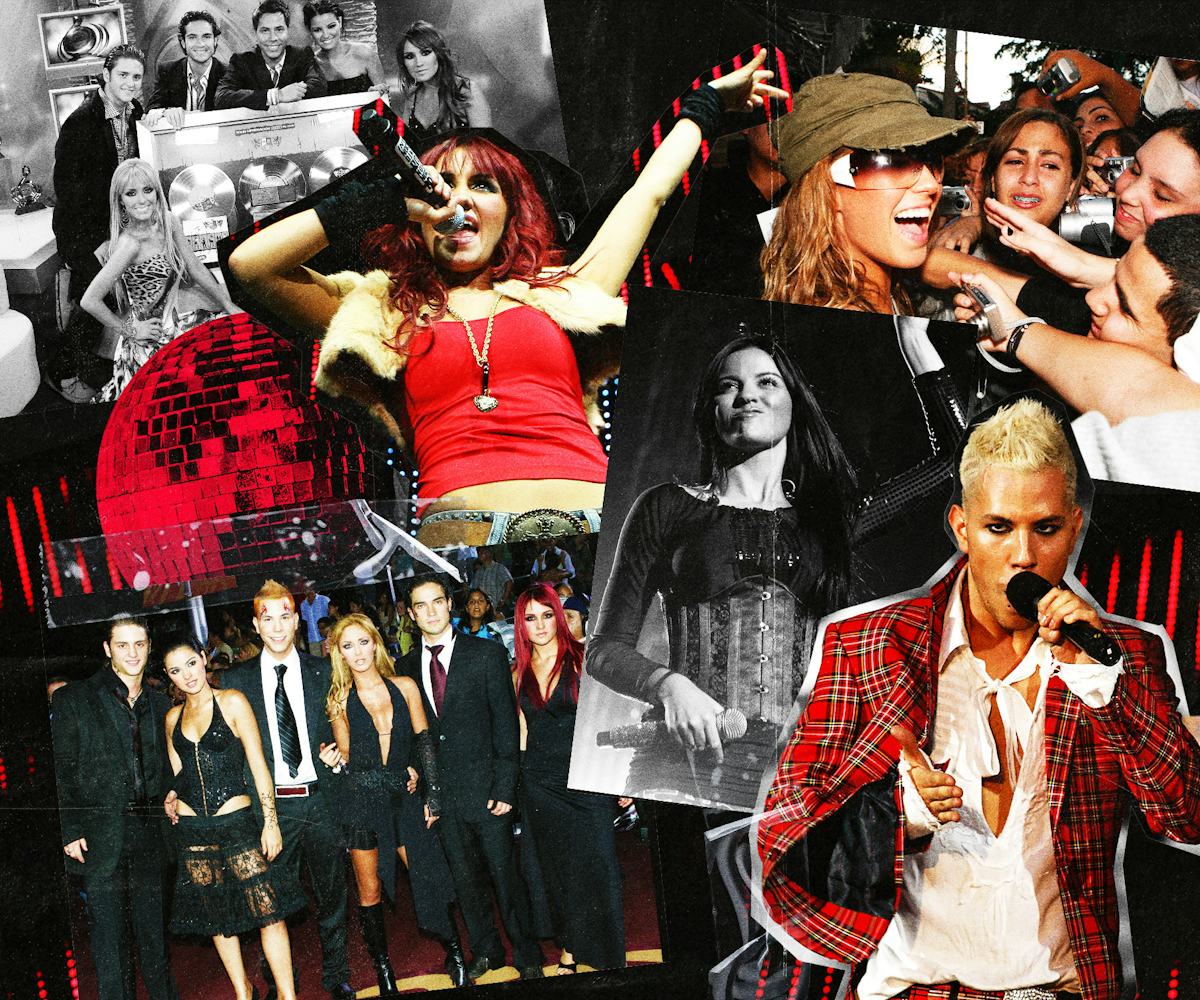 Lindsay Hattrick/Nylon; Getty Images
The Return Of RBD: The Mexican Pop Sensation That Shaped A Generation
How a fictional band became the epicenter of '00s Latin music.
Much has been said about the rise of Latin American music to the global stage. In recent years, artists hailing from the region have broken records, toured the world, and dropped ubiquitous, history-making earworms. But long before success was measured through streaming numbers, TikTok virality, or even a large social media following, one Mexican group carved its name in pop culture, going down in history as one of the most successful Latin American acts of all time. RBD, the six-member band originally formed as a part of the Mexican telenovela Rebelde (2004), birthed a phenomenon idolized by an entire generation — and soon, you'll be hearing a lot from them.
Come August 2023, the group will embark on a highly-anticipated reunion tour with stopovers in the United States, Mexico, Brazil and Colombia. And just like that, fans will have the one-of-a-kind opportunity — one that many thought would never happen again — of watching the music sensation that marked their youth and became the epicenter of Latin pop in the 2000s.
RBD rose to fame with the release of their debut album, Rebelde, which featured the original soundtrack of the eponymous TV show. Based on the Argentinian telenovela Rebelde Way, created by hit-maker Cris Morena, the series followed a group of students attending the exclusive Elite Way School as they overcame their differences through music. Starring singers and actors Anahí (Mia), Dulce María (Roberta), Maite Perroni (Lupita), Christopher Von Uckermann (Diego), Christian Chávez (Giovanni), and Alfonso "Poncho" Herrera (Miguel), the show aired from 2004 to 2006, reaching teens across the Americas and Eastern Europe.
As a band, RBD delivered pop anthems that young people at that time turned into the soundtrack of their childhood and teenage years. Hit songs like "Sálvame," "Sólo Quédate en Silencio," and "Nuestro Amor" tackled topics like love and heartbreak, believing in oneself, and teenage angst, buoyed by catchy hooks, guitar riffs and punchy pop sounds. Their songs broke records and topped charts across the world, even though they existed in the show's fictional timeline. Rebelde eventually came to an end in 2006, but the sextet continued to tour the Americas and Europe and release albums (including Portuguese and English records) until 2008, when they disbanded without citing causes. As the years went by, the members would bring up burnout, contractual disputes and individual career aspirations as some of the reasons behind their abrupt separation.
At its height, RBD was selling over 10 million albums worldwide (some even argue the number surpassed 15 million) and it took no time before press and fans coined a term for their explosive popularity: the "Rebelde Phenomenon." The band's overarching influence went beyond its successful music career — over their five-year career they amassed seven Billboard Latin Music Awards, 21 Premios Lo Nuestro, five multi-platinum RIAA certifications, and more — to also shape the fashion sensibilities of a generation.
During its Rebelde era, RBD sported iconic uniform styles that reflected their characters' roles on the show. Miu Miu-esque microskirts, blazers, red ties, and denim quickly became the signature look of the band and its followers. (If you need to paint an image, you can scroll down the "Rebelde costume" searches on TikTok—which surpasses seven billion views at the time of this publication.) They were also torchbearers of Y2K fashion. Flaunting six different personalities, the group members popularized noughties staples for all tastes: from pastel-colored outfits fitted for Paris Hilton to edgier ensembles that channeled the growing pop-punk wave.
"RBD was a watershed," says Azahel Marmolejo, a Mexican publicist and fashion producer, of the group's influence. "They always set trends. They always imposed fashion. They always had accessories or some stylistic element in their outfits that made people follow them."
Marmolejo points to the star decal actress Anahí's character, Mía Colucci, frequently wore on her forehead. "Suddenly you could find fashion editorials with [models wearing] stars on the face, or you saw girls who also wanted to imitate her, sporting that star," he says.
Dulce Maria Espinoza Savinon and Jose Christian Chavez Garza of RBD performing in Anaheim, California in the '00s. John Shearer/WireImage/Getty Images
Anahi of RBD performing in Madrid, Spain in 2008.Eduardo Parra/WireImage/Getty Images
Maite Perroni of RBD performs in Miami, FL in 2008.Gustavo Caballero/Getty Images Entertainment/Getty Images
RBD at Madison Square Garden in NYC in 2006.Bryan Bedder/Getty Images Entertainment/Getty Images
But the phenomenon ran deeper. While RBD attracted fanfare with their music and style, it was their relatability and underlying message of believing in yourself and standing up for your dreams that made people stay and sympathize.
Reminiscing about RBD's early days and what made people connect with them, Maite Perroni, one of the vocalists of the group, says, "The first time we left Mexico to hold a concert was [to go to] Colombia and we couldn't believe that the stadium was completely full. Music is a universal language. During each concert, we delivered messages of peace, of believing in [our] dreams, of equality and respect."
Fans of the band also remember RBD as one of the first major forces in pop culture to bring up conversations about sexual identity, body image, and mental health. Anahí, who started her career as a child actor and endured the pressures of the industry from a young age, shared testimonials about battling eating disorders. Meanwhile, in 2007, member Christian Chávez became the first high-profile Mexican celebrity to come out as gay after pictures of his wedding were made public.
"This set of [announcements] resonated with the way teens at that time regarded the world," says Alejandro Puga, a pop culture expert and entertainment journalist.
Fashion designer Jesús de la Garsa, a self-proclaimed RBD fanatic, echoes that sentiment: "We all knew that Christian Chávez was a person from the [LGBTQI+] community at a time when society was not so open yet. [Knowing] made us feel empathetic and at some level, understood."
Nineteen years after the group's debut, it is this meaningful connection with fans that has kept the RBD's legacy alive and as a topic of discussion in the years since, despite the breakup in 2008 and the members following individual pursuits.
"Of course, RBD set trends. Of course, they marked a generation that started change," de la Garsa says. "The truth is that they were way ahead of their time."
"RBD was a watershed. They always set trends. They always imposed fashion."
Today, RBD's influence touches even the biggest Latinx stars. On his 2022 hit "Me Porto Bonito"—the first all-Spanish-language song to achieve No. 1 on Billboard's Streaming Songs chart — Bad Bunny nods to the group, singing, "Pa' los 2000 escuchaba RBD" (In the 2000s [she] listened to RBD.) Similarly, Colombian singer J Balvin drops the name of Anahí's character, Mia Colucci, on a remix of Ty Dolla Sign's "Spicy."
In 2022, Karol G went the extra mile and brought Anahí onstage at one of her shows in Mexico. For the occasion, the singers sauntered down memory lane, sporting matching pink cowboy hats, similar to the one Anahí popularized through the music video for "Sálvame." "I literally played her songs, laid in bed and cried until I couldn't anymore because I thought that never in my life would I have the opportunity to meet her," Karol G told the crowd that night.
Fans of the group can empathize. For years, it seemed RBD would remain a thing of the past. But when their upcoming tour sold out within 24 hours — a surefire sign of RBD's second coming — it became clear the Rebelde Phenomenon was far from over.
"Young people identified with RBD's non-urban representation of Latin music," says Puga about what their long-awaited return means to fans. "As many of their fans have stepped into adulthood, they miss that music craze and youthful rebellion. It also marks the return of five entertainment faces to the top of the top. Anahí, Dulce María, Maite, Christian, and Christopher kept thriving in their individual careers, but together, RBD exceeds A-plus status."
For Perroni, the opportunity to finally stand on stage with her bandmates this fall and meet fans after so many years is a gift.
"It's going to be magical," she says. "I want this tour to be a maximum celebration of the Rebelde generation. I want fans to sing, to dance, to scream, and enjoy what we are preparing for them."