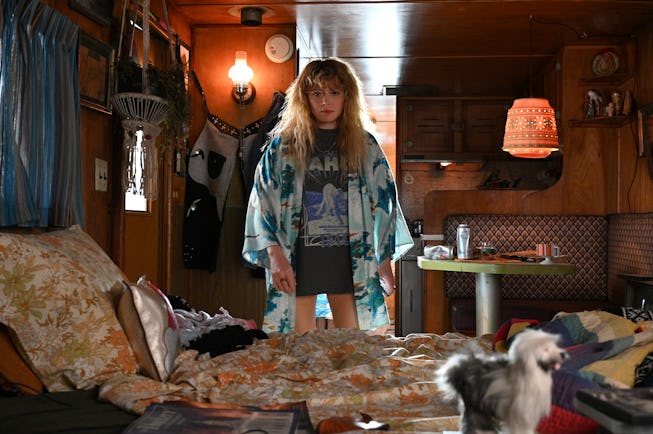 Natasha Lyonne Solves A Murder In 'Poker Face' Trailer
Rian Johnson's mystery series, which also stars Chloë Sevigny, premieres on Peacock in January.
In just a few short weeks, Oscar-nominated writer-director Rian Johnson will release the highly anticipated sequel to his box office hit Knives Out. Formally titled Glass Onion: A Knives Out Mystery, the upcoming whodunit is already critically-acclaimed, with many labeling it an improvement on its predecessor. (Some think the film might even have the legs to walk straight into the Oscars race.)
But that's not all the celebrated auteur is currently up to. There's also Knives Out 3 (I know). And more importantly, there's Poker Face, the filmmaker's first foray into television. Created, written, and directed by Johnson, the upcoming Peacock series will explore similar territory to Johnson's past work and will also continue his long trend of working with a top-notch group of actors.
Of course, this is still a Rian Johnson project we're talking about, so naturally, details are rolling out very slowly. Months after announcing that Chloë Sevigny would join her industry best friend Natasha Lyonne in the project, we finally have more details about what to expect — including the show's first trailer, which introduces us to this new world. Below, find everything we know so far.
What is Poker Face about?
While very few plot details about the upcoming series have been released so far, when the series was first announced, Johnson did say, "I'm very excited to dig into the type of fun, character-driven, case-of-the-week mystery goodness I grew up watching. It's my happy place."
But don't let the word fun deceive you. According to Lil Rel Howery, one of the show's stars, Poker Face is most decidedly "not comedy." Describing the show as a "murder mystery," Howery, most known for his comedic roles, recently told Deadline that Poker Face is "straight dramatic."
Lisa Katz, NBCUniversal's President of Scripted Content, praised Johnson for his "distinct sensibility and talent for telling edge-of-your-seat mysteries." She also described the series as "entertaining and addictive." Which is to say, Poker Face will find Johnson working in familiar territory.
But its Peacock's first look — and the accompanying first trailer — that has really given us some insight into what Poker Face is actually about. "We invite you to follow Charlie on a cross-country road trip as she meets a rogue's gallery of characters and avenges a new injustice in each episode," wrote Rian Johnson and Natasha Lyonne in a special note for fans.
Meanwhile, the 35-second trailer takes us into the world, opening on Adrien Brody as he greets Natasha Lyonne at the door to a casino. "Hello, Ms. Cale," he says. "I'm happy to finally meet you." According to Adrien, Natasha's character has a gift. She's "always knowing the truth," he suggests. "I only know if something is a lie," she counters. "The real trick of it is to figure out…why?"
Judging by the trailer, Poker Face will be a fun ride about many different things. But it's probably best summed up by one line only: "There's been a murder and I'm trying to figure out what happened."
Check out the trailer below.
Who will star in Poker Face?
As the new show's de facto lead, Russian Doll's Natasha Lyonne was the first name attached to Poker Face. When the series was first announced in March 2021, Johnson described the Emmy-nominated actress as his "partner in crime" while NBCUniversal's President of Scripted Content described her as an "acting genius." Lyonne will also serve as an executive producer.
In the year or so since that initial announcement, Johnson has solidly proven that he's in a league of his own when it comes to attracting A-List talent for his projects. Joining Lyonne will be Emmy winner Joseph Gordon-Levitt, Everything Everywhere All At Once's Stephanie Hsu, Oscar winner Adrien Brody, Orange Is the New Black's Dascha Polanco, Emmy nominee Benjamin Bratt, and The Umbrella Academy's David Castañeda. Get Out's Lil Rel Howery will also appear in the series playing a "villainous type," according to Deadline. "You don't see me in a villain role a lot of times," Howery said. "It's very villainous, and I enjoyed everything about it."
Back in June, the series added yet another high-profile name into the mix: the Oscar-nominated perennial Cool Girl Chloë Sevigny, who will share the screen with Natasha Lyonne once again after playing the mother of a younger version of Lyonne's character in Russian Doll.
And when Peacock released their first look, they announced even more guest stars, including Angel Desai, Audrey Corsa, Brandon Michael Hall, Charles Melton, Chelsea Frei, Cherry Jones, Clea DuVall, Colton Ryan, Danielle MacDonald, Ellen Barkin, Hong Chau, Jasmine Aiyana Garvin, Jameela Jamil, Joseph Gordon-Levitt, Judith Light, Leslie Silva, Luis Guzmán, Megan Suri, Niall Cunningham, Nicholas Cirillo, Nick Nolte, Reed Birney, Rhea Perlman, Ron Perlman, Rowan Blanchard, S. Epatha Merkerson, Shane Paul McGhie, Simon Helberg, Tim Blake Nelson, and Tim Meadows.
Many of these actors appear in the first trailer for Poker Face, but only one actor has gotten anything close to a character description. In the special note from Rian and Natasha, it was revealed that the Russian Doll actress would be playing "Charlie Cale." Described as "the driving force behind Poker Face," Charlie is the "scrappy protagonist you were always ready to kick with and see win." Armed with an "uncanny ability to detect lies and a genuine appreciation for her fellow humans (and the occasional dog)," the character possibly (probably) also drives a '69 Plymouth Barracuda.
How many episodes of Poker Face will there be?
The new series will span ten episodes. They've been described as "case-of-the-week" in the past, something that is supported by Natasha Lyonne's claim, in the special note from Peacock's first look, that Rian Johnson has "masterfully crafted ten self-contained puzzles for Charlie to solve."
When will Poker Face be out?
Poker Face premieres with four episodes on Peacock on January 26. New episodes roll out weekly after.
Stay tuned for further updates.
This article was originally published on