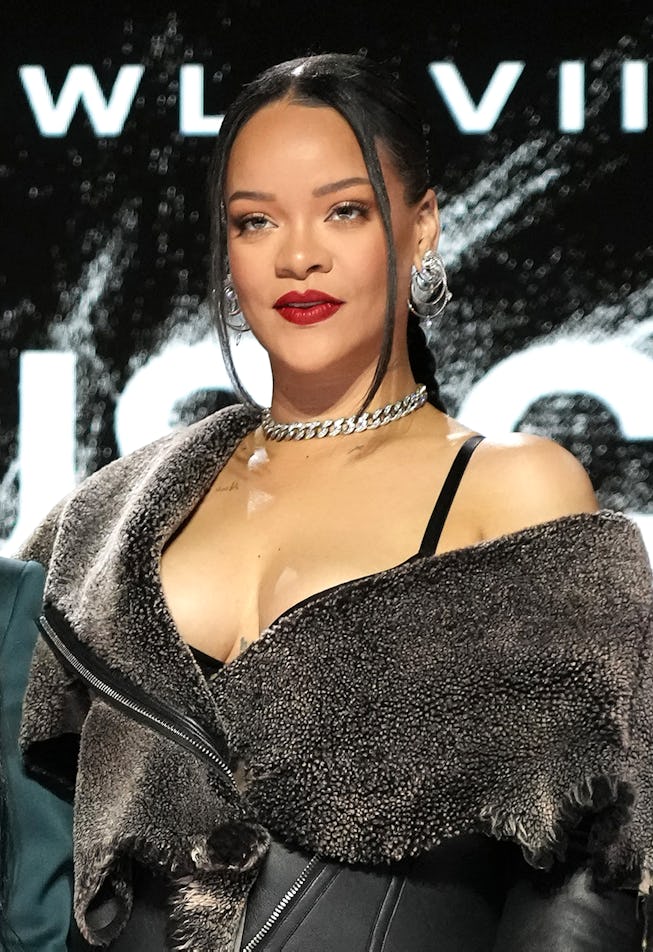 Kevin Mazur/Getty Images Entertainment/Getty Images
Rihanna Said She Has "39 Versions" Of Her Super Bowl Setlist
"Every little change counts."
There are many pros and cons to being a globally recognized superstar. Some of the pros include being invited to perform legacy-defining shows at major sporting events, like the 2023 Super Bowl. And some of the cons include... having to perform a legacy-defining show at major sporting events like the 2023 Super Bowl.
Rihanna has been experiencing the duality of being in this position for the last few months as she's been painstakingly putting together a show that will hopefully not only live up to her own, but also our collective, towering expectations. And as we've all been trying to predict what songs she'll be performing, it turns out Rihanna has been having that exact same problem. In her efforts to make sure she delivers a performance of a lifetime, the singer has revealed that she's changed the setlist upwards of 39 times.
"There's probably been about 39 versions of the setlist right now," the singer said in an interview with Apple Music on Thursday ahead of the big game. "We're on our 39th. Every little change counts."
That's a tremendous amount of revisions for a set that'll ultimately only last 13 minutes, and would likely, reasonably only feature a maximum of 7-10 songs, given that she spends under two minutes on each song. That being said, Super Bowl halftime performers have an uncanny knack of squeezing more than you'd think in those 13 to 15 minutes. Last year's performers, Dr. Dre, Snoop Dogg, Eminem, Mary J. Blige, and Kendrick Lamar, performed over 11 songs, thanks to the magic of the medley. While Shakira and Jennifer Lopez for the 2020 halftime show managed to perform a whopping 17 songs.
Given that Rihanna has 17 years of back catalog to draw from — and highlight — there's a high chance she'll be going the medley route too.
"It's gonna be a celebration of my catalogue in the best way we could have put it together," Rihanna said of her high-energy set in the interview. "You're gonna see on Sunday, it just, from the time it starts, it just never ends until it's like the very last second. Now I'm saying too much? But it's a jam-packed show, and it takes a toll on your body, it does."
Elsewhere in the interview, Rihanna revealed that the show will be a celebration of her Caribbean heritage — "I'm really excited to have Barbados on the Super Bowl stage."
And while mum's still the word on whether new music will soon follow her performance — rumors of a 2023 world tour and documentary are already astir — she did tease that her new album is in the works, and that its sound might be going in a "weird" direction and "might not ever make sense to my fans." We're not sure what happened to that reggae album she was teasing, but at least something's being made!
"Musically, I'm feeling open," she said. "I'm feeling open to exploring, discovering, creating, things that are new, things that are different, things that are off, weird, might not ever make sense to my fans, you know, the people that know the music that I put out. I just want to play. I want to have fun. I want to have fun with music."
Album or not, we'll soon be able to see Rihanna on her first stage in, well, ages. Tune in on Sunday, Feb. 12 on FOX to catch Rihanna's Super Bowl performance.