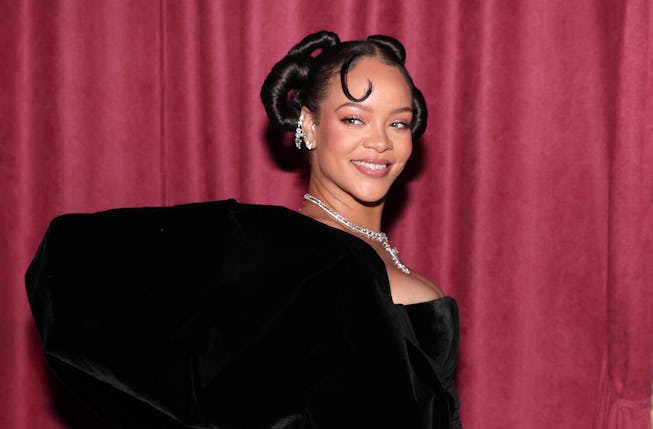 Christopher Polk/NBC/NBCUniversal/Getty Images
Rihanna, Mitski, Lady Gaga Nominated For 2023 Oscars
The Best Original Song category is stacked.
Rihanna and Mitski can now officially call themselves Oscar nominees. The two musicians both earned their first-ever Oscar nominations on Tuesday morning, as the nominations for the 95th annual ceremony were announced. They're both nominated under the Original Song category where Rihanna, Tems, Ryan Coogler, and Ludwig Goransson's "Lift Me Up," (Black Panther) and Mitski, Son Lux, and David Byrne's "This Is A Life," (Everything Everywhere All At Once) will go up against each other, among other competitors.
Lady Gaga and Bloodpop's "Hold My Hand" (Top Gun: Maverick), Diane Warren's "Applause" (Tell It Like A Woman), and M. M. Keeravani's "Naatu Naatu" (RRR) round out the rest of the nods for the Best Original Song category. This marks Gaga's third Oscar nomination and Warren's fourteenth. But they may all not stand a chance to wildcard M.M. Keeravani's "Naatu Naatu," which took home the Best Original song award at the 2023 Golden Globes, often seen as a fairly good predictor for how the rest of awards season will shake out. Still, with the popularity and favor both Black Panther and Everything Everywhere All At Once have seen from critics and industry insiders this season so far, anything can happen.
What's more exciting is that we'll most likely get to see Rihanna perform "Lift Me Up" alongside Tems live for possibly the first time at the ceremony, alongside the other nominees, per Oscars tradition. The Original Song performances are usually the only music performances during the broadcast, so it'll make for a special moment either way — especially since it'll be Rihanna's first live performance after playing the upcoming 2023 Super Bowl half time show.
Rihanna and co. wrote "Lift Me Up" as a tribute to the life and legacy of the late Chadwick Boseman, and recorded the song across five countries. Per Tems in a press release, who spearheaded the track's songwriting: "After speaking with Ryan and hearing his direction for the film and the song, I wanted to write something that portrays a warm embrace from all the people that I've lost in my life. I tried to imagine what it would feel like if I could sing to them now and express how much I miss them. Rihanna has been an inspiration to me so hearing her convey this song is a great honor."
Of "This Is A Life," Son Lux's Ryan Lott told The Wrap that he approached Mitski to appear on the film's soundtrack. "We got [Mitski] a nearly copy of the film, and she flipped out, which happened every single time with everyone we reached out to," he said. "I started envisioning a song in which two voices were singing together, but it was almost like they were singing two different songs over the same piece of instrumental music, and then they would come together in these ecstatic tentpole moments, these little explosions of color and madness." Lott later brought David Byrne into the fold, and reportedly wrote "This Is A Life," excluding Byrne's verse, in 20 minutes.
The 95th Academy Awards kicks off March 12 at 8 p.m. ET. See the full list of nominations here.