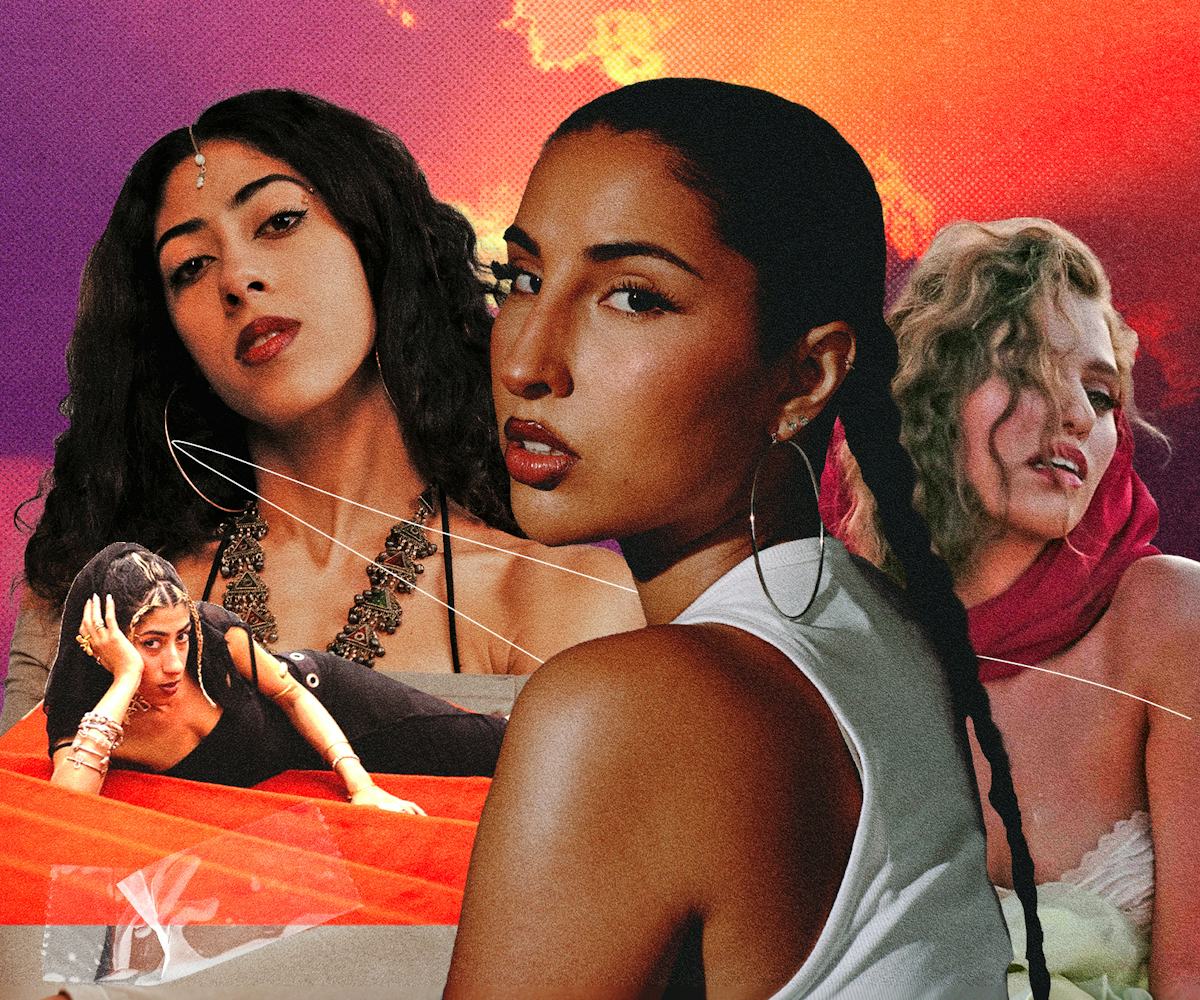 Dewey Saunders/Nylon; Getty Images, Shanaz Deen, Virisa Yong, Bex
9 Rising Arab Women Artists To Know Right Now
Meet the new wave of Arab women bringing their heritage to the forefront of the global music scene
From Palestinian siren Elyanna's Coachella set to Egyptian neo-soul rapper Felukah and Saudi Arabian singer-songwriter TamTam's performances at the 2022 World Cup, Arab music is going global. Many women are at the forefront of this new wave, ushering in the beginning of an unprecedented era of representation.
"We're getting bigger and there's no denying it," Felukah says. "Arab women have always played a crucial role in the music industry, we're just finally getting the global recognition we've always deserved. I think the internet has helped us platform ourselves, but it's also deeper than that. It's a social awakening."
Despite the rich history of legendary Arab women singers like Umm Kulthum and Fairouz, and even contemporaries like Nancy Ajram and Shadia Mansour, there's still a major gender disparity faced by Arab women artists. In 2020, Spotify analytics revealed that women remain significantly underrepresented in the Arab and global music scene with almost 60% of aspiring women artists discouraged from pursuing music as a career due to pervasive stigmas and stereotypes. In response, the platform launched campaigns like Sawtik and Equal Arabia, with the goal of amplifying the music of women artists in the region. Coupled with a broader cultural shift and the rise of platforms like TikTok, these initiatives have played a pivotal role in empowering and elevating Arab women in music in recent years.
For Felukah, music transcends its artistic realm and assumes a profound role in challenging stereotypes. "Music is like documentary poetics to me," says Felukah, who fuses Western and Arab influences in her songs. "It's a vessel for history. The more we encourage Arab women and women everywhere to create, produce, and present their work, the more included we are in the narrative. I explore these exact issues in my work, I guess I really enjoy being meta about all of it. Talking about the music within the music. The work within the work."
Using music as a powerful platform for empowerment, Sudanese rapper Nadine El Roubi, whose unapologetic lyrical flow caught the attention of none other than SZA herself, raps and sings about what it means to be an Afro-Arab woman on hits like "Honey Butter" and "New Era." "We're trying to normalize our culture, our stories, elevate our representation because that is how we erase xenophobia and racism," El Roubi says. "When those identities are normalized, you're like this doesn't feel different anymore. And if it's not different, then I'm not scared of it, and I feel like music is such a huge step in doing that."
El Roubi hopes her songs can help nuance the depiction of the modern Arab woman: one who embraces autonomy, femininity, and sexuality. "Arab women are often perceived as objects of beauty, but our authentic stories are yet to be fully represented in mass media," she adds. "When people think of the Arab woman's story, they often associate it with Islam and oppression. However, they fail to see the nuanced aspects of our experiences."
This transformative wave of Arab women artists is fearlessly reclaiming their own narrative, challenging and rejecting the distorted mainstream perception of Arab womanhood and refusing to be confined as mere objects of oppression or fetishization. They are also just creating some of the most eclectic and diverse soundscapes in music right now, some singing solely in Arabic or English, or seamlessly blending both languages and sometimes even incorporating a third. Discover and get to know nine of the most exciting rising Arab women musicians set to conquer 2023 — and hear our playlist, below.