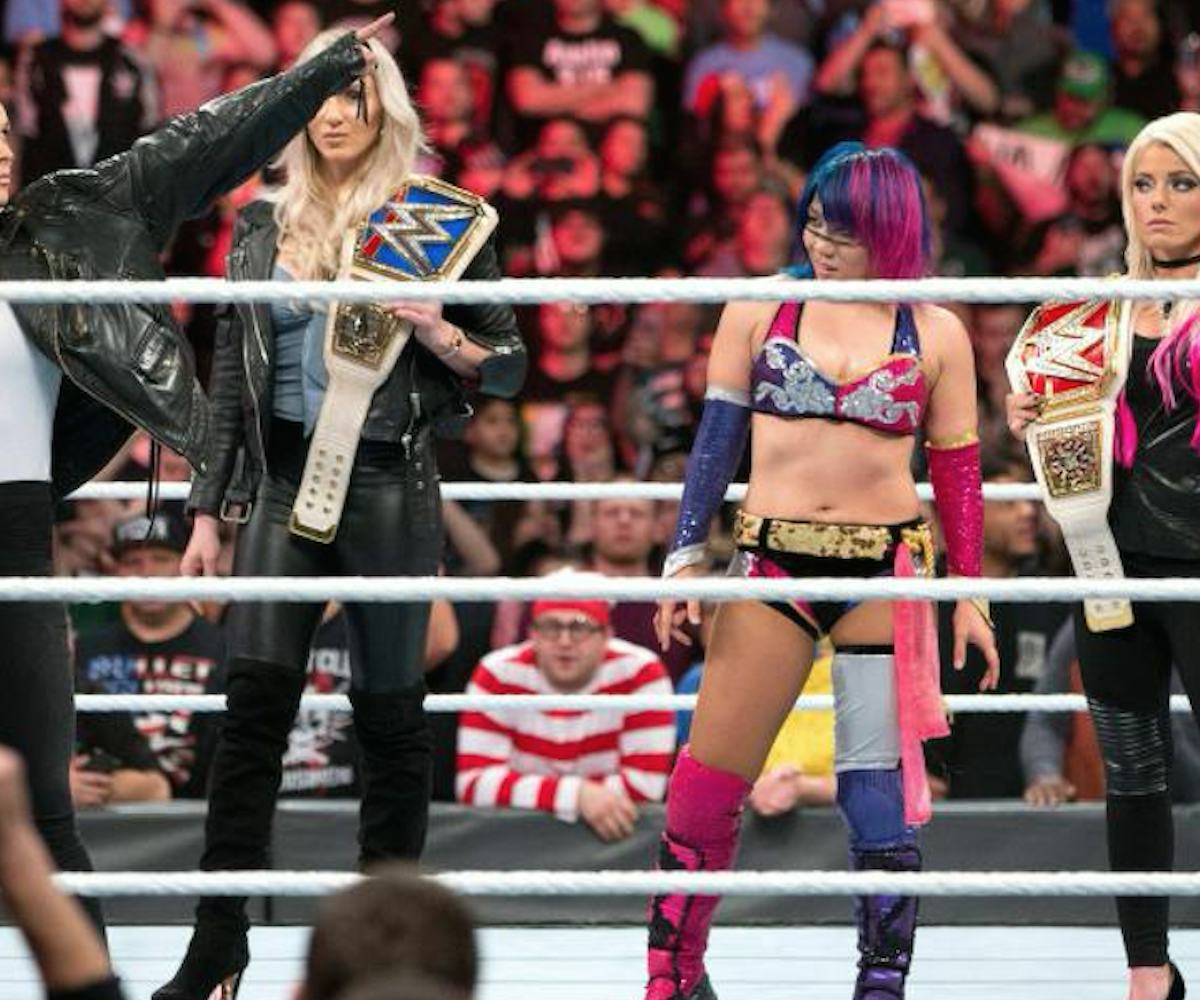 Screenshot via WWE Network
The Complexities Of Rooting For Ronda Rousey
How insidious is the WWE's plan to make Ronda the face of its women's division?
In 2015 and 2016, Ronda Rousey faced a very public humiliation after losing much-anticipated UFC fights against Holly Holm and Amanda Nunes following an almost-unheard-of 12-win streak. Her career suffered irreparable damage: Before these defeats, Rousey had been considered a paradigm-shifting figure in terms of female athletes and fighters, garnering more attention and money than perhaps any woman in the sport before her. People were unsure if her reputation would ever recover from the devastating and unexpected trounces. Now, years later, Rousey is back, this time as a professional wrestler for the WWE, a much different format in which to showcase her talents. But Rousey's re-introduction to the public eye has not been scandal-free, either. It's hard not to want to root for the disgraced brawler's second chance, but could Rousey's skyrocketed position in her new company be yet another botched attempt at angling the WWE as a feminist product?
Ronda's debut was proceeded by years of massive changes within the WWE. In 2016, the WWE's chief brand officer, Stephanie McMahon (who plays a fictionalized, villainous version of herself in the WWE's shows), announced that the federation would be revamping its women's division. The female wrestlers of the company would finally be given a new chance to compete on an equal playing field as the men—their matches would be longer, their stories would be more developed, and they were finally going to ditch the "divas" moniker and the sparkly pink butterfly belt that went with it. Steph claimed that it was seeing the success of women like Rousey who inspired the company to rethink gender parity.
Since then, the WWE's attempts at feminism have ranged from truly triumphant to completely botched. The company held its first-ever all-women tournament, and the popularity of many female superstars has since matched and surpassed that of the men's division. Women have participated in cage matches, hard-core matches, an elimination chamber—all previously considered too brutal for female combatants.
Not everything has gone so smoothly. In a strange twist, the first women's Money in the Bank match was confusingly won by a man, James Ellsworth (on behalf of his partner, Carmella)—despite the event being hailed as a groundbreaking feminist achievement. The public outcry over the situation was so severe, it held the exact same match two nights later, this time letting Carmella win on her own. Similarly, the first-ever women's Battle Royal was announced as the "Fabulous Moolah Battle Royal," named after a legendary female wrestler who also happened to be a known sex trafficker. Public outcry (and threats from sponsors) over the blunder was so drastic, the company was once again forced to rethink its branding. They dropped Moolah's name from the match. In April, the WWE held its first event in Saudi Arabia and featured no women on the card in accordance with local customs pertaining to "modesty," sparking a larger debate about the hypocrisy of its progressive positions.
Before that, at the first-ever women's Royal Rumble in January, rumors had been swirling about Rousey potentially signing a contract with the WWE. Since many entrants of the Rumble are usually surprises, the WWE was being particularly secretive about the deal they may or may not have been making. Fans speculated about her entrance and bemoaned the likelihood of her winning the entire 30-person match —they mostly wanted to see the women who had actually been fighting (both literally and figuratively) for recognition get the credit they deserved. The Royal Rumble did, in fact, bring back a handful of legendary female wrestlers who were never given the opportunity to compete in this kind of fight, and the ensuing brawl truly was a heartwarming acknowledgment of the under-appreciated work of previous generations of women. It was ultimately the (at the time undefeated) Japanese wrestler Asuka who emerged victoriously.
But as soon as the Rumble was over and Asuka was given her chance to choose her next competitor, Joan Jett's "Bad Reputation" blasted over the stadium's speakers: Ronda had arrived.
Ronda stayed silent during her debut in the WWE, only pointing at the Wrestlemania sign (a bizarre, time-honored tradition in the company) wordlessly. Fans noted the awkwardness of her arrival but recognized the WWE's attempts at not overshadowing the other women on its roster. But the next day, it was Ronda's name generating headlines—not Asuka's.
Women in the WWE bemoaned the world's excitement about Rousey on social media, wondering why their achievements were overshadowed. Dave Meltzer, the world's most esteemed pro-wrestling critic, hypothesized their responses were a "work"—that is, an elaborate ruse used to further a story line. If that's the case, the WWE has certainly done nothing to explore that angle since. Perhaps it noted the tiredness of tropes about pitting successful women against each other, perhaps they just thought of something else for Ronda to do.
Ronda would go on to start a planned feud with McMahon and her husband, Hunter Hearst Helmsley (aka Triple H, nee Paul Michael Levesque, the executive vice president of talent, live events and creative who also plays a fictionalized, evil version of himself on WWE shows). It was easy to see Ronda's nervousness in promos, but her hits still packed a punch. The scripted dialogue between her and McMahon emphasized that she would be looking to earn her opportunity at future matches—the two would go on to battle in a mixed-gender match at Wrestlemania. During the fight, Rousey would pummel both McMahon and Helmsley. Far surpassing expectations, Meltzer wound up rating the bout as the best of the entire night.
Out of the squared circle, Rousey's personal life has been fraught with controversy. Her relationship with a man who has been accused of domestic abuse certainly raised eyebrows, but it was a handful of publicly expressed political opinions that caused many fans to abandon her: "She can try hormones, chop her pecker off, but it's still the same bone structure a man has. It's an advantage. I don't think it's fair," Rousey had said of transgender MMA fighter, Fallon Fox, in 2013. It's unclear if her opinions on the matter have evolved since. Similarly, many advocated for Rousey's suspension after she issued a series of bizarre tweets questioning the reality of the Sandy Hook shooting in 2013. (She would later go on to apologize for the incident.)
On the one hand, Rousey's good-faith efforts and exciting in-ring work make her redemption arc both believable and exciting. In the face of low expectations, Rousey has already proven doubters wrong—truly the makings of an organic feminist narrative. Her recognition of the support she has gotten from some other female wrestlers has been heartwarming, as has her truly earnest reaction to new fans. Who doesn't want to watch a talented, passionate person succeed despite the public's doubts?
On the other hand, Rousey's complex political situation within the WWE means that she is being put forward to the public as the representative of the successes of women before her, and will likely be positioned as the face of the women's division for years to come—despite her relative inexperience in this medium. Similarly, given some of her incredibly strange (and sometimes outright hateful) publicly expressed beliefs, there's something insidious about the WWE's insistence on her as a symbol of equality. 
With every feminist gesture the WWE makes, fans continue to doubt the company's sincerity: It was the WWE itself that prevented gender parity within the sport for so long, and the self-congratulatory creation of historical "first-time" events for women suspiciously resembles a publicity ploy rather than actual attempts at reconciliation. Can we really consider Rousey a feminist icon, as the WWE wants us to? With the WWE's track record on women's issues being what it is, the extent to which fans can really trust the company's good intentions by positioning Rousey as a charming underdog is certainly a question.