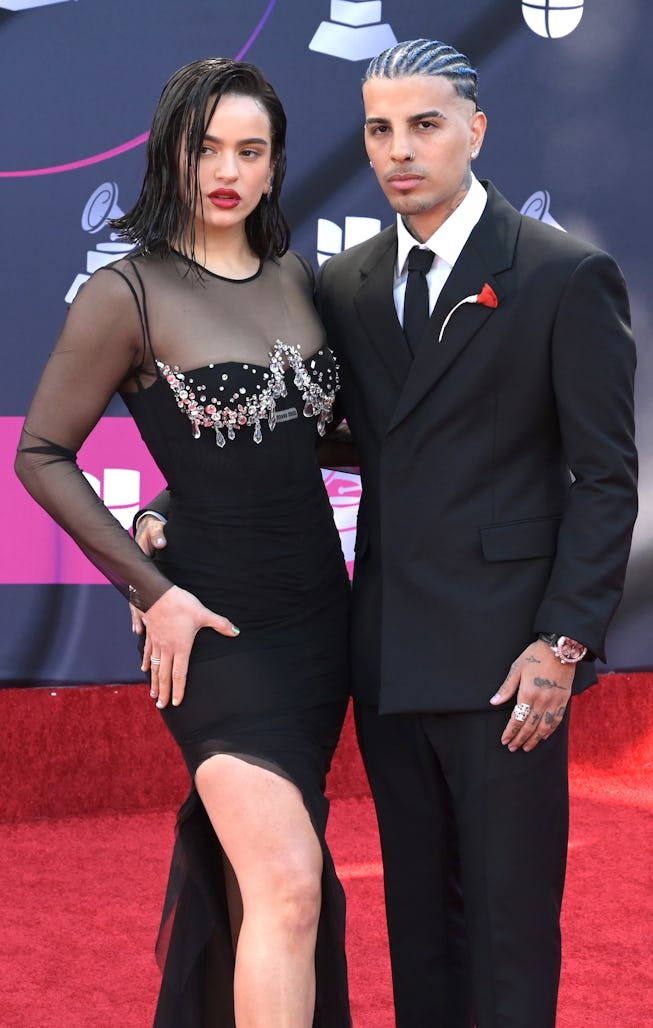 Manny Hernandez/WireImage/Getty Images
Everything To Know About Rosalía & Rauw Alejandro's Relationship
Their love story can be told through kisses, music, and matching tattoos.
When it comes to celebrity couples, they're often here one day and gone the next. Few things are more fickle than the changing tides of celebrity romance, but once in a blue moon, along comes a couple that will have us actually believing true love exists. Rosalía and Rauw Alejandro, two superstars and soulmates madly in love, is the latest pairing that we — and the rest of the world — can't get enough of. The pair (and now engaged fiancees) just released their first and latest joint EP together, RR, a three-song document dedicated to their love and their biggest public display as a couple yet.
Those who have been following closely along will know that Rosalía and Rauw have been together for some time now. They soft-launched and went Instagram official with their relationship back in 2022, People reports. But eagle-eyed fans suspected they were an item since as early as 2020, when fans pieced together Instagram posts that seemed to show they were vacationing in the same place together during lockdown. Now, Rosalía and Rauw have gone fully public — permanently cementing their flaming romance with RR (and its unbearably cute, kiss-filled music video "Beso") alongside a Billboard cover story that goes into all the details of their incredibly symbiotic, mutually supportive relationship.
Read on for all the highlights about their relationship, including how they first met, their above-and-beyond support for each other, shared tattoos, and more.
They met at the 2019 Latin Grammys.
Although Rosalía and Rauw went public with their relationship in 2021, they've actually been seeing each other for over three years, and have known each other for as long as four.
They had their meet-cute at a hotel lounge in Las Vegas, where Rosalía and Rauw were attending the 2019 Latin Grammys. Per Billboard, they had already been chatting over Instagram DMs, but this was their first IRL encounter. She was drinking water and had on a black Alexander Wang jumpsuit; he sipped whiskey, and wore a blue and yellow bomber jacket. Naturally, it was love at first sight: "100%," Rauw told Billboard.
The first thing they did was hit the studio together.
Working on music was one of the first ways they connected with each other. Soon after they met, after being mutual admirers, Rosalía co-wrote two songs, "Dile a El" and "Strawberry Kiwi," for Rauw's 2020 album, Afrodisíasco. They've since continued to work together, with Rosalía most recently co-writing "Caprichoso" for Rauw's 2022 album Trap Cake Vol. 2.
They are each others' biggest cheerleaders.
It's natural to be a supporter of your partner's career, but Rosalía and Rauw go above and beyond mere support for each other. They're not just cheering on the sidelines when the other's performing, they're also on the field and backstage to give crucial advice or a helping hand.
"We watch each other's backs," Rauw told Billboard. "At a visual, stage level, we share ideas; also styling, outfits [...] We're taking care of our prestige and our work and ensuring it always looks the part. We motivate each other to keep rising to an infinite level."
Rosalía added that they'll often sit in on each others' sound checks to make sure everything's sounding its best — "it's as if he were my ears," she said. Meanwhile, if Rauw is shooting a video, she'll lend her keen eye as his stylist or stylist's assistant, "or whatever they need me for. I'm there because I love you and I want to help. How can I help? And if I can help being your stylist's assistant, well, that's what I'll do." That's true love!
On a related note, Rauw also shared a cute aside about how he now feels he has to hold himself up to a higher standard as Rosalía's boyfriend: "We kind of represent each other mutually. If I'm going to go out there and do something crazy, I sometimes think, 'Heck, no: I'm Rosalía's boyfriend.' I need to raise the bar, understand?"
Yes, they have nicknames for each other.
Rosalía is Rosi, while Rauw is the more common but still cute, "baby," or Raulito.
They have tattoos of each others' names.
Like all the best celebrity couples, Rauw and Rosalía have permanently inked their names on each other. Rauw has Rosalía's name, reportedly in her handwriting, tattooed right above his navel. Meanwhile, Rosalía has a much more discreet "RR," their twinning initials, tattooed on the bottom of her foot.
They are engaged.
As mentioned above, the two are engaged and announced the news on March 24 in their adorable, PDA-filled music video for "Beso." At the end of the clip, Rosalía tearfully holds up a massive diamond ring on her finger and the red box it presumably came in. "Oh my god, and my mascara is all runny now. I love you," she says before kissing Rauw.