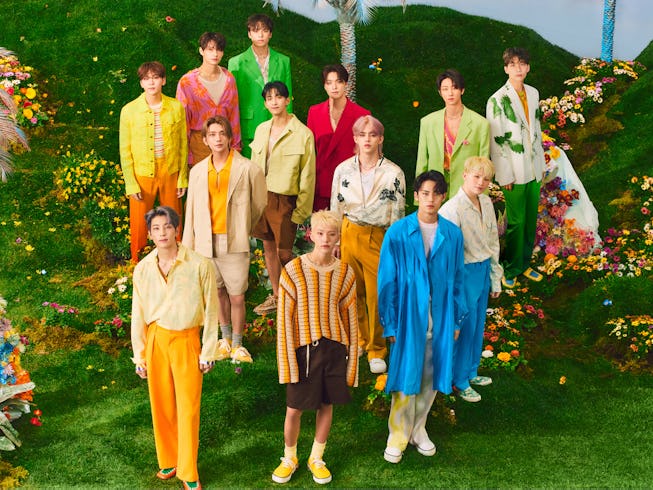 Pledis Entertainment
Seventeen Announces 10th Mini Album, 'FML'
It looks to be a sophisticated turn for the band.
K-pop titans Seventeen are on the move again. Just months after they wrapped up their 6-month long massive Be The Sun world tour, the group is back with new music, set to release their forthcoming 10th mini album, FML, and kickstarting another brand new chapter.
FML is due out April 24 at 6 p.m. KST/ 5 a.m. EST, and there's not much information about the project yet. The band's label, Pledis Entertainment, however, did upload one teaser: a grey and blue poster with images of a bed, a lamp, and a boxing ring — a mix of the everyday mundane, and an arena to let out those frustrations.
Alongside the mini album's announcement, Seventeen's social media channels also teased something called "Seventeen Street." The tweet accompanied a mix of emojis including the July 17 calendar emoji, the cat and frog emojis, the dango emoji, and the tropical island emoji — and the phase: "Coming Soon."
The new EP is the group's latest output since Sector 17, the repackage of their fourth full-length album, Face The Sun. Seventeen's last mini album was 2021's Attaca, a 7-track record that set flame to their boyhood. The group's last few albums have signaled a darker turn to the group's persona and concept as they shed their youth and step into more mature territory. The upcoming project seems to be a continuation of that exploration, with a seemingly more sophisticated and adult turn, and a little dash of angst thrown in there, too (it is, after all, called FML).
Seventeen is one of the busiest K-pop groups out there. Alongside group activities band members have also been working on their own solo projects. Member Vernon released his debut solo mixtape, Black Eye, last December, a pop-punk turn anchored by its '00s-feel title track. Hoshi and Woozi preceded him with their own solo mixtapes, Spider and Ruby, respectively. Who knows what lies ahead for Seventeen in 2023 — likely another tour and perhaps a few more solo mixtape releases — but before all that there will be FML.
Stay tuned as more information drops about the project; in the meantime you can pre-order the mini album on Weverse.