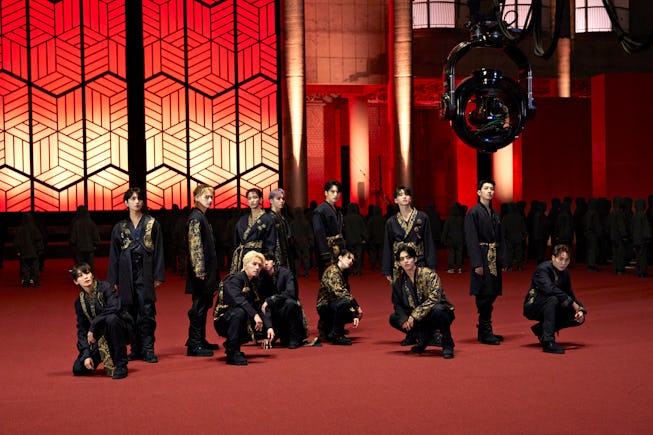 Pledis Entertainment
How Seventeen & A Crew Of 228 Dancers Brought "Super" To Life
Months of rehearsal, multiple dance crews, and a lot of teamwork.
In the Oui Kim-directed music video for Seventeen's "Super," there are 228 performers dancing alongside members S.Coups, Jeonghan, Joshua, Jun, Hoshi, Wonwoo, Woozi, DK, Mingyu, The8, Seungkwan, Vernon, and Dino. Together, they are practically a small army, and the setting, a defunct resort building bathed in regal red lighting, magnifies the enormity of their battle cry. As they move with a mesmerizing blend of sharp and fluid movements, of modern and traditional, the K-pop group's latest track is truly awe-inspiring.
"Super" is one of the lead singles of Seventeen's latest mini album, FML, and the group's most ambitious single to date: a showcase of unprecedented technical choreography and teamwork for the band. The volcanic tour de force is on a seismic level of scale and energy, and the band knew they needed a visual performance that would match the supercharged energy of the song while showing off their strengths as versatile performers and industry innovators.
"Every comeback we want to do better than our last comeback," Vernon tells NYLON over Zoom. Next to him, dancer Jun nods affirmatively. "And this comeback actually exceeded everyone's expectations, drastically."
The brainstorm for the performance began with a conversation with their longtime performance director Yoon Hyelim and choreographer Choi Youngjun. Once Yoon listened to the song, she talked through its significance and the ideas they wanted to express. For "Super," Yoon tells NYLON, they wanted a performance that could broadcast Seventeen's talents beyond just their fanbase.
"We wanted to deliver a performance that [...] will be talked about not only by their fans and the public, but also professional choreographers and dancers whose artistry is focused on the field of performances," says Yoon.
If that added additional pressure, Jun doesn't let on. "I don't think pressure is something that should be feared," he says. "I think it's something very necessary. It's even better to feel pressure because we work harder and practice harder."
PLEDIS Entertainment
Pledis Entertainment
The concept of "Super" — as its South Korean title, "손오공" or "Sonogong," nods to — stems from the mighty Chinese mythological character Sun Wukong, or the Monkey King, who could shapeshift into any form, transforming each hair on his body into something living or inanimate. It's an appropriate muse for Seventeen, protean performers highly skilled in the art of transformation; on "Super," they channel their inner champions.
In the wildly popular anime Dragon Ball Z, the character of Son Goku is largely based on Sun Wukong. Both mischievous figures have superhuman strength, get around on a flying cloud, and wield a magical staff that changes in length. "Rise way up to the sky, power pole," Seventeen's Joshua sings, moving his hands in an expanding motion to signify the ever-extending weapon. Before the anti-drop chorus, Dino — whose hair color in the music video can best be described as Super Saiyan blonde — draws two fingers to his forehead, a direct reference to Goku's instant transmission teleportation move. Leader S.Coups is also tossed in the air three times during the second verse, mimicking Sun Wukong's cloud-leaping ability and Goku's flying nimbus.
Per Yoon, the overall choreography for "Super" doesn't only draw ideas from Sun Wukong but rather a myriad of powerful characters. "The members were each characterized with many different protagonists, heroes with superpowers and legends from films and cartoons in mind," she says. "So each member might remind the viewers of different characters."
For the performance of "Super," the sheer number of dancers is both its greatest strength and singular difficulty. "We were excited," Vernon says. "We just couldn't wait to start practicing. When I first heard the song, I just knew that the performance would be good. I was really anticipating the choreography."
Multiple dance crews worked with Seventeen throughout the process, including Choi Youngjun's own crew Team Same. At the start of the process, a demo video of the choreography was created and shown to the members. Amazed by the dancer who stood-in for his part, Vernon decided to spend time with him during rehearsals to learn in detail how he did the rhythmic popping moves in the post-chorus. "Everybody was really amazed by the way he danced," Vernon says. "I learned how he used those skills [and] his way of using his muscles."
Typically, Seventeen's live performances come together in just a few days and sometimes they get as little as a day to learn new choreography due to their busy schedules. For "Super," however, they were able to dedicate triple that amount of time to rehearsals.
"What we liked about this comeback was that we had a lot of time to prepare for it," Vernon explains. "We had like two or three weeks before the music video shoot [to practice]. That's more than enough time for us." That time was largely spent learning the choreography, perfecting their synchronization, and "building their own respective characters," Yoon says.
"Seventeen's biggest strength is having 13 members and that advantage gets pushed ten-fold with 28 dancers moving in tandem."
In the early stages, the 41 performers (for live performances, only 28 additional dancers join the members on stage) were divided into three groups: the members, the main dancers, and the supporting dancers. They practiced at night — "around dinnertime," Vernon says — and would usually finish around midnight, each rehearsal lasting roughly three-to-four hours.
Because earlier rehearsals took place in groups, "it was hard for any of the members and dancers involved to see the full picture," Yoon recalls. Then, one day, all three groups came together at a large gymnasium. "We were all counting the beats together, and we made small steps at a time, adjusting to each other, [and] perfecting the performance layer by layer." That's when it all clicked. "We just felt it then," she says. "We knew, 'This was it.'"
They spent about a week rehearsing all together, and when they watched a playback recording of the entire routine toward the end of the practice period — about a month out from album release — "Everyone was screaming out of glee, clapping, and congratulating each other," Yoon says. "It was one of the most fulfilling, satisfying moments."
Seventeen's biggest strength is having 13 members — "We share the energy together. It's just much more fun to perform," Vernon says — and that advantage gets pushed ten-fold with 28 dancers moving in tandem with them on a single stage for "Super."
It's also what makes synchronization key; the members must pay close attention to their individual gestures. "We try to sync up even the slightest angle of our hands or the way that we shake our heads, for example," Jun says. "And not only between us, but we also try to synchronize with the dancers, while bringing out our personal styles as well."
Jun has his own spotlight moment during the bridge, the only part of the choreography where one member commands the entire stage. As he moves back and forth, he dictates the directional flow of the other dancers, who are crouched down and moving alongside him.
"I studied a lot on how to do that part," Jun says, laughing. "It comes after the really hype and very energetic choreo. Suddenly, it's my part, so I have to cool it down a little bit. So it was very hard!" The trick to grounding himself mid-performance? Just look at his hands. "I'm holding my hands behind my back, and that's actually me trying to calm myself down," he says.
This acute understanding of story and emotion, Yoon says, is what makes Seventeen some of the best performers of their generation. To them, it's so much more than mastering choreography: it's the symbiosis of ideas and movement, how it all comes together to tell a singular story. They understand each of their own roles in the full picture which, Yoon says, makes them more like a professional dance crew.
"To be honest, whatever the genre is, whatever the nuances are, Seventeen manage to own the music and make the performances feel true to them," she says. "The members' practice of learning from each other — knowing what to learn from each other — does not only apply to performances but also in everyday life and everything they do."
Seventeen's mini album 'FML' is out now.
Photos courtesy of Pledis Entertainment