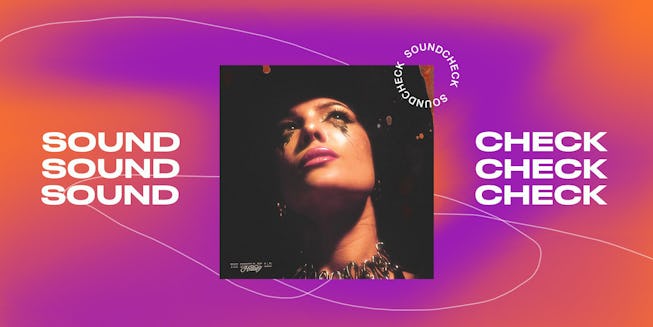 Photo Courtesy of Artist
Soundcheck: The 12 Best Music Releases Of The Week
Halsey, Beach Bunny, and more
Every weekend, we bring you #SOUNDCHECK—your destination for the best new music that hit the web over the course of the week. Because you should always be prepared when someone passes you that AUX cord. This week's roundup features 11 of our favorite emerging and established artists including Halsey, Beach Bunny, and so many more. Turn up, tune in, and tune out.
After weeks of a dry spell in the music industry, we're finally back to getting sweet, sweet tunes every Friday. Don't worry — we've rounded up all the best ones to drop over the past few days here, so you won't miss out on anything. Halsey is ramping up the drama ahead of the release of Manicnext week, having us ready to beg for it with her new single and video "You Should Be Sad". The title, we presume, is short for "You Should Be Sad There's Still Another Week Until Manic". Elsewhere on the musical internet, Hop Along's Frances Quinlan teases more of her solo debut with endearing single "Your Reply", and Beach Bunny prepares us for the onslaught of Valentine's Day content with warm and fuzzy love song "Cloud 9". Hear all of these and more, below.
"You Should Be Sad" - Halsey
Okay, *wow*.
"Cloud 9" - Beach Bunny
Ideal for reveling in your mushiest, most lovey-dovey feelings.
"Ne Me Quitte Pas (Don't Leave Me) - Orion Sun
May or may not be falling hopelessly in love with her music (emphasis on the former).
"Your Reply" - Frances Quinlan
This latest single from Quinlan's upcoming debut solo record is entirely charming.
"Canto" - Pongo
Saving this to be my personal song of the summer.
"Te Quiero Olvidar" - Salt Cathedral
Juli's fluttering harmonies combined with the subtly hypnotic Caribbean beat are the ultimate combo for dancing away your worries.
"Teenage Headache Dreams" - Mura Masa ft. Ellie Rowsell
Give me a coming of age film with this playing at a pivotal moment ASAP.
"A Week Into New Years Resolutions" - The Little Miss
New Year's Resolutions suck, but this song does not.
"Love Em Leave Em" - Amindi ft. Kari Faux
Bags over boys, forever and ever.
"Teach You" - Emily King ft. Sara Bareilles
This arrangement is pure magic.
"Dead Celebrities" - Easy Life
If you're just *dying* for more, they also released an entire EP of new tunes.
"Me in 20 Years" - Moses Sumney
A breathtaking and deeply ruminating exhalation to say goodbye to the week.