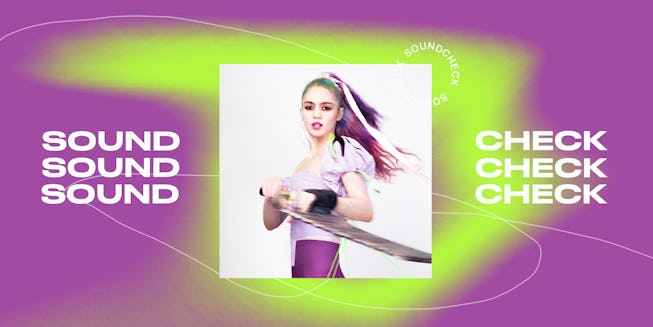 Soundcheck: The 15 Best Music Releases Of The Week
Grimes, Arca, Purity Ring and more
Every weekend, we bring you #SOUNDCHECK—your destination for the best new music that hit the web over the course of the week. Because you should always be prepared when someone passes you that AUX cord. This week's roundup features 15 selections from of our favorite emerging and established artists. Turn up, tune in, and tune out.
Blessings abound this week for Grimes has finally delivered her highly-anticipated Miss Anthropocene album, an ambitious and pristine collection of pop heavily imbued with the anxieties of impending apocalypse; while Arca made her return with a clanging, clashing and chameleonic 62-minute track, "@@@@," one that sounds like it zipped down from some distant planet hundreds of light-years ahead. That felt like a common theme: artists are trying to chase the sounds of the future.
Elsewhere, Purity Ring made their five-year return with "Stardew," a twinkling number that sits as delicately as early-morning condensation. And the gloom monster (an affectionate title) King Krule softened up as he mused on about fatherhood. There's also plenty for your ears to gobble up — continue on for the best tracks.
"Darkseid" - Grimes, PAN
With a title that channels the infamous Justice League villain, "Darkseid" delivers a mood fit for an action sequence.
"Susie Save Your Love" - Allie X feat. Mitski
A calm-inducing cut to reduce your cortisol levels.
"Miles" - Christelle Bofale
Christelle Bofale's plea for a world on fire is the prettiest you've ever heard.
"Entertnmnt" - Oklou
Oklou and Mura Masa deliver crystalline pop regurgitated from a metallic underground.
"Stardew" - Purity Ring
Purity Ring replicates the wide-eyed magic of opening a music box with "Stardew."
"Diamond Nova" - Azealia Banks feat. Pharrell
Azealia slows it down for this one-minute track that's deserves to be much longer.
"Timing" - Kodie Shane
Kodie Shane meets guitar in this smooth and nostalgic track.
"@@@@@" - Arca
62 minutes of the future.
"Airport Antenatal Airplane" - King Krule
King Krule's typical gloom is awash with baby pink, as he muses about fatherhood.
"Waxahatchee" - Lilacs
Waxahatchee's perfect folk feels like it unwinds in sync with a lilacs' life cycle.
"Rainbow" - Rema
The song to request at the club on your Friday night.
"Colouour" - Moses Sumney
Ephemeral jazz that melts into Moses Sumney sweetly requesting his lover to wear more color.
"1-800-IM-HORNY" - Kamaiyah
As the weather thaws, so does my sex drive.
"Reminds Me" - Kim Petras
A breakup song and a bop all in one.
"Love Song" - IV Jay
IV Jay strikes a relatable chord with lyrics like, "Vibes don't lie, I'm never wrong /I'm so used to moving on."