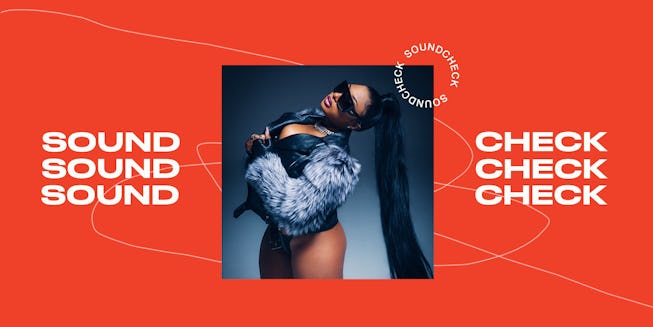 Courtesy of the artist
Soundcheck: The 11 Best Music Releases Of The Week
From Megan Thee Stallion, Dixie Chicks, CupcakKe and more
Every weekend, we bring you #SOUNDCHECK—your destination for the best new music that hit the web over the course of the week. Because you should always be prepared when someone passes you that AUX cord. This week's roundup features 11 selections from of our favorite emerging and established artists. Turn up, tune in, and tune out.
As the outside world gets progressively worse and closer to apocalyptic, at least there are Good Tunes to temporarily staunch everyone's anxieties. At least, that's the silver lining I'm tenuously grasping onto these days. That said, music did declare loud and clear that this week would be the week of immaculate returns. Cue the Dixie Chicks, dropping their incredibly good and wonderfully eviscerating track "Gaslighter" after fourteen years of silence. Listening to the timely lyrics and the catchy hook, it's like they never left.
On the other end of the spectrum, the internet's favorite raunch-rapper CupcakKe also resurfaced after a few quiet months with "Lawd Jesus," the same phrase she'll have everyone else saying as they fan their necks, pressing play for the umpteenth time. And as the cherry on top of this extra-draining week: Lil Uzi Vert finally released his highly-highly-highly anticipated album Eternal Atake after teasing it 599 days ago — yes, someone really did crunch the numbers. Elsewhere in the world, PC Music's Planet 1999 has seen the future, and it's really just the past but better. Along with it, Berlin-born HAWA drops off a tidy, micro-sachet of pure fire that I desperately need more of. Hear all of the above, and more, below.
"Stop Playing" - Megan Thee Stallion f. Gunna
Meg like we've never heard her before.
"Gaslighter" - Dixie Chicks
Dixie Chicks has returned with a huge, wonderful, and incredibly-timely middle finger to the world's gaslighters.
"Tantrum" - Ashnikko
After this I'm "T-E-A-M-P-S-Y-C-H-O."
"am i am" - altopalo
The junk drawer in your house if it was music: bewildering and wondrous.
"Lawd Jesus" - CupcakKe
CupcakKe hive rise.
"Devotion" - Planet 1999
A love song pumped through old-new-sounding PC Music technology.
"I'm Sorry" - Lil Uzi Vert
A beat beamed straight from outer space.
"Give Me Another Chance" - Empress Of
Empress Of goes dance with this hyper-hypnotic cut.
"XS" - Rina Sawayama
Rina Sawayama brings it back to early aughts Britney Spears.
"Frick" - HAWA
HAWA's "Frick" is tires screeching on asphalt. Hot.
"Drinks" - Cyn
"He got mad, so I got drinks."