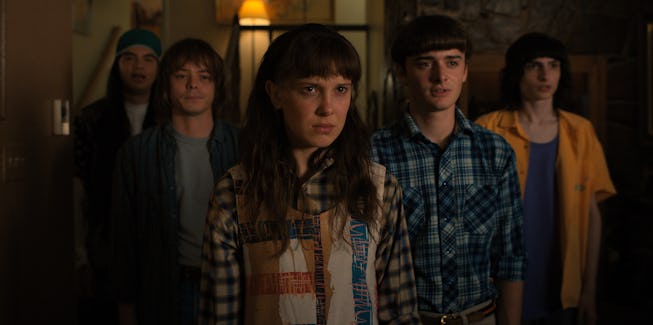 Netflix
Everyone In The New 'Stranger Things' Trailer Has A Mullet
Season 4 of the '80s-themed Netflix hit promises a scary return to Hawkins.
Despite a long hiatus, Stranger Things 4 will drop on Netflix this May in two brand new installments. The sci-fi, '80s-themed series is both an adventure-filled thriller and a coming-of-age story amongst friends, and as evidenced by a new trailer, both themes will continue in the series' new season.
Here's everything we know about Stranger Things season 4 so far:
Stranger Things season 4 will premiere in two parts.
The new season has a two-part release date, with part one dropping on Netflix on May 27, 2022, and the second half following six weeks later on July 1, 2022.
In an announcement letter, show creators the Duffer brothers wrote: "With nine scripts, over eight-hundred pages, almost two years of filming, thousands of visual effects shots, and a runtime nearly twice the length of any previous season, Stranger Things 4 was the most challenging season yet, but also the most rewarding one.
"Everyone involved is incredibly proud of the results, and we can't wait to share it with you."
Most of the Stranger Things cast will return for season 4.
Millie Bobby Brown will reprise her role as government experiment-turned semi-normal teenage girl Eleven, along with her gang of friends Mike (Finn Wolfhard), Lucas (Caleb McLaughlin), Dustin (Gaten Matarazzo), Will (Noah Schnapp), Max (Sadie Sink), Steve (Joe Keery), Nancy (Natalia Dyer), and Jonathan (Charlie Heaton). Winona Ryder will return as Will's mom, Joyce, and David Barbour will also return as Hopper, despite seemingly meeting his end in season 3.
The plot of Stranger Things season 4 will pick up where season 3 left off, with plenty of new twists.
An official synopsis for season 4 reads: "It's been six months since the Battle of Starcourt, which brought terror and destruction to Hawkins. Struggling with the aftermath, our group of friends are separated for the first time – and navigating the complexities of high school hasn't made things any easier.
"In this most vulnerable time, a new and horrifying supernatural threat surfaces, presenting a gruesome mystery that, if solved, might finally put an end to the horrors of the Upside Down."
The new season promises to delve deeper into the backstory of Chief Jim Hopper (David Barbour), who appears to be being held as a prisoner in Russia, based on the trailer.
The first trailer for season 4 shows the Stranger Things kids nearly all grown up.
In the trailer for season 4, the Hawkins pals attempt a return to normalcy before quickly being catapulted back into their upside down reality, admitting that their small town in Indiana is "cursed," which seems like an understatement.
Watch the trailer below:
Season 5 will be Stranger Thing's final season.
Speaking to ScreenRant, producer Shawn Levy said of season 5 being the final chapter, "We never wanted to run on fumes and we wanted to only tell as much story as the [Duffer] brothers saw and feel with clarity. So it's been clear for a while that they know exactly where we're headed and this is the arc."
He continued: "We wouldn't want to stick around for one moment beyond that vision and the clarity of that voice. So rather than focusing on that sad day that happens who knows when, the end of season five, I'll just once again reaffirm what I've told everyone, which is it has been a long-ass wait for season four. But I swear to God, the world will realize it's worth it."