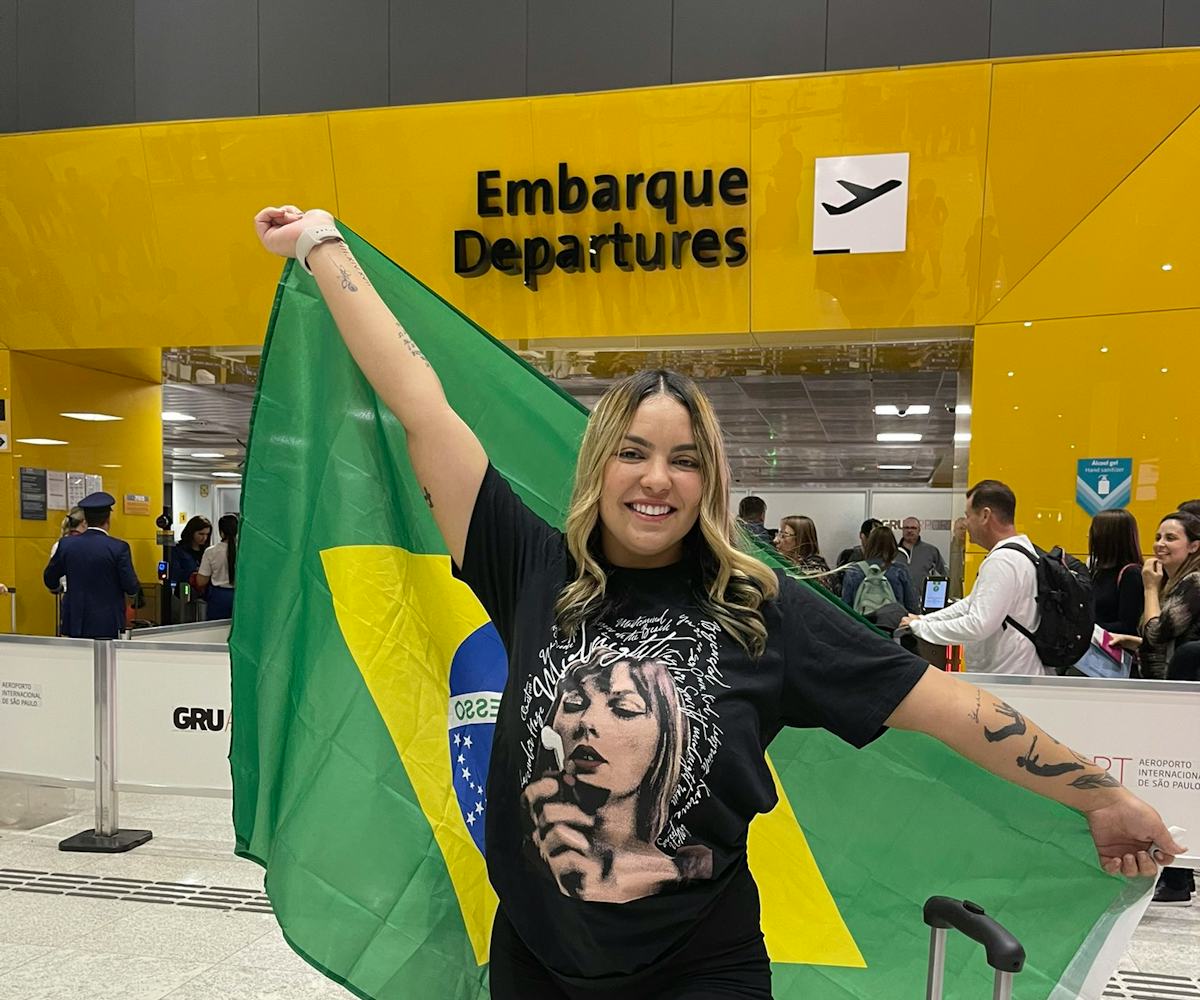 Bea Gomes
Meet The Fans Who Traveled Across The World For Taylor Swift's Eras Tour
"When the Eras Tour was announced, it was too perfect to pass up."
There's a palpable, feverish excitement in the air outside of Glendale, AZ's State Farm Stadium. The parking lot is a sea of sequins and glitter. Across the street at a local park, hundreds of Swifties have gathered hours ahead of time to place bets on what song will open the show: "Cruel Summer" tops the list, then "Anti-Hero." (Though it will turn out that "Miss Americana & The Heartbreak Prince," with its apt lyric, "It's been a long time coming," will take that spot.) There are photo ops and food trucks, her pop discography blaring as strangers and friends shower compliments to fans in music video-inspired outfits walking by. Most of these fans are Arizona natives, but a good many have only arrived to the city just days before, thousands of miles from home for this: the long-awaited opening night of Taylor Swift's Eras Tour.
When Taylor Swift announced her Eras Tour in late 2022, countless Swifties across social media knew it was time to see the person whose music buoyed them during the tumultuous past few years. For many, they decided the opening night show was something they needed to be a part of — even if they have to cross the globe to get there.
One of those fans is 24-year-old Holly, who lives in Australia and became a Swift fan at nine years old after hearing "Love Story" on the radio. For her, seeing Swift on the first date was inevitable. "We [in Australia] are often the last/near the last leg of Taylor's tours," she tells NYLON. "By the time she gets to us, we know what songs she's going to sing, what the stage looks like, what costumes she's going to wear, and the songs that play before she comes on stage. It's always been a dream of mine to attend an opening night show for one of her tours, and when the Eras Tour was announced, it was too perfect to pass up."
Holly became a Swift fan at nine years old when she heard "Love Story" on the radio.
Photos by Holly
Bea Gomes, a 23-year-old fan who flew in from Brazil for the show, echoes that sentiment. When the pandemic forced Swift to cancel all dates supporting her 2019 album Lover, it meant the places that she hadn't toured before — like Brazil — were, once again, left Swift-less. Rather than choosing a cheaper location that is later on the tour to travel to, Bea chose opening night. Like Holly, she wanted everything to be a surprise, a feat that's become much harder to achieve following the advent of social media and TikTok, where every swipe on your For You Page is a chance to get spoiled.
"I always knew that if I wanted to see her, I would have to travel," Gomes says. "We know after the first concert everything will be online. I wanted to be surprised by the new tour, new choreographies, new costumes, and especially a new setlist."
To make that happen, Bea took extra shifts at work in addition to picking up more babysitting jobs to save as much as she possibly could. Months before the show, she also arranged a Twitter group for other international Swifties who were traveling to Glendale as a way to coordinate a meeting place to take group photos, exchange friendship bracelets, and paint Swift's lucky number 13 on each others' hands.
In this way, social media had its upside. For months leading up to the first date, fans came together online to help one another prepare. Swiftie-run Twitter accounts like @ErasTourResell helped fans purchase tickets to the concert, discuss Taylor-inspired outfits, and coordinate sleeping arrangements among attendees to make the trip cheaper.
Vivian, 26, who flew in from Vancouver, describes the tour as a reunion not only between Swift and her fans, but also between fans and their online friends. Her trip to Glendale includes meeting up with Swifties she's been talking to on Twitter for the last 14 years. She's sharing a hotel room with some of them who also hail from Vancouver and Quebec. "A lot of Swifties I have met online actually became my real life friends," she says.
"I was 12 when I first started listening to her, and now I am 26 and married. It is insane how much has happened. When I say that I grew up with Taylor, I truly mean it."
Vivian was also one of the many fans that was burned by the Ticketmaster debacle. After extreme demand for tickets caused the Ticketmaster site to crash, many fans were unable to purchase tickets unless they bought resale tickets for exorbitant prices. Although Vivian describes buying the tickets as "difficult" and wasn't able to secure them during the pre-sale, she found someone on Reddit who was selected to take part in a the second chance ticket buying opportunity. She put her faith in the Reddit user and hoped they were legitimate, and she was able to get the tickets a month before the show. For Vivian, it was apparent that the reason for this demand is because during a time when so many were feeling alone, Swift reached more people than ever.
"She has experimented with so many different genres and it really strengthens her discography," she says. "She is showing people how artistically diverse she can be and people are opening their eyes to her talent, [even though] I believe that contributed to the negative Ticketmaster experience." (Swift is well aware of the issues on opening night, she made an allusion to the fiasco, thanking people for the amount of effort they put in to attend.)
Swift's creative output is ever-evolving, dipping into new facets of her artistry and dreaming of ways to create an overarching theme for every album release, so when she explained the Eras Tour would be a "journey" through her music it only served as a bigger catalyst for fans across the world to see Swift morph into the past versions of herself through her music.
19-year-old Delphine, who first discovered Taylor in late 2018 (and received a personal online shout-out from Swift in 2020), traveled 11 hours from Belgium for opening night. It was a decision made when no international dates had been (and have yet to be) announced. Knowing that a tour was coming, she'd been saving since the pandemic started and budgeted accordingly to make sure she could attend. Like the other fans, she is excited to meet up with her online pals. But, the question she was most curious about: how is Swift possibly going to include all her hits and deep cuts in one show?
"It's very hard to say," she says, just a week before the tour's kick off. "I'm curious to find out if the concept of Eras Tour will translate to a setlist that's equally distributed between all her studio albums or if her four untoured albums will get more songs on the setlist than, say, debut and Speak Now."
Three days after the first Eras Tour date — after friendship bracelets have been swapped, the blue glitter 13s drawn on hands have faded, and critics and fans alike have raved about every aspect of the concert — Delphine's assumption turned out to be quite prophetic.
Many assumed Swift would perform 20-25 songs, but to everyone's surprise and shock she performed 44 over the course of three hours, including choreography and outfit changes — a sprawling set that explores every era. For Vivian, and so many others, the show embodied what it means to truly grow up with your favorite artist.
"I was 12 when I first started listening to her, and now I am 26 and married," she says. "It is insane how much has happened. When I say that I grew up with Taylor, I truly mean it."