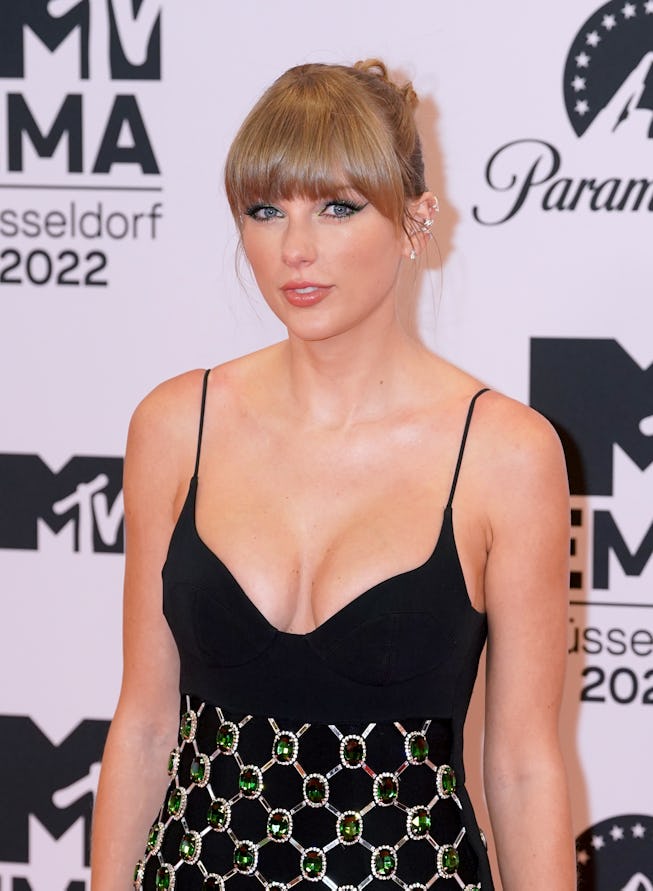 Ian West - PA Images/PA Images/Getty Images
Taylor Swift's Ticketmaster Debacle Has Reached Congress
Lawmakers will reportedly hold a hearing on the lack of competition in the ticketing industry.
When Taylor Swift wrote, "Karma is my boyfriend/ Karma is a god," on Midnights, it's unlikely it was with any premonition in mind. But Swift — or at least her fans — may soon be thanking that cosmic force following Ticketmaster's bungling of her Eras Tour ticket sales last week.
On Tuesday, Nov. 22, Congress announced that a U.S. senate anti-trust panel would hold a hearing on Ticketmaster and its parent company Live Nation regarding the lack of competition and its dominance in the ticket sales and distribution industry. It arrives after a week of complaints from Swift fans citing major service failures by the company, long waiting times, and gouged pricing.
In the announcement made by Senators Amy Klobuchar (D-MN) and Mike Lee (R-UT), they called out Ticketmaster and Live Nation's dominant market position in the industry, saying that the lack of competition means the company doesn't face pressure to "continually innovate and improve," ultimately harming consumers and artists.
"Last week, the competition problem in ticketing markets was made painfully obvious when Ticketmaster's website failed hundreds of thousands of fans hoping to purchase concert tickets," Klobuchar said in her statement to Congress. "The high fees, site disruptions and cancellations that customers experienced shows how Ticketmaster's dominant market position means the company does not face any pressure to continually innovate and improve. That's why we will hold a hearing on how consolidation in the live entertainment and ticketing industry harms customers and artists alike. When there is no competition to incentivize better services and fair prices, we all suffer the consequences."
Lee added, "American consumers deserve the benefit of competition in every market, from grocery chains to concert venues. I look forward to exercising our Subcommittee's oversight authority to ensure that anticompetitive mergers and exclusionary conduct are not crippling an entertainment industry already struggling to recover from pandemic lockdowns."
A date for the hearing has not yet been set and will be announced at a later date.
In a lengthy statement posted to her social media on Friday, Nov. 18, Swift herself said she was "piss[ed] off" by all the issues that plagued the ticket buying process, and that she and her team will figure out ways to improve the ticket purchasing system in the future. She revealed that she and her team asked Ticketmaster multiple times if they would be able to handle the demand, and they "were assured [Ticketmaster] could."
"Well. It goes without saying that I'm extremely protective of my fans," Swift's statement read. "We've been doing this for decades together and over the years, I've brought so many elements of my career in house. I've done this SPECIFICALLY to improve the quality of my fans' experience by doing it myself with my team who care as much about my fans as I do. It's really difficult for me to trust an outside entity with these relationships and loyalties and excruciating for me to just watch mistakes happen with no recourse."
Shortly after Swift's statement, the Justice Department announced it would open an anti-trust investigation into Ticketmaster's parent company, Live Nation. Though announced in the midst of the Swift's Ticketmaster debacle, the investigation reportedly predates the events and will focus on whether the company has abused its power over the ticketing industry.
Early last week, record-level traffic crashed the Ticketmaster website during the Verified Fans presale for Taylor Swift's highly anticipated Eras Tour, and subsequently led to the company cancelling the scheduled general sale for Swift's tour set to kick off on Friday, Nov. 18 at 10 a.m. The company cited "extraordinarily high demands" and "insufficient remaining ticket inventory" as reasons for the cancellation.
The Tuesday ticket pre-sale was plagued with technical errors, online queues that lasted hours, and immense enough interest to cause the website to crash and be inaccessible to eager fans for several hours on Tuesday. Per Variety, the fans who were lucky enough to secure a code and access the presale were still forced to wait hours before they were able to purchase a ticket. Unlucky fans never made it past the queue, or were sidelined to the waitlist.
Public backlash was swift as fans called out the platform for not doing enough to prepare for the traffic. By Thursday morning, enough racket and public complaints were made to get lawmakers involved, igniting a larger conversation about Ticketmaster and Live Nation's dominance on the ticket sales and distribution industry. Senator Amy Klobuchar issued a letter on Thursday to Michael Rapino, the president and CEO of Ticketmaster's parent company, Live Nation, expressing "serious concerns about the state of competition in the ticketing industry and its harmful impact on consumers." While Tennessee's attorney general also released a statement separately that he'd be investigating the company after Swifties flooded his office with complaints. Rep. Alexandra Ocasio-Cortez also called for Live Nation and Ticketmaster to "break up" their merger in her own tweet posted on Tuesday.
Ticketmaster released their own lengthy statement on Thursday in response to the growing scrutiny, explaining that bots, as well as fans who weren't invited to participate in the pre-sale but were visiting the website anyway, were to blame for the problems.
"Historically, working with Verified Fan invite codes has worked as we've been able to manage the volume coming into the site to shop for tickets," Ticketmaster wrote in their statement. "However, this time the staggering number of bot attacks as well as fans who didn't have invite codes drove unprecedented traffic on our site, resulting in 3.5 billion total system requests — 4x our previous peak."
Per Ticketmaster, over two million tickets were eventually sold during the pre-sale, the largest amount of tickets ever sold for an artist in one day. It's unclear what percentage of the total tickets are still left (if any) and how they will eventually be distributed.
This article was originally published on