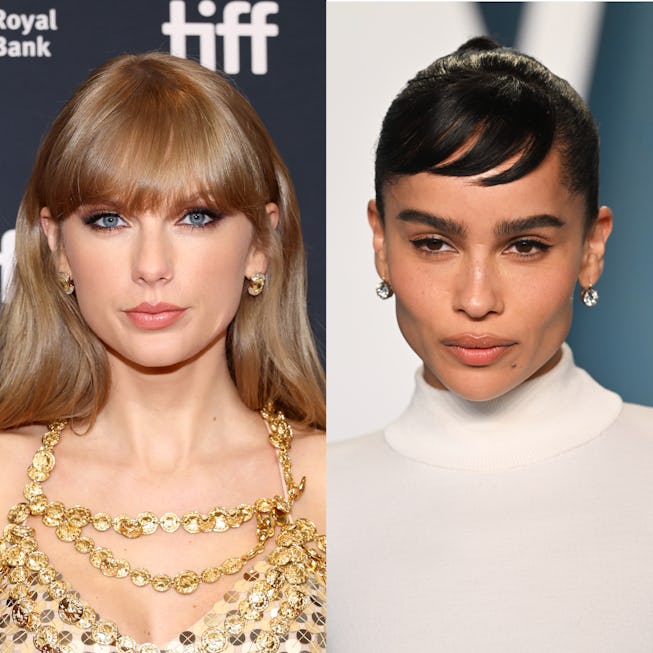 Getty
Zoë Kravitz Has Songwriting Credits On Taylor Swift's 'Midnights'
More clues and mysteries from Swift's 'Midnights' album abound.
Taylor Swift is preparing to release her tenth studio album, Midnights and she's done just about everything to tease its arrival. In past years, the 32-year-old singer has prefaced her music with hidden easter eggs and secret messages, and this time she's let fans in on her behind-the-scenes process more than ever.
After announcing the album at the 2022 VMAs, Swift said the project would drop at midnight on October 21st. Over the past month she's built anticipation by unveiling the tracklist on TikTok during a segment called, 'Midnights Mayhem With Me,' and most recently she's been dishing out title explainers on Instagram. Now, with only three days left until the premiere, Swift has released her manifestation calendar for the Midnights album rollout.
Below, we've compiled everything we know about the album so far — from its wistful reference to time and mysterious collaborations to its guest writers, tracklist, and release week schedule.
Zoë Kravitz has two songwriting credits on Midnights.
On Tuesday, the songwriting credits for Midnights were revealed, and fans noticed that Kravitz has credits on "Karma" and "Lavender Haze."
Kravitz has a history of making music, including with frequent Swift collaborator Jack Antonoff, so the credits aren't as surprising as they might seem at first. In 2020, Kravitz released music under her electro-pop group, Lolawolf, and in 2021 she announced a forthcoming solo project made with Antonoff.
Other notable credits include Swift's boyfriend Joe Alwyn on "Sweet Nothing," and the fact that Swift is the sole writer on the track "Vigilante Shit."
Swift's 'Midnights Manifest' video explains her album rollout.
On Sunday, October 16th, Swift surprised fans with another unexpected video. The brief clip shows a virtual calendar titled "Taylor Swift's Midnights Manifest," and each day includes the plans for her album release schedule. On Thursday, October 20th, the singer will drop the "teaser trailer," during Thursday Night Football on Prime Video.
Midnights drops the next day at 12 am Eastern, along with a "special very chaotic surprise" at 3 am Eastern. The music video for "Anti-Hero" premieres that morning as well at 8am Eastern, with an accompanying "TSAntiHeroChallenge" on YouTube shorts. Then Swift will conclude the day by releasing lyric videos for each track at 8 pm Eastern.
On Saturday, October 22nd, and Sunday, October 23rd, Swift wrote "stream midnights pls," along with instructions to grab the exclusive lavender vinyl at target. She also hinted that fans should visit their local record store for copies.
The next week kicks off with a live appearance on The Tonight Show with Jimmy Fallon on Monday, October 24th. Then, on Tuesday, Swift will release another music video from the album. And finally, on Friday, October 28th, she's stopping by the Graham Norton show.
Check out the 'Midnights Manifest' video below:
There will be a Midnights Tour.
Swifts UK website confirmed that a tour is coming very soon! Fans were instructed to pre-order the Midnights album from the UK store to get a special presale code and exclusive access to the upcoming tour dates.
The singer has not officially announced a tour yet, but this bit of news seems to hint that a global tour is in the works. The UK website did not include many details, but they assured visitors that additional information will be made available at a later date.
The Midnights tracklist includes 13 Songs.
After teasing fans by dropping one song title at a time in the weeks leading up to Midnights, Swift unveiled the tracklist in its entirety on Friday, Oct. 7.
See the full confirmed tracklist for Midnights, below.
Midnights Tracklist
Lavender Haze
Maroon
Anti-Hero
Snow On The Beach ft. Lana Del Rey
You're On Your Own, Kid
Midnight Rain
Question...?
Vigilante Shit
Bejeweled
Labyrinth
Karma
Sweet Nothing
Mastermind
"Snow On The Beach," featuring Lana Del Rey, is about falling in love.
Earlier this month, Swift confirmed that she and Lana Del Rey collaborated on a song for Midnights. In the latest episode of 'Midnights Mayhem With Me,' she revealed the "Born To Die" singer is featured on the track "Snow on The Beach."
Swift later explained the meaning behind "Snow On The Beach" on Instagram. The romantic song captures the moment when you realize you're falling in love with someone who loves you back, Swift said. "Sort of in this cataclysmic, fated, moment where you realize someone feels exactly the way that you feel, at the same moment, and you're kind of looking around, going, 'wait is this real? Is this a dream? Is this for real? Is this happening? Is it really happening?'" Swift said. "Kind of like it would be if you were to see snow falling on the beach."
The track features Lana Del Rey, who Swift called "one of the best musical artists ever." She gushed, "The fact that I get to exist at the same time as her is an honor and a privilege and the fact that she would be so generous as to collaborate with us on this song is something I'm going to be grateful for, for life," Swift said. "Absolutely love her. And I really hope you love this song as much as I do."
Watch Swift's explanation of "Snow On The Beach" below
https://www.instagram.com/reel/CjmXQ8dLsyo/?igshid=NjZiMGI4OTY%3D
"Lavender Haze" is about protecting a relationship.
Swift opened up about the meaning behind the track one of Midnights in a new video posted to her Instagram. Titled "Lavender Haze," the song is about protecting a relationship from outsiders, even as they attempt to sabotage it. Sound familiar?
The meaning of the song stems from the common 1950s phrase "lavender haze," which Swift says she first came upon during an episode of Mad Men and subsequently looked up because she thought it sounded cool. "If you were in a lavender haze it meant that you were in that all encompassing love glow," Swift said in the video. "Theoretically if you're in the lavender haze, you would want to stay there, not let people bring you down from that love cloud."
Swift connects the phrase to her own love life as she explains that the phrase felt applicable to her own relationship with current maybe-maybe-not fiancé, Joe Alwyn.
"I think a lot of people have to deal with this now, not just quote unquote public figures, because we live in the era of social media and if the world finds you you're in love with somebody, they're gonna weigh in on it. Like my relationship for 6 years, we've had to dodge weird rumors, tabloid stuff, and we just ignore it," she said. "This song is about the act of ignoring that stuff to protect the real stuff."
Watch Swift's full explanation below.
"Anti-Hero" is about Swift's insecurities.
On Sunday, October 3rd, Swift posted a video on Instagram explaining the meaning of "Anti-Hero." "Track 3, 'Anti-Hero' is one of my favorite songs I've ever written," she said. "I don't think I've delved this far into my insecurities in this detail before." According to Swift, "Anti-Hero" discusses the dark side of being a celebrity. "I struggle a lot with the idea that my life has become unmanageably sized," she said. "I struggle with the idea of not feeling like a person."
"This song is a real guided tour throughout all the things I tend to hate about myself. We all hate things about ourselves, and it's all of those aspects of the things we dislike and like about ourselves that we have to come to terms with if we're gonna be this person," she continued. "I like 'Anti-hero a lot because I think it's really honest."
Swift will release the name of each Midnights track before the album drops.
On September 21st Swift announced her new video series, 'Midnight Mayhem With Me,' on TikTok. The premise is simple — over the next month, the singer will randomly reveal a song title from Midnights with the help of a 70s-styled pinwheel.
Last night Swift posted a new episode where she announced another track. After spinning the wheel she said, "It's gonna be track 9, track nine is called Bejeweled." Over the past week, Swift has also unveiled the titles "Maroon," "Midnight Rain," "Question," "Vigilante Shit," "Mastermind," and "Antihero."
When the singer first announced the series she explained it would provide some insight about the upcoming album. "It's me, hi," she said in the announcement. "I know that I have a habit of dropping cryptic clues and Easter eggs when giving you information about new music, and I am not here to deny that, but I am here to defy that. Welcome to a new series I'm calling Midnights Mayhem With Me."
Then the singer showed how she would determine which song to reveal. "I'm going to be using this technologically advanced device to help me allow fate to decide exactly what track titles I'm going to be announcing and in what order," she continued, motioning to the wheel. "In this cage are 13 ping pong balls labeled one through 13, each representing a track on the Midnights album. So let's leave it up to fate."
Fans suspect the 'Midnights Mayhem With Me' series itself includes secret messages.
In Swift's latest episode of Midnights Mayhem With Me, a clever fan spotted the singer wearing the same sweater as Sadie Sink in the All Too Well short film. The fan shared their findings on Twitter, and wrote, "Wait a damn minute," while connecting the two images with an even more peculiar finding.
Swift's latest track reveal was for the song "Bejeweled." At first glance it didn't seem to mean much, but now fans suspect it could be another connection to "All Too Well," which includes the lyric, "a never needy, ever lovely, jewel whose shine reflects on you." Swift has yet to comment on her fans suspicions but it wouldn't be the first time she's left clues about her upcoming work.
Midnights is about a series of sleepless nights.
As for the rest of the album, Midnights is about a collection of restless nights.
Swift posted the first sneak peek of album art on Instagram along with a message about the record. The photo shows a closeup of Swift donning sparkly blue eyeshadow while looking down at a lit lighter. The caption reads, "Midnights, the stories of 13 sleepless nights scattered throughout my life, will be out October 21. Meet me at midnight."
Though Swift has not revealed what kept her awake on those nights, fans of the singer didn't hesitate to share their theories. Some are hopeful that Swift will reveal that she is queer, a long-held fan theory that dates back to her friendship with Karlie Kloss. Swift has never addressed the rumors or spoken publicly about her sexuality, but many fans presume she'd dated the model and Dianna Agron.
Despite the probing, Swift has kept quiet about the direct inspiration for Midnight. However, in her album announcement, she did hint at reckoning of some kind. "We like awake in love and in fear, in turmoil and in tears," she wrote. "We stare at walls and drink until they speak back. We twist in our self-made cages and pray that we aren't — right in this minute — about to make some fate altering mistake."
Jack Antonoff helped write Midnights.
On Sept. 16, Swift posted a TikTok with behind-the-scenes footage that she called "the making of Midnights." In one of the clips, Swift's frequent writing partner and friend, Jack Antonoff, is seen bouncing around to a song and playing the piano, confirming his involvement on the record. Midnights will mark the sixth record the two have worked together on.
Unrelated to Antonoff, the video is also set to an unreleased song called "life you lead" by someone named NiceboyEd, as Stereogum also noted. Swift has not confirmed if she's just a fan of the new artist, or if they are included on the album, too — or, more likely, if the snippet could actually be a teaser of Swift's new music under a pseudonym — but the song's wistful energy seems to perfectly capture the essence of Midnights.
The vinyl art for Midnights forms a clock.
Ever the businesswoman, Swift has prepared four different versions of the Midnights record available for pre-order, with each one featuring a different design on both the front and back cover. It turns out there might've been some wider intention behind the creative decision.
On Sept. 16, Swift posted a TikTok explaining that the different designs actually connect when you put the vinyl sleeves together in a specific pattern, cleverly forming a clock. "So we have four different covers for the Midnights album," she says. "If you turn them over there is obviously a back cover to each one of them. They're each different. But what I wanted to show you is that if you put all the back covers together, she's a clock."
This article was originally published on