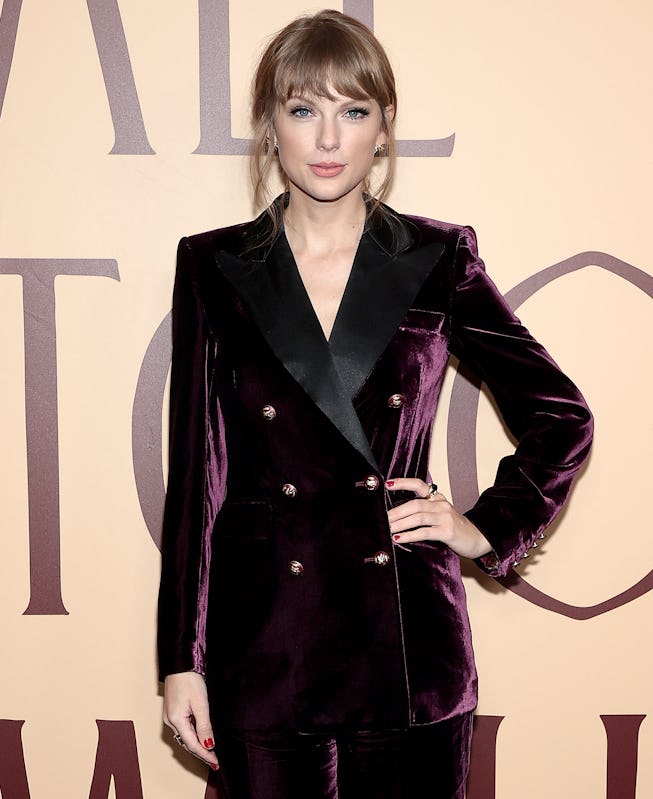 Photo by Dimitrios Kambouris/Getty Images
Taylor Swift's "Shake It Off" Lawsuit Is Moving Forward
A judge denied Swift's request to drop the plagiarism suit, brought forward by the writers of 3LW's "Playas Gon' Play."
Taylor Swift's copyright-infringement lawsuit is going to trial, despite her trying to stop it. The singer's 1989 single, "Shake It Off" sparked a legal battle in 2017 when songwriters Sean Hall and Nathan Butler — who wrote music for the early-aughts R&B group 3LW — accused Swift of plagiarism. Per the allegations, Hall and Butler believe Swift's song "Shake It Off" closely resembles their 2000 song, "Playas Gon' Play."
The case has been pending for five years. In 2021, federal judge Michael Fitzgerald decided the case should be tried in court and determined by a jury, and though Swift's team pushed against the motion, Fitzgerald has decided to move forward with the legal proceedings.
Swift has maintained her innocence regarding the copyright allegations. Keep reading for a breakdown of the legal battle so far and an update on Swift's upcoming trial.
Swift's Copyright Infringement Case Is Going To Trial
On Monday, September 12th Judge Fitzgerald declared the case would be tried in court early next year. "The motion for reconsideration is denied," he said, regarding Swift's push against it. "I don't think it meets the standard for reconsideration, and even if it did, and I was approaching it again on merits, I still think there's a genuine issue of material fact in part because of the expert opinion."
Swift's team asked Judge Fitzgerald to reconsider 9 months ago, and during his ruling, Fitzgerald said he was "remiss" in delaying his decision for "entirely too long." The judge also said his choice was, in part, determined by the plaintiff's expert testimony which said there is a "substantial similarity" in the song's lyrics and structure.
Swift's lawyer asked if they could provide an oral argument before the judge issued his decision, but the request was denied. Judge Fitzgerald said, "I apologize there's been the delay, but I have no intention of having oral argument."
The trial is set for January 17th, 2023.
Swift says she wrote "Shake It Off" on her own; had never heard of 3LW.
Despite the controversy at hand, Swift maintains that the 1989 track "Shake It Off" was not inspired by anything specific. "The lyrics to 'Shake It Off' were written entirely by me," Swift wrote in response to the ongoing plagiarism lawsuit, in new paperwork reported by Variety on Monday, August 8, 2022. "Until learning about Plaintiff's claim in 2017, I had never heard the song 'Playas Gon' Play' and had never heard of that song or the group 3LW."
Swift also presumes that she was not familiar with the 3LW track because she was not engaged in pop culture at the time. According to the singer, her parents did not allow her to watch MTV's popular music video series, TRL, which often played the then-hit 3LW song the lawsuit is based on, until she was around 13.
As for the similar language used in Swift's "Shake It Off," the singer believes it is a coincidence due to the popularity of the saying. "I recall hearing phrases about players' play and haters hate stated together by other children while attending school in Wyomissing Hills, and in high school in Hendersonville," she wrote. " These phrases were akin to other commonly used sayings like 'don't hate the playa, hate the game,' 'take a chill pill,' and 'say it, don't spray it.'"
"I was struck by messages that people prone to doing something will do it," the singer concluded, "and the best way to overcome it is to shrug it off and keep living."
Swift's team believes Judge Fitzgerald made a "clear error" in his observations.
According to Billboard, Swift's attorneys asked Fitzgerald to call off the jury trial in 2021. In a motion sent to the judge, they argued that moving forward with the proceedings would be a disservice.
"Plaintiffs [Hall and Butler] could sue everyone who writes, sings, or publicly says 'players gonna play' and 'haters gonna hate," they wrote in attempts to dismiss the motion. "To permit that is unprecedented and cheats the public domain."
Swift's team also compared their case to a similar legal battle that Led Zeppelin faced regarding the intro to "Stairway To Heaven." "It is essential to distinguish between the protected and unprotected material in a plaintiff's work," they wrote.
"Doing so here," they continued, "leaves only this similarity: both works use versions of two short public domain phrases — 'players gonna play and haters gonna hate' — that are free for everyone to use, and two other but different tautologies that plaintiffs claim share the same underlying general idea or concept."
"The presence of versions of the two short public domain statements and two other tautologies in both songs..simply does not satisfy the extrinsic test," they concluded.
Hall and Butler's attorneys say Swift's motion is "groundless."
In a statement provided to Billboard, the duo's lawyer, Marina Bogorad said, "all it asks is for the court to reverse itself because Swift is unhappy with the ruling."
"She raised these arguments before, and they were rejected," she continued. "The precedent is clear that such motions are routinely denied because the rules are not designed to give an unhappy litigant one additional chance to sway the judge. We are confident the Court will adhere to this precedent here."
The "Shake It Off" legal battle has been in the works for years.
As reported by the New York Times, Hall, and Butler originally filed the lawsuit against Swift in September of 2017. It was brought to Judge Fitzgerald, who decided to dismiss the case in 2018 before it was returned to him by the U.S Court of Appeals.
In addition to Swift, other defendants in the case include the producer's Max Martin and Shellback, the music publishers Sony and Kobalt, Big Machine Label Group, and Universal Music Group.
The lyrics in question come from the chorus of "Shake It Off."
In their lawsuit, Hall and Butler call the chorus of "Shake it Off" into question. According to them, the lyrics "Cause the players gonna play, play, play, play, play / And the haters gonna, hate, hate, hate, hate, hate," were ripped from their song, which contains the lyrics: "Playas they gonna play, and haters they gonna hate/ Ballers they gonna ball, shot callers they gonna call."
In his original ruling, Fitzgerald decided the lyrics were, "too brief, unoriginal, and uncreative" to be protected under the Copyright Act.
"In the early 2000s, popular culture was adequately suffused with the concepts of players and haters to render the phrases 'playas … gonna play' or 'haters … gonna hate' standing on their own, no more creative than 'runners gonna run,' 'drummers gonna drum,' or 'swimmers gonna swim,'" he wrote in his February 2018 order.
Swift tried to get the case dismissed.
Swift's original request to "throw out" the copyright infringement suit was denied by Fitzgerald. In response, he said the singer's lawyers "made a strong closing argument," but claimed they failed to prove the case couldn't be resolved by a jury.
Hall and Butler's legal counsel said the judge made the right decision.
The songwriter's lawyer, Marina Bogorad, said: "Our clients are extremely satisfied with this decision, especially because it reinforces the notion that their unique self-expression based on the deeply rooted cultural heritage cannot be simply snatched away without proper attribution."