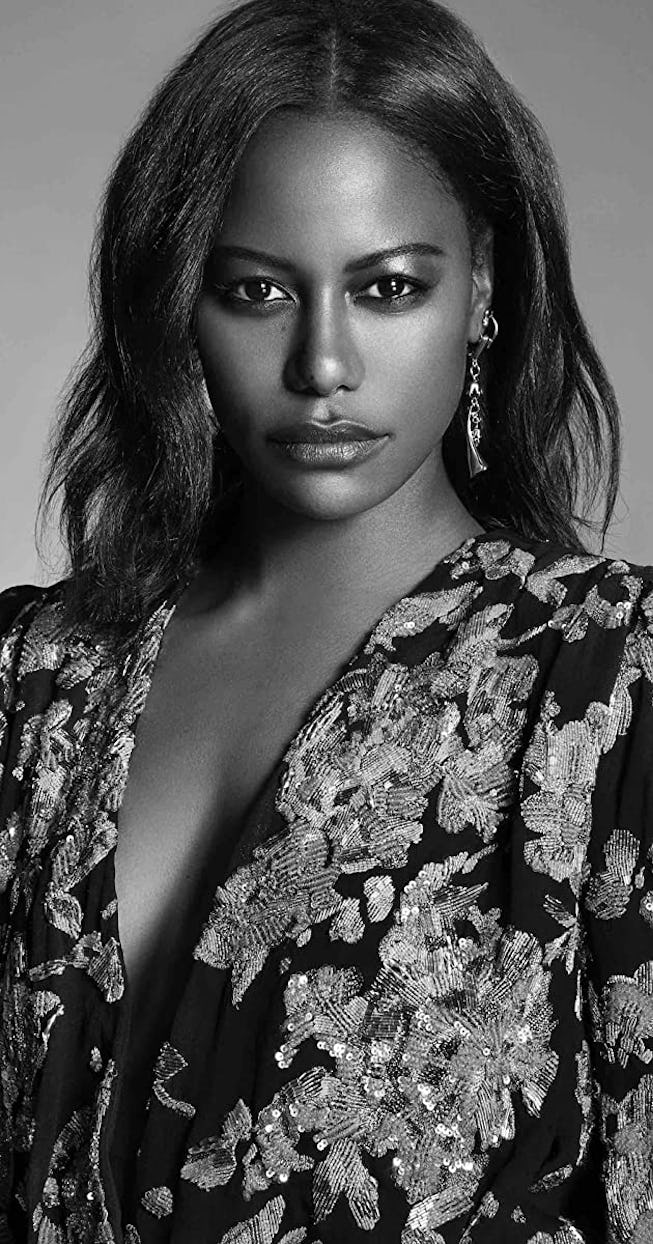 Taylour Paige On 'Boogie,' 'Zola' And Learning To Trust The Process
"[I]t just feels like icing on the cake that my career gets to be this colorful, beautiful thing."
Taylour Paige is at the top of her game, and she's only just getting started. The 30-year-old Los Angeles native has been acting since her youth, appearing on the VH1 dance series Hit The Floor from 2013-2018. But with a string of career-making roles, (including starring opposite the late Chadwick Boseman in Ma Rainey's Black Bottom), 2020 and beyond have proved to be a tipping point for Paige, who tells NYLON it's all thanks to hard work and her philosophy of simply of trusting the process.
"I feel like life prepared me for Zola," she says of her role in the titular film by Janicza Bravo, out this summer. In the A24-produced film, Paige plays a young waitress seduced down to Florida by Stefani (Riley Keough), a new customer-turned-friend, for what ends up being a disastrous weekend. To develop the character, Paige got to know the real-life Zola, who authored the 148-tweet thread that eventually became film's script. She also took a gig at a strip club, learning pole dancing from the professionals.
Paige also plays Eleanor in Eddie Huang's new feature, Boogie, about a Chinese American basketball star trying to make it from his New York City high school. Though Eleanor may be a typical high school student, Paige has found deeper connections between many of the roles she's played.
NYLON caught up with Paige over the phone to talk Boogie, Zola, and playing complex characters. Read on for the full conversation.
What drew you to the role of Eleanor in Boogie?
When I originally got this audition, I was like, "I'm not a kid anymore, I can't do this, I don't want to get dragged." But I had auditioned for something else from that casting director, and I didn't get the role, but the audition was good. So that was June, I shot Ma Rainey, and then after that, my agent was like, "They're offering you the Boogie role." Obviously as an artist you spend a lot of time auditioning and being rejected, and it feels very good to just be offered something. So when they offered it, I read it and thought it was a really sweet story. It's coming-of-age, but it's also cultural empathy, and focused on a Chinese basketball player? I thought, "This is very, very special. Why not? And I'm going to film it in New York for a month and a half? Let's go."
And Eleanor, I just love that she's complicated and shows her depth. She's opinionated and strong, but also very deeply considerate, mature, and loving.
What was it like working with Eddie and your co-star Taylor Takahashi?
It was wonderful. I have been very blessed to work with directors who know what they want and are clear about what they care about, and also have integrity. And who want to be intentional about the way that we are represented. So that was really lovely. Taylor and Eddie have a really special bond. It felt like divine alignment; both of our names are Taylor, you know.
As a California girl, what was it like to be part of a film that is such a New York story?
I loved it so much. I always planned on going to New York. I was going to go right after college, if not out of the country, and ended up staying here and deeply regret it. So to be able to go there and work, it was like, the angels are listening. I loved it, I love New York and she's the gift that keeps on giving.
It's been a big year for you and building into an even bigger one — what has it been like to have these projects coming out or getting hype around them during this very strange time that we're in?
It's crazy, it's surreal and beautiful. I'm trying to continue to work on my inner world so that the outer world reflected back to me is inspiring. I think that all the opportunities are opportunities to be more conscious and to serve the world and myself and those who have come before me. I think I've learned, one of my bigger lessons in my entire life is meditation. I think throughout my twenties, I've had to really harness what that means because when I move too fast or I rush, or I manipulated a process for myself — not manipulate like get over on anyone, but hurrying up and not trusting that things will be where they need to be. I feel like it's manifested into what I don't want.
I think in the beginning of my twenties, I was desperate to make money and I took the first thing that was available. I think if I had sat still ... when you're auditioning and still figuring out your own identity, it can be like you're waiting on the world to inform you who you are, or your fans. Once you've done the work, I do think it all becomes a prayer and it all becomes a thank you. Right now it feels very much within the alignment, within gratitude, within awareness, within being present, within meditation, within trying to live as good as I possibly can day to day. Some days I do really poorly, but it just feels like icing on the cake that my career gets to be this colorful, beautiful thing that deepens my awareness of self and love for myself, but also so I'm available to the roles that are presented to me that I auditioned for. I feel I wouldn't be even able to be more easy about it, easy about rejection, easy about things that didn't work out for you, easy about things that didn't happen in the way I thought it would, because it's all perfect.
That's a really beautiful answer. Do you feel like you manifested the role of Zola? How did you prepare for it?
I feel like life prepared me for Zola, but I was like 27 and was in my Saturn return, feeling the deep effects of it. It felt like everything was crashing and burning, and I was sleeping on friend's couches. I PA'd on Once Upon a Time in Hollywood in pre-production. I was cleaning at houses, working at a weed dispensary, working at my friend's clothing store 424. And I decided, you know what, I'm going to go work at Crazy Girls. I'm in the space that you're in, where you're like, nothing's working out, I need the money and I didn't want to look like a dancer because I'm a ballerina, I wanted to look like a stripper. I went and worked at the club for three weeks and took it all in and talked to the women there and got ready to go and collaborating with Janicza on the character and what she was looking for.
Did you find that experience to be as informative or helpful as you hoped it would be for you as an actor?
Oh my gosh it was amazing. I just was like, Janicza do you really think that I can do this? I just hope I can rise to the occasion, because Colman [Domingo] can do anything. Nicholas Braun is wonderful. Riley Keough is the Meryl Streep of our generation. She can do anything as well. And Janicza's just a genius. And also I didn't want to let Zola down. I wanted to respect this trauma that happened to her.
Have you been able to keep in touch with her?
We do. She just had a baby. I actually was really honored I was like one of the first people she told that she was having another baby. She was like, "Don't tell, I haven't told anyone yet." I have a new niece.
There's a ton of excitement around Zola and a lot of hype and without giving too much away. What aspect of the film are you most excited for audiences to see?
I will say I am proud that I learned to dance on the pole and I did all of it my own. I'm proud of all of the actors. I'm so proud of Janicza. I got to see her assert herself for things she deserved. You have to repeat yourself on some things. Throughout the movie, Zola has a lot of bags, heavy bags. She had a Chanel bag, another bag, one other bag, and Riley had a little bag. It shows a very teeny tiny bag and then a trash bag. I was thinking about the symbolism, like how heavy those bags are symbolically.
I just hope that, yes, the story was entertaining in all areas, but the trauma of this and how we process that, and protecting Black women and what happens to them and how they're alone often and people don't really ask how heavy the bags are. I'm just honored that Janicza wanted to tell this in a very nuanced, non-stereotypical way, because Zola's from the suburbs of Michigan. She was multiple women inside of one, and there's no restriction. I guess maybe check your presumption that someone has to sound or act a certain way because of the way you read it because of the world that we live in. There's diversity within diversity, if that makes sense?
Absolutely. She's a complex character.
This movie is very much, it's a satire, but it's also societal commentary, sexual commentary, it's agency over our bodies, being young and needing to make money, being desperate, survival, toxic masculinity and all of it. Also Trump's America — even there are small comments, when someone says you look like another Black person and you look nothing like them, but people really aren't really even looking at you. Someone says in the movie that I look like Beyoncé and someone else says I look like Whoopi Goldberg. It's funny, but also I don't look like Beyoncé or Whoopi Goldberg. They're both amazing women, but are you even looking at me?
You can see Taylour Paige in Ma Rainey's Black Bottom, currently streaming on Netflix, and Boogie, currently streaming on Amazon Prime. ZOLA hits theaters summer 2021.
This article was originally published on