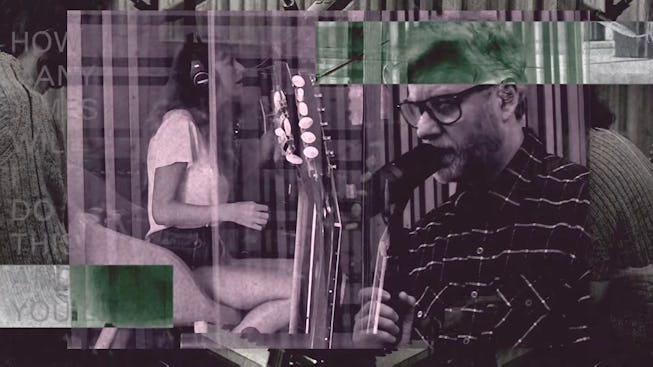 YouTube
The National & Taylor Swift's "The Alcott" Isn't Just A Song, It's A Conversation
"The Alcott," at its heart, is a song about yearning.
It was only a matter of time before Taylor Swift entered the official The National discographic universe. Since Swift first began collaborating with Aaron Dessner on Folklore, the two have become unlikely close friends, sharing credits again and again on Swift's evermore, 2022's Midnights, and on Dessner's own side-project with Justin Vernon, Big Red Machine. Now, the megastar has formally entered the fold of The National with the release of the band's new album, First Two Pages Of Frankenstein, which features her dazzling collaboration on "The Alcott."
Die-hard fans of The National might initially scoff at her feature; she's a pop star, they're indie legends, there's simply no way there could be any meaningful overlap. But if there's anything Swift's folklore indicated, an album that marked a major turn in her sound and public persona, it's that she's a storyteller at her core with the ability to embody a wide range of mood, genre, and atmosphere. "The Alcott," on which she prominently shares the spotlight with lead singer Matt Berninger, is proof of how synergistic the two acts' forms of artistry actually are, as they play off of each other as two halves of the same coin, weaving a dynamic, incisive duet that functions more as a vivid conversation.
"The Alcott," at its heart, is a song about yearning. It takes the form of a conversation between a man and a woman as they meet up at a bar in a hotel, The Alcott. They are unsure about the relationship but feelings clearly linger, and through the course of their conversation and song, which Swift and Berninger paint in vivid color, a waterfall of details illustrating their tumultuous past fills in the gaps of their hesitation.
Its opening lyrics set the scene: "I get myself twisted in threads/ To meet you at The Alcott/ I'd go to the corner in the back/ Where you'd always be/ And there you are, sittin' as usual/ With your golden notebook/ Writing something about someone/ Who used to be me," Berninger sings.
The real chemistry of the song, however, begins when Swift starts weaving her voice in with Berninger's on the chorus, as they go back and forth, their inner thoughts ricocheting off of one another. They are like jagged puzzle pieces forcibly clicking into place: "It's the last thing you wanted/ (Tell me, which side are you on, dear?)/ It's the first thing you do/ (Give me some tips to forget you)/ You tell me your problems/ (Have I become one of your problems?)/ And I tell you the truth/ (Could it be easy this once?)."
The dynamic grants a cinematic, 3D quality to the song that's only enhanced when the lyrics dive into more heart-wrenching territory. "I'll ruin it all over," Berninger sings, as Swift responds, "Why don't you rain on my parade?" "I'll ruin it for you" — "Shred my evening gown" — "I'll ruin it all over" — "Read my sentence out loud" — "And over like I always do" — "Cause I love this curse on our house."
It turns out the song's conversational format can be fully attributed to Swift. In an interview with Vulture, Dessner revealed that the demo he initially sent Swift was simple a piano tune with Berninger; when she sent the file back to him she'd rewritten it as a dialogue between lovers. In that way, Swift's feature is a substantial one; she's not there to just lightly sing background harmonies or asides but to create an entirely new dimension to the song.
"You can hear it even in the original voice note," Dessner told Vulture. "She's not coloring it in; she's fully another character in the story. It makes sense. In the verse, Matt is talking about finding someone and they're writing in their golden notebook. In a way, I was like, Is that Taylor? Who is it? Or is it some fictional character? She inhabits this story as her own character. That makes it a true feature."
In this day and age when remixes and features are generously doled out and largely thoughtlessly cobbled together, Swift and The National's collaboration is the exception than the rule. (Ironically, Swift herself is not innocent of contributing to the insubstantial features industrial complex, too.) "The Alcott" is ultimately a reminder of the real moving masterpieces that could happen when features, between mega minds, are done right.