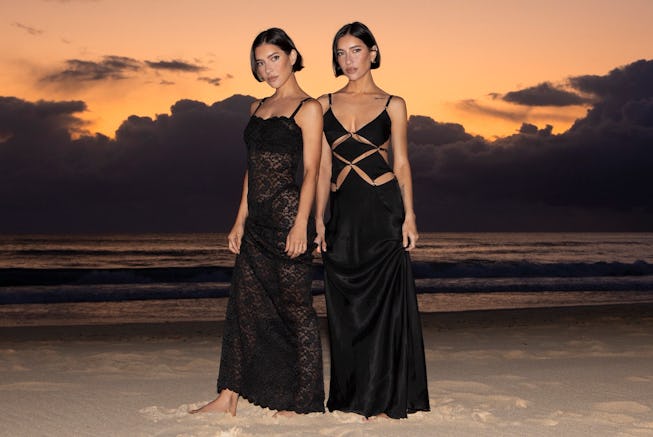 The Veronicas On New Song "Perfect" & Their Pop-Punk Return
"It's not California girls, it's goth California girls."
When I think about what 2005 sounded like, I think about The Veronicas. For an audience that skewed more Avril than Britney, the Veronicas were the ultimate pop-punk duo of the mid-aughts. Heralding from a Riot Grrrl tradition, with fuzzy guitar riffs and bratty desperation, songs like "Untouched" and "4ever" became the soundtrack to not only the summers of teenagers but pop culture emblems of the era, including Laguna Beach and She's The Man.
Hailing from Brisbane, Australia, twin sisters Lisa and Jessica Origliasso moved to Los Angeles as teenagers in 2001 to pursue a music career. Their first two albums The Secret Life Of… and Hook Me Up charted in Australia and the U.S., putting the duo on the map as pop rock royalty of the era. In the last few years, The Veronicas released two albums, which were only available in Australia. Now, "Perfect" an ad-libbed, shimmery anthem heavy on the guitar distortion, featuring drums by Blink-182's Travis Barker, is out today, off their forthcoming album Gothic Summer, which marks their first international release in 10 years.
"It's not a Katy Perry summer record, it's not California girls, it's goth California girls," Lisa tells NYLON from Los Angeles, where the Veronicas are putting the final touches on their "Perfect" music video, out today.
The Veronicas have always been influenced by the 1990s and they love to gush about their influences, whether they be aesthetic (David LaChapelle, David Lynch, and Tim Burton) or musical (Riot Grrrl bands, Chrissy Amphlett from Divinyls). These influences are apparent in the "Perfect" music video, which outfits Lisa and Jesse in cutoff 1930s Victorian mini dresses, along with an Australian Huntsman spider that hung out on Jesse's face for hours during the shoot. ("I fell in love with this spider," she says. Is there anything more rock and roll?)
Now, The Veronicas are gearing up to make their contribution to the current pop-punk resurgence, a resurgence they've both influenced and are inspired by. (Yes, they're Olivia Rodrigo fans.) This weekend, the duo will perform at the When We Were Young festival in Las Vegas alongside a much-anticipated Blink-182 reunion. Ahead, NYLON caught up with the sisters to talk about their early career, working with Travis Barker, and their favorite horror films.
This interview has been edited and condensed for length and clarity.
I'm thinking about you as two teenagers who moved to L.A. and had this crazy career. Is any of this song addressed to those girls?
Jesse: It did feel like a love letter to our younger selves. It's funny, we sort of channel music when we're writing it and we listen back to it and we're like, wow. I think this was something that we were really saying to our younger selves, and it's always a message for your older self as well. I look back at that time: we were two Italian-Australian girls from Brisbane coming to Hollywood and it was a completely different world, and essentially coming into the pop music scene for the first time, and I guess we felt different. We didn't look like everyone else that was releasing music at the time, and I think we really embraced that and I think that there were a lot of people that felt similarly, which is why the music took off so quickly. I wouldn't even know how to express what that is: alt- pop. At the time we just called it pop rock music.
What was it like working with Travis Barker?
Lisa: It was pretty wild the way it happened. We were in the studio. We wrote the song with our friend Sierra and legendary producer John Feldman, and he was like, "I'm just going to get my friend to come and play drums on the track." We were like, "Cool, cool, cool." And then Travis Barker walks in. We're so blessed to have worked with him before, so we were like, "Oh my god, babe, hi." I love the way John does it because he kind of just drops it really casually. You just don't even really think about it.
He listened to the song. He was like, "Oh, I really love this song." We were like, "Cool. Thanks babe." Those are the magic words you want to hear from one of the greatest drummers in the world.
Jesse: And the most humble, beautiful soul as well. When you get to meet your heroes in that sense, and they're just the best people, it's awesome.
I would love to hear about Gothic Summer.
Lisa: We love to have themes. We are very aesthetically influenced and driven and growing up heavily influenced by '90s culture: Tim Burton films, David LaChapelle was the biggest photographer in the world. David Lynch was one of the biggest filmmakers being talked about. I think when we were releasing this, we were thinking aesthetically about how we wanted this world to feel and how we wanted it to look, and so we really just pulled in all of our favorite influences. It's like Halloween 24/7 in our minds: Beetlejuice, Casper. What other films have I been watching nonstop?
Jesse: I watched Bela Lugosi's Dracula the other day, a lot of old gothic, black and white films from back in the day too. It was very inspiring.
Lisa: That aesthetic has always heavily influenced us in our music and musical tastes. We grew up with the Riot Grrrl movement directly influencing us during our formative years. To come through that, I always say we're the direct descendants of that musical influence and political movement with female-fronted music in a rock setting. That was so empowering for us.
We had our own rock and roll culture in Australia and incredible frontwomen like Chrissy Amphlett from the Divinyls. For us, it's just taking influence from all our favorite things, plus modern music. We have some stuff on this record that's a little bit more pushed into the punk pop space, a bit more like Amyl & the Sniffers influence who are an Australian band who we love, and then it kind of goes into a bit more of our musical dramatic space as well, which I would say is a bit more influenced by cinematic themes.
We love to write anthems and dance songs. We have my favorite dance song we've ever written on this record, and it's got a bit more of a '70s influence. We like dichotomy, so it's like this song that sounds super funk, but it has this slightly dark element to it. I think that's what we realized, when we listened back to this body of work, that we'd created a summer record that was a little bit gothic.
This record feels like a big resurgence moment. How does that feel?
Jesse: Being able to be back in the room with fans that loved our music growing up is such a thrill for us and really important. You're seeing that pop rock renaissance happening with amazing artists like Olivia Rodrigo and it's really cool to see that. It's been really cool because of that resurgence, a lot of people are looking back to who was making music during that time, and I think a lot of this younger generation is discovering us for the first time, because I suppose there wasn't a ton of female-fronted pop rock stuff going on in 2004. We're getting a lot of this newer fan base up and young energy that's discovering songs from 18 years ago and it's been fun to get to re-experience that as well through their eyes.