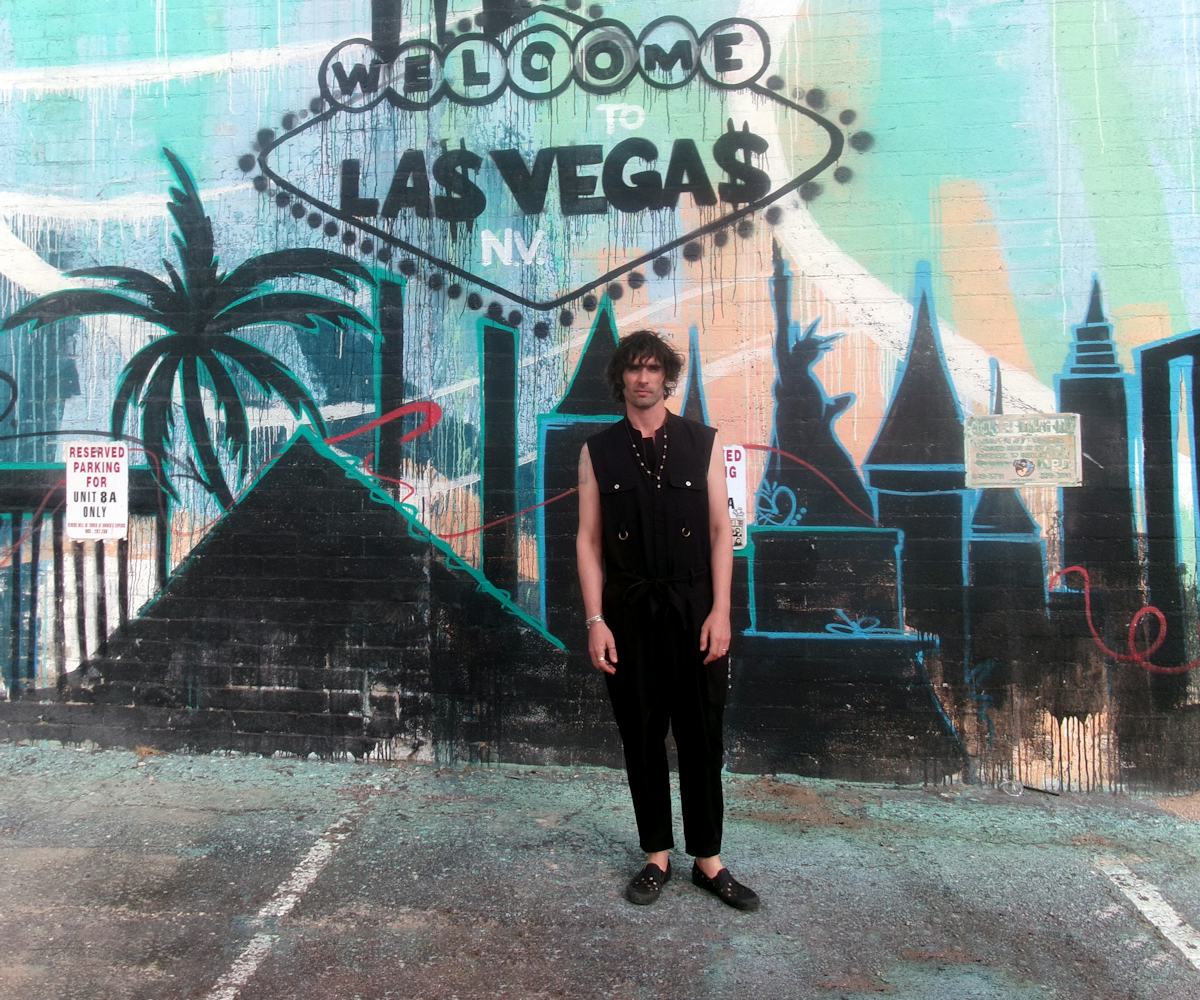 Tyson Ritter Rejects Your Ideas of Genre
After 20 years of leading The All-American Rejects, the singer and actor is setting his sights on something that can't be defined.
We're only 16 minutes into our coffee date when someone recognizes Tyson Ritter. It's at that point, only about a third of the way into his iced herbal tea, that the All-American Rejects frontman is sheepishly approached by a guy in his mid-30s, girlfriend in tow. He's wearing a shirt that says 'Tiny Hot Topic Bitch,' and just wants to tell Ritter that he's a big fan.
At a nondescript cafe a solid 15 minutes past the hustle and bustle of the Las Vegas strip, it's still hard not to notice Ritter. According to Google, his height is 6'1, though he seems taller in person. Even with a bandana obscuring half of his face when he first approaches the cafe, you're immediately drawn to that pair of bright blue eyes that has graced the screens of MTV and beyond for the past two decades. Also, to be fair, today in particular he's a bit of a sitting duck: It's what was supposed to be day one of the When We Were Young music festival, which hours earlier had been canceled due to high winds (hence the bandana), leaving thousands of wayward elder emos stranded, looking for something to do for the day in Sin City.
The night before, Ritter had a premonition that this might happen. Instead of anticipating a nice day off, he sprung into action. By the time we meet around 2 p.m., there are already hundreds of people standing outside of Soul Belly, a local BBQ restaurant that Ritter discovered while filming the movie Prisoner's Daughter last year. Over the past several hours, the 38-year-old worked to put together a pop-up show for all those who wouldn't get to attend the festival as planned; a real life lemons-into-lemonade scenario for pop-punk heads. "Our band has never had so much fun just putting something together," Ritter says. "There's a line wrapped around a barbecue shop right now because that's such a stable fan base. One that I'm so grateful to be a part of."
Ritter is not one for sitting still. It's been twenty years since The All-American Rejects burst onto the scene with their still-iconic breakup hit, "Swing, Swing." In that time, the band has released four studio albums, during which Ritter also launched a successful acting career with roles in TV shows like Preacher and Parenthood, as well as movies including The House Bunny, Peppermint, and Desolate. This year has been "quiet," despite premiering Prisoner's Daughter, directed by Catherine Hardwick and co-starring Brian Cox and Kate Beckinsale, at TIFF; working on several amateur (though truly impressive) paintings, proudly displayed on Instagram; and as of late last month, introducing Now More Than Ever, his new music project. "Next year," he promises. "I'm going to go back in."
Now More Than Ever is an entity separate from the Rejects and the pop-punk sound it has become associated with. Originally, it wasn't even supposed to be heard. "This is something that completely came from a pure place ... I don't think I've had that experience since I wrote my first record for the Rejects," Ritter recalls. "It never felt like we were writing a record. It felt like we were just experimenting in a direction, and it just happened to be the right one." Teaming up with longtime friends and touring musicians Scott Chesak and Izzy Fontaine, the plan was to just post music on their own social media accounts — no label, no big press push. Then they realized they had something special. "When we finally got our shit together and realized that we had a record ready, we got excited and let people listen to it," Ritter explains. The initial work on something brand new brought back memories of his days as a teenager, when everything about the Rejects was exciting. With Chesak and Fontaine, he got to experience it once again. "Everything that we've been doing outside of the music now, that press and stuff, watching them — they're overjoyed like when I was 17," he says. "I had that same smile on my face."
The band premiered its first track, "Don't Rush, Don't Wait," in October. Its genre is hard to pin down, somewhere between pop and rock, but definitely not pop-rock. Ritter strays from labeling it any which way. "We're super adamant about the fact that we want to create a new archetype for ourselves so we don't feel stuck," he says. "Now More Than Ever feels like a concept that can kind of traverse." He's seen firsthand how the opposite can play out. "Being in the Rejects, especially on a major label, we kind of became the black sheep of Interscope because we didn't really want to do 'manufactured' in a way that a lot other bands were," he explains. "And when we got off Interscope, [people] were pushing really hard for us to do the — and this is no shade to them — but the Imagine Dragons sort of thing. Co-write, and by co-write [they mean] just put your shit on a manufacturing line and sacrifice your art. I'm sure a lot of people have opinions on our music that probably don't consider it as being art, but it is to us.
"And a lot of people now, especially in our genre, it's like a rap record now. There's, like, 20 writers on songs for pop-rock. Like, 'What are you doing?' To each their own. But that's why I'm really proud of Now More Than Ever, because it's three of us, three writers, and we're doing what we are feeling, instead of thinking, 'Can I get a cut on a Maroon 5 record?'"
It's a big contrast writing music as a 38-year-old versus when you're 17. Ritter recalls feeling the weight of it around the time he turned 30. "[I realized], I've been creating everything I've created from this impulse of youth," he says. "You know how you never considered yourself when you were younger, you were just all instinct and piss and vinegar? Something happened when I crossed 30 where I was like, 'Oh wow. I actually need to be considerate.' Suddenly, you're aware of consciousness, which is scary. Before, you didn't have to think. It was all just feeling an impulse. Now, you're considering yourself and you're considering what you do. And with art, that could be really dangerous."
Now More Than Ever will release its first album, Creatix, in March, and Ritter hopes to take the band on the road. In the meantime, he's busy promoting Prisoner's Daughter and stars in the upcoming Johnny & Clyde, a modern day take on Bonnie and Clyde co-starring Megan Fox, which Ritter would rather focus on the experience of filming rather than maybe what ends up in the film. "I read the script and my agents were like, 'Did you read this?' I was like, 'Megan Fox, though!' This will be so much fun,'" he says. "And it was fun. If it was 25 percent more self aware, it'd probably be a classic."
Of the roles he hopes to continue to play: "I love character-driven pieces. I got to cut my teeth on a show called Preacher, playing a character that was really outlandish and bizarre. And as hard as that was to do, it really made me excited about character work. I really love exploring the skin of people with real stories. I love independent films. I think it's all we have left for real stories. Looking forward to hopefully doing more of those." Also in the works is a musical Ritter has been writing for the past four years, which he calls "his life's work." He hesitates to share more, other than he thinks it will start off as a podcast: "Gotta keep the IP."
For the last ten plus years, Ritter, an Oklahoma native, has been living in Los Angeles. In the next few months, he and his wife, actress Elena Satine, will move back to Ritter's home state to give their son, born in 2020, a life similar to the one Ritter grew up with, outside of the confines of a major city. "When I brought him [to Ritter's family's yard] for the first time, he freaked out. The next day we went back, and when we got there, he was looking at me ... he sat on my lap and was looking at me like, 'I can't believe this, we get to do this again.' I was like, 'I can't believe how much you suffer in LA.' Everything we do now is online. My wife and I are actors. And all our pitches are on Zoom. None of it's in person. There's no reason to be there."
The move, the new band, and the acting all leave an elephant in the room — the same elephant that brought us both here to Las Vegas for the weekend, and hundreds of people to a local barbecue shop a few miles down the road: Where does this leave the All-American Rejects in 2022?
It's a question Ritter has asked himself many times. "It started with, 'I've been in this band for 20-some years. Am I going to bury myself with that, and stay there like my contemporaries, or am I going to trust myself in collaboration with other like-minded artists?'" A perk of being in the band with co-founder Nick Wheeler for so long was that it wasn't even a conversation that needed to be had. "Nick and I are the primary songwriters, and so really our relationship is what that conversation was about," Ritter says. "We have a really comfortable way of communicating, in that some things don't even need to be said. We both immediately needed space, and we didn't even have to address it. We're really easy like that. He's doing his thing in Nashville, so I felt completely open and free to pursue what my imagination could take me to."
There's no resentment, no drama. Ritter can still have the time of his life ripping through hits from the last 20 years with friends from his childhood — which he did, later that night, clear to anyone who made it into Soul Belly — and look to the future. In his world, both can coexist. "The Rejects [live] in a time capsule. We have a legacy of four records. We get to play still," he says. "But honestly, until I start hearing songs for that band again, I think it's on ice. It's really nice to not only step away from the Rejects, but also to grow. Maybe one day, when we both have grown, Nick and I, we get to come back and bring that to the Rejects and find something new. And if people want to keep coming with us, cool. If not, you got four records you can listen to."