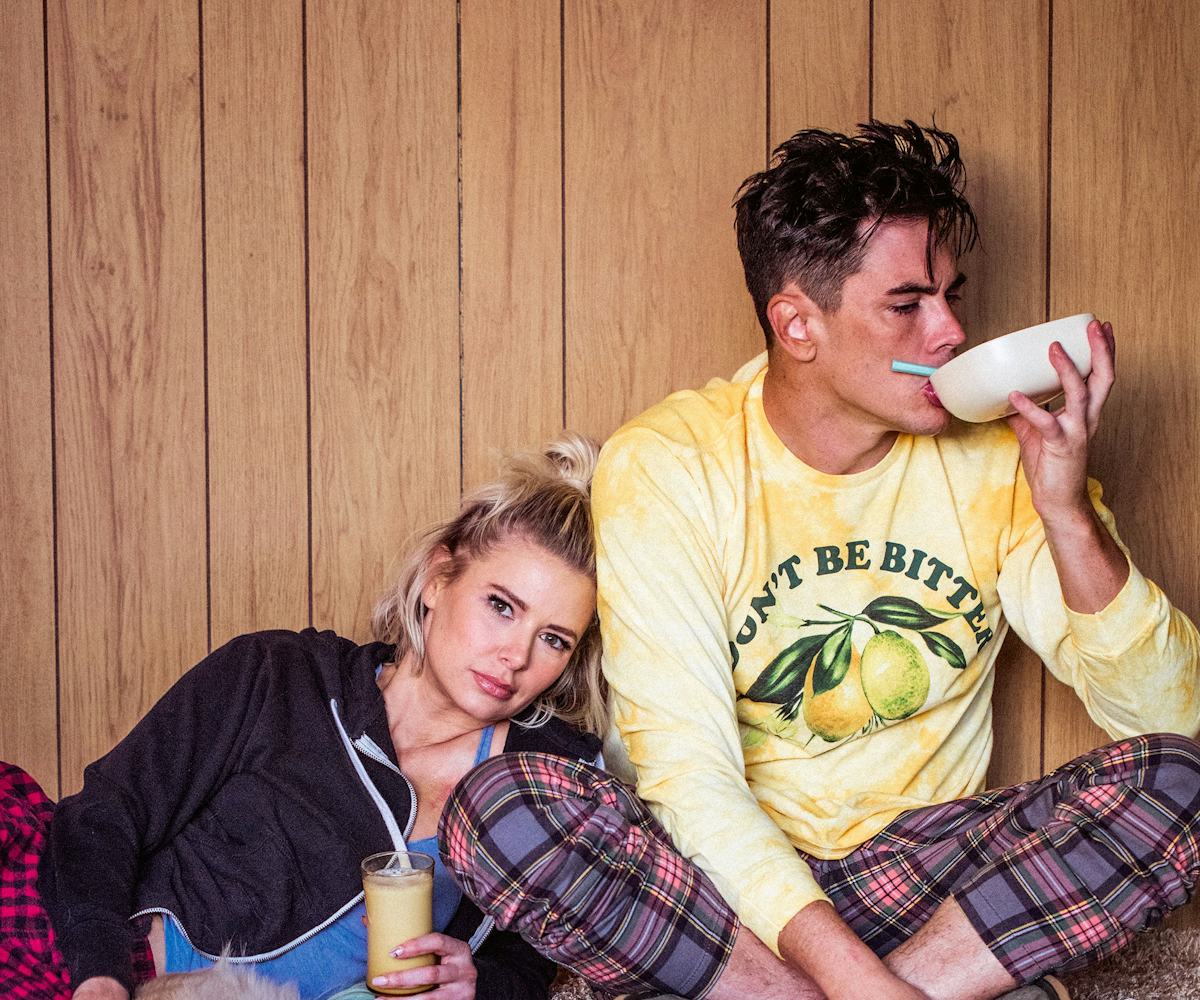 Excerpted from Fancy AF Cocktails © 2019 by Ariana Madix and Tom Sandoval. Photography © 2019 by Kelly Puleio. Reproduced by permission of Houghton Mifflin Harcourt. All rights reserved.
A Night Out With 'Vanderpump Rules's' Tom and Ariana
Drinking with the reality stars takes an unexpected turn
It's a dreary night in December, and I'm slightly drunk with two cast members of Vanderpump Rules. "We'll take another," I hear myself say for the second time as Ariana Madix lifts her legs up. She is showing me the platform boots that make her seem much taller than 5'5. Next to her, her boyfriend and costar Tom Sandoval is fiddling with some ingredients he's charmed the bartender into bringing over: some lemon juice, some tequila, something that will eventually leave a lingering, but not unsatisfying burn in the back of my throat. This is not Sandoval's bar, it is the Rose Bar at New York City's Gramercy Hotel, but Sandoval has decided to mix us some of his bespoke shots, right at the table. Classic Sandoval. Madix laughs as she pulls out her phone to record the impromptu bar takeover, and I do the same because the way things are going, I'm going to need some proof of the night's events come tomorrow.
It's a tame night by the standards of Vanderpump Rules, Bravo's chef's kiss of a reality show about twenty-something bartenders in West Hollywood. Seven years in, the show's stars are now mostly thirty-something TV influencers and entrepreneurs. But, as Sandoval says, with nary a hint of shame, "We're known for drinking." And while other cast members have embarked on a variety of seemingly random side projects that includes slogan t-shirts, makeup lines, and beer cheese, Sandoval and Madix have leaned into the show's DNA, releasing their very own cocktail book, Fancy AF Cocktails: Drink Recipes from a Couple of Professional Drinkers, which came out earlier this month.
The book has brought Sandoval and Madix to New York, and NYLON is their final interview in a long day of press. As the drinks keep coming to our table at the Rose Bar, the conversation veers from teenage alcohol misadventures to Kristen Doute to Sandoval's impressive resume of music video cameos (don't worry, links below).
NYLON: The last time I was at this bar was for a Third Eye Blind concert where Stephan Jenkins was launching a tequila.
Tom Sandoval: [Tom] Schwartz and I are actually working on a whiskey right now.
NYLON: Did that stem from your very Instagrammed trip to Japan?
Ariana Maddix: I fell in love with Japanese whiskey while we were there.
T.S.: I found one that I like that I'm fully in love with… Did we order drinks?
A.M.: We did, yeah. Hop back there. They need you.
T.S.: I was the guy who would bring his bar kit to work, always.
NYLON: Did the other bartenders make fun of you?
T.S.: No.
As the bartender comes over with drinks — the Immoral Mule, a take on the Moscow mule for Sandoval, and the Piquant Punch, a vodka-based drink for Madix — Sandoval reaches into his bag and pulls out a handle of shakers, muddlers, shot glasses, and other drink making accoutrements.
T.S.: I'm really particular about my shakers and my muddler.
NYLON: Do you have just the one bar kit, or multiple?
T.S.: I have a lot of bar shit at the house. Like, a lot of stuff.
A.M.: Tom's building a bar in our house. It is not finished yet, but he has accumulated enough bar wear for three bars. Which is a little un-fun for our kitchen.
NYLON: Do you have a bar cart for the time being?
T.S.: I refuse to get a bar cart. They remind me of those bar kits that you get that have the French style shaker and shitty ice-tongs and really shitty muddler and one jigger. They remind me of somebody who is not really into making cocktails. They are like decorations to me.
A.M.: I think they are cute and I don't hate on them.
T.S.: We're going to have a bar in our house and it'll be a bad-ass bar that's fully functional with a soda gun, beer taps, fridge freezer, like everything. I'm going to do a web show, where basically I bring guests on and beforehand I talk to them about what they are into, their flavor preference, whatever, and I'm going to create a cocktail based around what they tell me. Then they come on, I'm going to show them how to make it, have them leave with all this stuff to make it, and name it.
"I was in, like, eighth grade, so I shoved a full fifth of Avalanche in my Umbros." - Tom Sandoval
NYLON: What are your go-to cocktails to serve at home?
T.S.: Thanksgiving is probably a good example. I started people off with a "THTea" (a gin-based cocktail with CBD oil) — it's nice, light and refreshing. It's matcha and Kombucha, so it's an upper. Then I'll do like "The Stroke of Midnight" like the one at TomTom, usually with the cold-brew coffee. After we were done eating everybody started being really sleepy, so I made my "I Don't Do Coke" shots. I had like three or four of them and I was f*cking jacked.
NYLON: How long have you guys been developing recipes? There are so many cocktails in this book.
A.M.: This book has been in the works for two years. Some of the cocktails are things that we've had in our back pocket for many, many years before that. It runs the gamut in terms of how long they've been in development. Some of them were just like, "This is a cool name, we got to come up with a drink for this."
NYLON: What were some of those?
T.S.: "The Golden Shower", "Disco Tits"… I have one that I really wanted to put in the book but the publisher freaked out over it.
A.M.: I was actually surprised that [the publisher didn't say anything about most]. Like, we're in Target and Costco. I mean, it does say "I Don't Do Coke."
NYLON: Do you remember what and when your first drink was?
A.M.: My first drink ever was peach Schnapps. I'm sure I had like a sip of wine or something before that with family, but was never really much of a rebel. I was an overachiever, very type-A. I went to Europe when I was 15 on a school trip, and our first night there we were in London; we went to the grocery store and we bought peach Schnapps. It was a big group of us, and the teachers were kind of like, "I mean we advise against it, but we're going to the pub, so bye." We got these bottles that were single servings and we bought Black and Milds. So there's all these pictures in a scrapbook back home somewhere from a disposable camera and I'm in, like, super low jeans and my sperm brows, and I'm holding a bottle of peach Schnapps and I have a Black and Mild, and I'm 15 in London thinking I am the coolest motherf*cker on the planet.
NYLON: And you probably didn't have a hangover because you were 15.
A.M.: Yeah, no, I probably didn't which is insane. I would never touch peach Schnapps now, are you kidding me?
T.S.: I was twelve I think. This is like sixth or seventh grade. Me and my friends would take a bottle from my parents liquor cabinet. And once you swallow it, it burns. So we realized if you keep drinking it, the burn comes much later. So we would do like 10 gulps each. I'll never forget when I spent the night at my cousin's house and the lights are off and I hear something and I wake up and he's puking. Just a puddle on this perfect white carpet.
NYLON: Are there any liquors you can't drink because of traumatic experiences? For instance, I can't drink gin after a particularly harrowing night in college.
T.S.: One time I went to meet a friend of mine out in St. Charles [the suburb of St. Louis where Sandoval grew up] and we both stole bottles of this stuff called After Shock. It was cinnamon. And Avalanche. I saw Avalanche on the shelf. I was in, like, eighth grade, so I shoved a full fifth of Avalanche in my Umbros. Avalanche was peppermint. We were like, "We scored!" We're trying to drink this sh*t and we're like, "Dude, it's so gross, we can't even drink it to get drunk." We ended up giving it to some guy.
Madix orders another Piquant Punch, while Sandoval orders the same, plus a shot of tequila.
A.M.: At some point, you build up a tolerance to certain things. I have a really intense tolerance for vodka. I could have six vodka sodas and go do my taxes.
NYLON: Can you do shots?
A.M.: Sometimes. Back in the day when I was bartending. During the course of a night, I would take 10 to 13 small shots of Jameson. We would take so many shots while we were working and I was somehow fine to sit in the office at four in the morning and count money. And my sh*t was always on. No idea how that was possible. I could never do that now. I can't take one shot of Jameson.
T.S.: To get back to talking about the book, one of the things that I was really excited about is that when it comes to cocktail books, I have a few, but I never ended up really picking them up because they're so boring. They're like an encyclopedia. And to me, it's like: If I need to know how to make like a margarita, I could just literally Google it. Initially we were like, "What is the concept? Why should somebody get this book versus just Googling the f*cking recipe?" And it's because it's a situational cocktail book, and some of the stuff that we have in there is stuff that has never been done. Like nobody's ever talked about taking an empty water bottle, filling it up to the first line with water, the second line with vodka, and adding three ketchup packets.
The next round of drinks arrive.
T.S.: Oh, I like this drink. I trust Ariana's taste. I would trust Ariana to talk for me if I was in a coma. Does anyone want to split this shot with me? Whenever I order shots, I usually always just order one per two people. I like the camaraderie of shots, but I don't necessarily want to get that f*cked up. But obviously being in TomTom, people recognize me. We're known for drinking, so they want to do shots with us so bad. They don't take no for an answer. Do you want to see the move [to fake drink a shot]?
NYLON: I want to see the move.
T.S.: So you go, "Oh my gosh, thank you. Cheers." Then you sling it against the bar before bringing it to your mouth, so all the liquid comes out really quick without them noticing.
Madix's manager interrupts to show more evidence of Sandoval's acting skills — a part in the 2002 Bon Jovi video for "Misunderstood."
T.S.: I was like their Alicia Silverstone.
A.M.: Yeah, he was in two Bon Jovi videos.
T.S.: These were like million dollar videos. I'm like a music video whore. I've literally done so many.
A.M.: Tom in the way that you're a music video whore, I'm a sketch video whore.
NYLON: I do remember when Kristen [Doute] decided she was also a comedian and you were upset.
A.M.: As much as people wanted to hate on that, I'm sorry, but I take everything I get paid to do seriously. And all of my friends who do sketch were like, "Thank you for sticking up for us." My issue was that I had just watched a friend of mine struggle to get people to come to her show and she is insanely talented and has been doing this for so long. That's why I was annoyed. And I was pissed because everybody was a fucking dick the whole time, that whole season, and I was just over it, but whatever.
T.S.: You know, I was with Kristen for four plus years. Kristen can be very loving and very motherly but one thing Kristen is not is funny.
A.M.: That's where you're wrong. Kristen is hilarious, but—
T.S. and A.M.: But not when she's trying to be.
T.S.: Okay, there you go. Yes.
A.M.: She is actually, probably unintentionally, one of the funniest people I've ever known.
The waitress comes over for the last time, setting down a few glasses filled with various liquids.
A.M.: Oh wow, did you just ask for ingredients? Oh wow, Tom.
Sandoval takes out a shaker and shot glass and a literal flower bud called a Buzz Button and makes a round of shots that leave a wild aftertaste in your mouth, not unlike Pop Rocks (in a good way).
T.S.: This is one of my favorite drinks. You know how you know you have a good drink? When you could get somebody to drink a spirit or liquor that they hate by creating a cocktail where it's really good. I'm going to get you to drink gin.