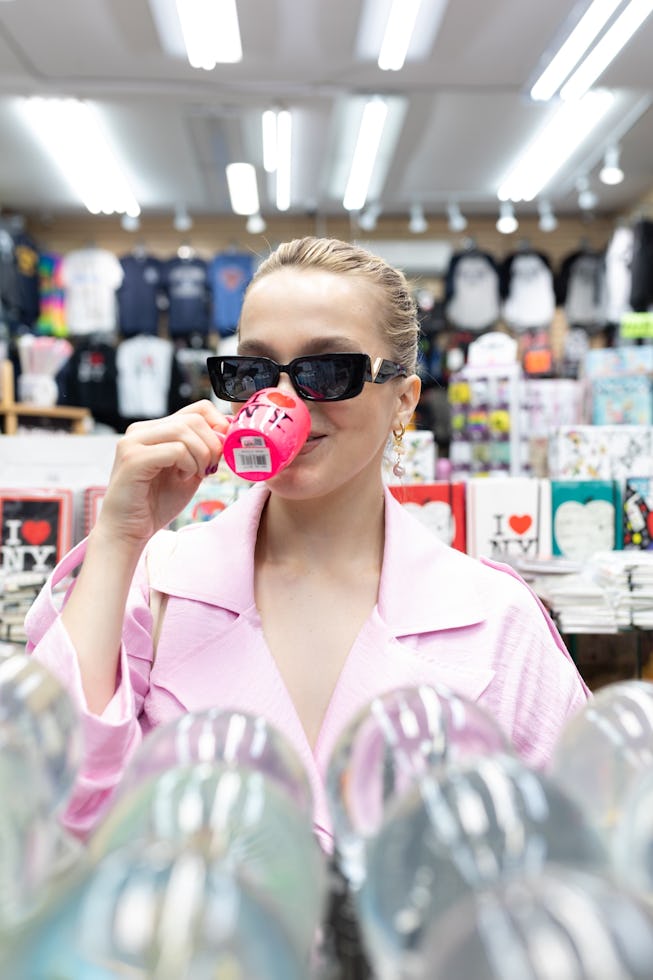 Liam Butler-Schafer
Vivian Olyphant Makes Music Debut With "Lil More Reason"
Hear the song exclusively on NYLON.
This year, Vivian Olyphant won't just make her acting debut; the 20-year-old will also step into her own as a singer and songwriter.
Come July 18, the youngest child of actor Timothy Olyphant is set to join her father on the upcoming and highly anticipated Justified: City Primeval spin-off, in which she's set to play, fittingly, his onscreen daughter Willa. But before that, she's sharing her first-ever song, "Lil More Reason," debuting exclusively on NYLON on Thursday.
The track is a somewhat of an oxymoron, built around gentle, strummy guitar and starry synths as Olyphant's voice sings sweetly about grand deaths and cataclysmic ends to the human race: "Black hole slurps us up like we're a milkshake at a diner." It's a bit macabre — on the second verse, a sleeping college student gets stabbed in the head — and a bit funny. But the ultimate message of the song turns out to be tender, as the exaggerated prospects of oblivion spur her to only love her time on Earth even harder. "The thought of losing you scares me all the time, but it just gives me more reason to love you tonight," sings Olyphant on the chorus, the sugar-filled frosting that makes it all go down easy.
Incidentally, Olyphant wrote the song after hanging out with her parents while shooting Justified: City Primeval in Chicago, when a casual hang and conversation about the fleeting nature of life spurred some existential thoughts. "The conversation led me to worry about my lack of control in life and all the ways I could lose the people I love," she tells NYLON.
"Lil More Reason" arrives with a music video where she immortalizes all of her loved ones and their memories together: fuzzy and warm Super 8 footage of her friends hanging around in the neighborhood; Olyphant herself bounding out of her house with a smile; beloved dogs panting in the heat. It's a soft but welcoming introduction to a promising new creative force.
Watch Olyphant's "Lil More Reason" below, and read on to learn more about the burgeoning singer and actress. Be sure to catch the premiere of Justified: City Primeval on July 18 on FX.
What are you up to right now — describe your surroundings.
I am at home with my family, sleeping in, and hanging with my friends and dogs.
Why did you choose "Lil More Reason" to be your first-ever song release?
It is the most "me" song on the EP. I wrote "Lil More Reason" last summer while we were filming in Chicago. I was with my mom and dad, just eating tacos and playing board games in their home. My parents started talking about some podcast they'd listen to that day on why not to delay happiness because life is so unpredictable. The conversation led me to worry about my lack of control in life and all the ways I could lose the people I love. I felt the need to write about this so, after dinner, I grabbed the guitar I brought over and wrote "Lil More Reason" top to bottom. I've never written a song that fast.
How did you begin songwriting?
I began songwriting to spice up my childhood piano lessons. My process at eight years old was to turn my poems into music. I've always loved storytelling.
Artistically, what and who are you inspired by?
I am inspired by funny people who can turn life's struggles into laughs. My idol is Martin Short.
You're making your acting debut alongside your dad on JUSTIFIED: CITY PRIMEVAL. What was it like working with him on set in a professional setting?
I loved working with my dad. It was a moving experience for the both of us. It was surreal to be working alongside him, after all those years visiting him on sets. Although it's just my first project, so I don't have much to compare it to, the cast and crew were the best. I'm so grateful.
How did you prepare for filming and getting in character?
It all started with memorizing my lines. Since this was my first ever on screen role I was mostly focused on learning my lines in the beginning. Once I got settled I had the opportunity to work and learn from the whole cast. Sometimes I would go to set just to watch. I learned so much just from observing. It was the best masterclass an actor could ask for.
What's next for you?
I'm finishing up my second year at William Esper Studio, and I'm preparing to release my EP.