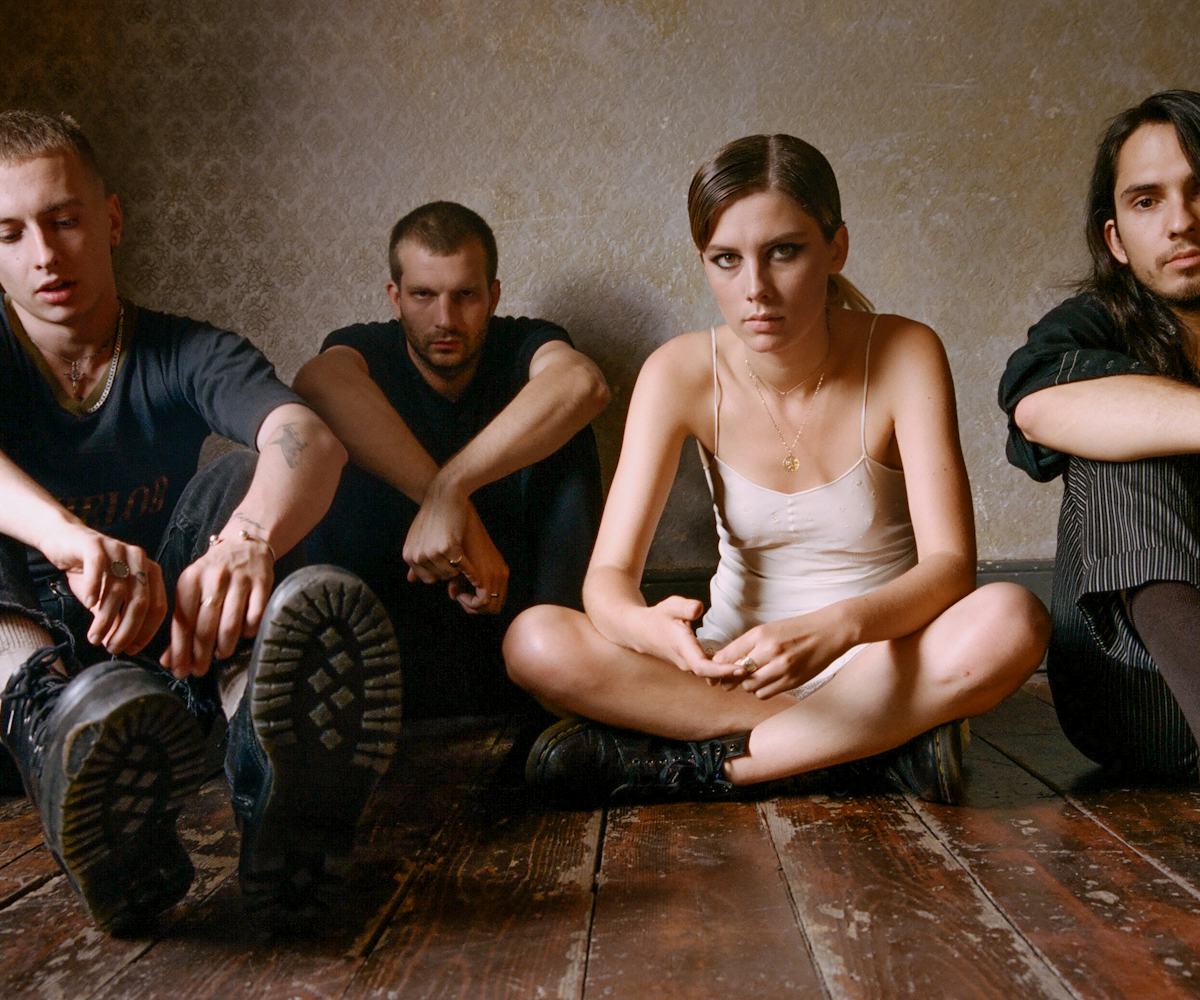 Photograph by Laura Allard Fleischl
Get Ready For The Return Of Wolf Alice
Catching up with drummer Joel Amey ahead of their forthcoming record
Wolf Alice are officially back. After two years of touring their debut album, My Love Is Cool, the London-based, grunge rock group returned with two new tracks over the past few months, "Yuk Foo" and "Don't Delete The Kisses," the first off of their upcoming album, Visions of a Life. And though we'll have to wait until September to get our anxious hands on their sophomore release, we can already tell from the two released tracks that it certainly will be one to remember.
"Yuk Foo" is a blunt eruption of truth, a kick to the throat, and a big "fuck you" to the entire world. Lead singer Ellie Rowsell explodes on the track, "You bore me, you bore me to death/ Well, deplore me, no, I don't give a shit," over a cacophony of brash guitars. Fans of the band know that this bold attitude from this band is nothing new—that same energy can be traced back to some of their best tracks on My Love Is Cool. From this track, we can tell the new release shows promise of their signature fiery spirit, but this time, more balanced with the ease of calmer tracks, as well. 
This yin and yang effect is evident in the melodic, slow-winding single, "Don't Delete The Kisses." The track is undoubtedly the perfect tune to vibe out to while on a long summer drive. Ahead of their sophomore release, we digest these two very different tracks, curious for what the rockers have in store for the world come September. And in an attempt to put the pieces of the puzzle together, we chatted with drummer Joel Amey about what fans can expect from Wolf Alice's new material, tour life, and 40-year-old rocker dads. 
What were your inspirations for the new album? How do they differ from My Love Is Cool?
I guess the inspirations were more based upon what we ourselves did for the last record, rather than other bands. We've never really wanted to follow anyone else's lane. No one has any interest in, you know, repeating, sonically, the same albums. It just basically boiled down to us going into a rehearsal space, which we never really had before, and listening to about two years worth of people's individual ideas and demos. 
How does the tone of Visions of a Life differ from any of your previous work?
I don't know. I kinda feel like I do know, but just don't want to say. I want everyone's first impression to be their first impression, not the drummer's opinion. But I definitely feel like it's not a repeat of My Love Is Cool. We're just not the kind of people that can make the same record twice, I don't think. That's not me trying to be cocky, we just don't have the attention span to do 12 versions of something we've done before. We would all lose our minds and stop doing it. 
You guys recorded the new album in America. How did the political uproar in the U.S. and in the U.K. have an effect on the record's sound?
I don't think it had an effect, it's not a political album. But then there's politics in many different facets of life, and there are definitely songs that are quite full of rage and full of sadness, and I think people can make their own links to emotions on the record that aren't point-blank political ones. That's not really how Wolf Alice is... but obviously it's pretty scary fucking times. It's a bit too dystopian for my liking.
Why did you decide to release "Don't Delete the Kisses" and "Yuk Foo" first?
I think "Yuk Foo" is, verbally, the most aggressive thing we've ever made, probably, sonically, the most aggressive thing we've ever made. It felt like a good "Hello, we're back" statement, and sometimes you need an angry song for angry times. It just felt right to put that song out. It wasn't too thought-out, we didn't make it thinking, Oh, this would be really good to put out first. We had the song, and we were like, "This could make a statement, hopefully, as the first thing back."
Yeah, I see that a lot.
And with "Don't Delete the Kisses," it feels right to be having your head stuck out the window during summertime listening to a song like "Don't Delete The Kisses."
My Love Is Cool has been out for nearly two years. After touring with the album and playing it so often, how would you say your expectations have changed for this upcoming album?
I don't think they have at all really. Again, we've gone away, I think we made an album that the four of us are incredibly proud of, and it's quite a difficult undertaking, a second record. My Love Is Cool is such a surprise that it connected to so many people in the way that it did, so the first time around, it kinda teaches you to take the unexpected. It's just like, everything you have aspirations for as a teenager growing up, or at least me personally, like, "Oh, I wonder if it'll get to tour America," or "Oh, I wonder if the album's going to get on the charts." It doesn't define it, but it's incredible when it happens. And I think the same for this, I'm happy with what we've done, and I just can't wait for everyone to hear it. I'm more just excited for people's reactions than I am for any gloss or glamour. I just really want people to love to record as much as we do. 
What do you want your fans to take away from the album?
I think we're not going to be repeating any old tricks or anything like that; the bands that always impress me are the bands that find a sound but they don't just repeat, repeat, repeat each album. It's growth and maturity, and there's the intrigue with each record, and hopefully, people that stuck by us, it's worth the wait and they can see that we aren't 21 or 22 anymore. We're a few years older and different things have happened, and Ellie's, lyrically, fucking head over shoulders above where we've been before. I'm just really excited for everyone to hear it. And I think that's it really, there's only so much you can do and think and say before you just gotta put it out. And it's in the world now; it is what it is.
Let's go back to "Yuk Foo." It's a very loud and in-your-face track, what were you exactly trying to get across?
I remember when I first heard the lyrics, I was like, "Damn, you're actually gonna say that in the song?" And Ellie's like, "Yeah." I was like, "Fuck yeah." That's a bit me, you know? The lyrics in there, the first time I heard them, I was like, "Wow."
Like the lyric, "I wanna fuck everyone that I meet?"
Yeah, and that's like what it is to be a human, surely. No one ever says it, do they? And people on fucking YouTube or whatever are like, "Oh it's not clever." But when you get to that point that "Yuk Foo"'s meant to be, you're not meant to be clever. It's just literally fucking, you spin out. I swear all the time, but when I'm angry, I definitely fucking swear. I don't go like, "Oh, I'm really miffed, I'm really blimming annoyed." I'm like, "Fuck this shit!" And the point "Yuk Foo" represents, it's just rage. You have to respect Ellie for saying that, it's fucking amazing. 
I think this is really good timing politically for you to drop that song.
Hopefully. You know, it's not directed at anything particular in the politics right now, but it's, like, if you're feeling that, and that song can help you vent some frustration against something like that, then that's amazing. There are angry songs in the world that help me vent anger against things they're not written about.
I've attended a few of your shows, and, I don't know if you've noticed this, but every show, there seems to be a 40-year-old dad fan base that's there. 
Oh yeah, there's a few.
Yeah, and they're like jamming out, they know all of the words. They're like obsessed with you guys. Have you noticed that, and why do you think that is?
Yeah, it's more apparent in America, I feel. I was actually just talking to a couple of fucking rocker dudes just now, and I think it's amazing personally. Music is genuinely for everyone, and there's quite a lot of dudes, I think, that maybe have seen bands like The Pixies or whatever when they came around the first time, and then they're like, "Shit, I saw Fugazi or The Pixies or whoever back in the day, or Nirvana, and I like you guys because it gives me the same sort of vibe." Not to say just '90s bands, but bands that a lot of these older guys who're coming up to us and are like, "This is what I love." You're only as fucking young as you feel, and if you feel like going to a rock concert on a Monday, then fair enough.
Visions Of A Life will be out September 29.