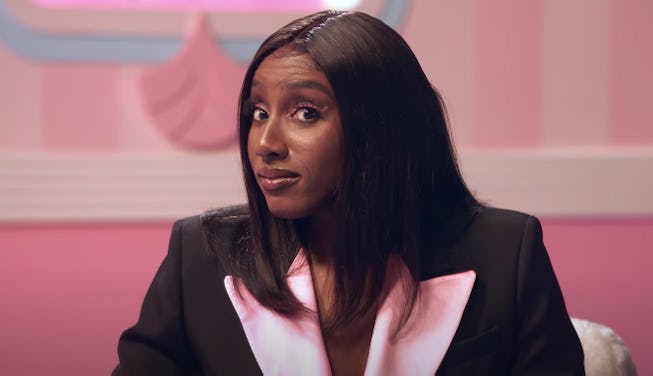 Screengrab via Showtime/YouTube
Ziwe's First Showtime Trailer Is Here And It's Stacked With Iconic Guests
The variety show premieres on May 9th.
The first trailer for comedian and Desus & Mero writer Ziwe's new variety show, Ziwe, has arrived and it's stacked with a roster of already iconic guests.
"I believe in using humor as a tool to shed light on the truth," she says to introduce the clip. "But there are some issues that are too sensitive to joke about."
That includes asking Los Espookys star Julio Torres, "Who do you want to represent less: immigrants or gay people?" And Fran Lebowitz the obvious question: "What do you hate more, slow walkers or racism?" Bowen Yang, Jeremy O'Harris, Phoebe Bridgers, and Jane Krakowski also make appearances.
The show premieres on Sunday, May 9 at 11 p.m. on Showtime, and will interpolate sketches with musical numbers and Ziwe's signature, on-the-spot interview style that she perfected on her viral Instagram Live show, Baited. Written by Cole Escola, Jamund Washington, Jordan Mendoza, and Michelle Davis, with music from Patti Harrison, Ziwe will "challenge America's discomfort" with topics like race, sex and gender.
Watch the first trailer, below.