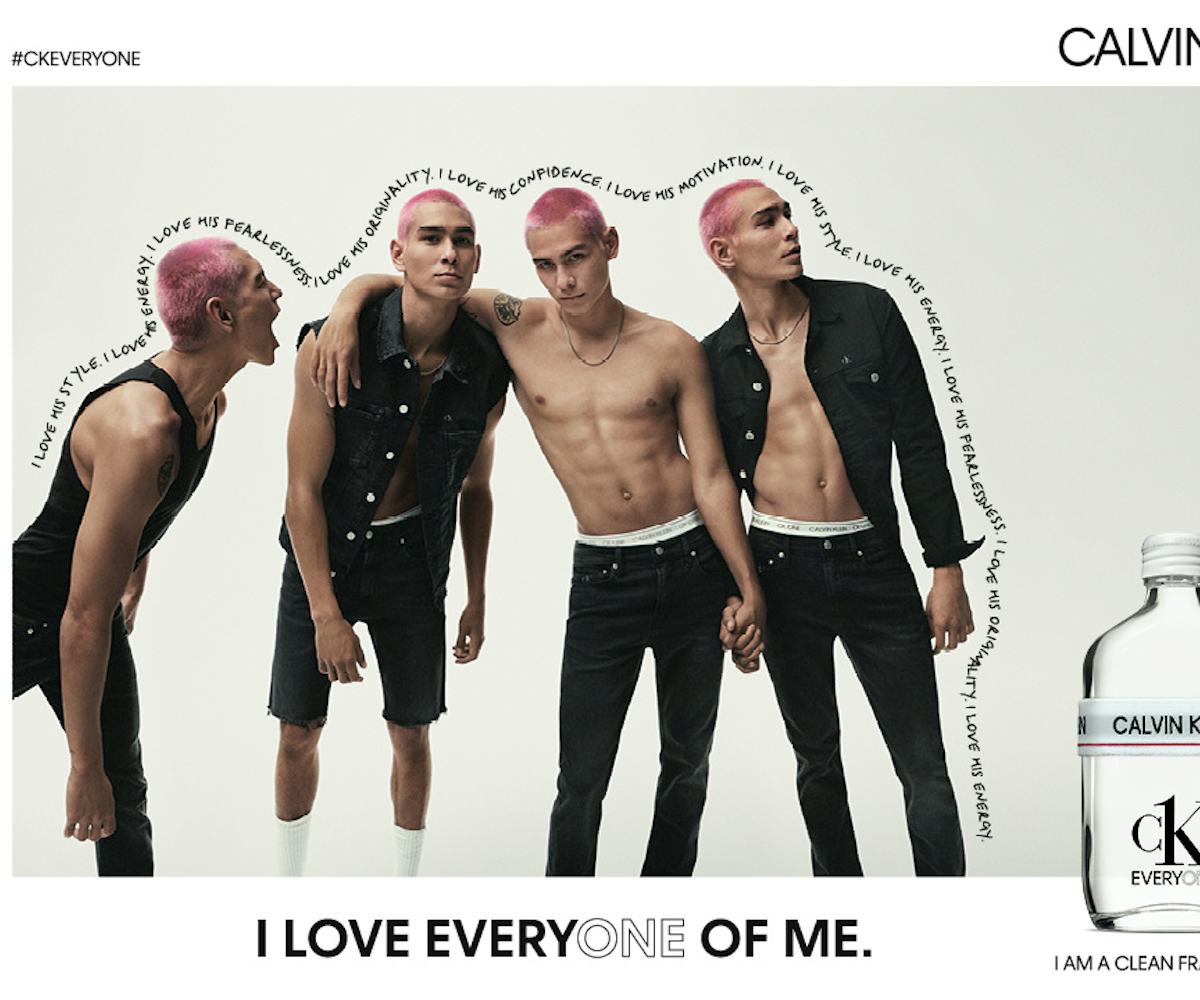 Photo by Glen Luchford for Calvin Klein
How Going With The Flow Landed Evan Mock A Fashion Campaign — And A Seat On Travis Scott's Jet
The multi-hyphenate had one hell of year in 2019. In 2020, Mock is letting people know he's here to stay.
When Frank Ocean posted a video of a fuzzy, pink-haired skateboarder Evan Mock in Hawaii — with artist Tom Sachs, no less — to Instagram during the first week of 2019, it catapulted the then-21-year-old Oahu native into the kind of viral frenzy that can only follow being co-signed by a superstar with millions of followers. For most, being acknowledged by Ocean in such a public way would be the single most memorable thing to happen in any calendar year. But for Mock, now 22, it was just the beginning.
In fact, the last 12 months for Mock have included some extremely high highs: He modeled for some of fashion's most prestigious names like Paco Rabanne and Louis Vuitton, was commissioned to photograph for Saint Laurent and GQ, collaborated with Justin Bieber on forthcoming designs for his clothing brand Drew House, and worked with Travis Scott on images and videos for his tour. Plus, he launched his own line of bedazzled hoodies and baseball caps, Sorry In Advance.
Most recently, Mock was featured in Calvin Klein's first-ever joint fashion and fragrance campaign for the new CK ONE underwear and jeans collection, as well as CK EVERYONE, a new gender-free fragrance. With its zesty, citrus scent and "clean," vegan formula, creator and master perfumer Alberto Morillas said in the brand's press release that "it echoes the ideals of this new generation."
The campaign itself surely echoes the ideals of Gen Z, too, finding Mock in good company amongst a sea of creatives and multi-hyphenates including musician and actor Eliot Sumner, musician and makeup artist MLMA, and rapper and dancer Priddy the Opp, amongst others. Shot by one of Mock's idol's, fashion photographer and film director Glen Luchford, a campaign as iconic as this — for the brand's underwear and fragrance, no less — was just another pinch-me moment of 2019, capping off a whirlwind of a year.
During the campaign's launch week, NYLON sat down with Mock to talk about the campaign, adjusting to life in the public eye, and how growing up in Hawaii prepared him to handle the life he's stumbled — or skated — into. Read highlights from the conversation, below.
2019 was a huge year for you. What has the experience been like, becoming such a public person so fast?
I feel like I've always wanted to show the world what I'm into or doing, so it kind of just feels like it's all starting to work now. It's not any added pressure or anything... I'm my worst critic, so it's like, I'm not really thinking about anyone else or what they think. It's nothing crazy like, "Oh I have all these eyes on me now, I'm gonna crack," but I look at it as, "I can finally tell my story to more people than five people."
What story are you trying to tell?
That a kid from a small island can be spread all over, pretty much. You get stuck in "Oh, I want to be a skater, I want to be a surfer, or go through all the Fashion Weeks," or stuff like that. So you kind of get lost in the plot, but, as long as you keep it about everything that you're into, it kind of simplifies what your story is, I guess.
Was modeling ever on your radar before it happened?
It was something I knew came as a part of the world I wanted to get into, but it wasn't like "Oh, I'm gonna submit my resume to IMG models." But I think growing up in the surf and skate industry, you kind of mildly get a taste of what it is to be a model, because you do catalog shoots and stuff. Definitely on a smaller level, but, filming skating and filming surfing, you're just around cameras.
Is that also how you got into photography?
Initially, yeah. I was using my grandfather's old cameras, but I'd be around the sickest surf photographers in the world, growing up on that stretch of land in Hawaii. So I got super inspired to start taking photos just to document. Even before my life was super crazy, I just wanted to document my friends. I'd see photos from when I first started, from this shitty little camera, it's so priceless. I think about that now, like I'll look back in 10 years from this day, and be like, "Woah that's crazy." Just a log, I guess. The archive. Especially when your life is crazy, you forget about so many things, so for that reason, I just wanted to cherish that moment. You don't really understand what you're doing until you look back on what it was. 'Cause when we're going through it, it just seems kind of natural, because that's what you've been working toward.
Has there been one specific moment that has felt surreal, like you can't believe the life you're living?
I think it was, as materialistic as it sounds, being on Travis [Scott]'s private jet. Just traveling with those guys, it being such a tight-knit crew; I was looking around the plane like, "Why do I have a seat in here?" It holds maybe eight people. And I'm one of those people being able to document and hang with homies. It's just a weird moment. And then seeing the [Calvin Klein campaign ad], it's fucking crazy. I got to shoot with one of my favorite photographers Glen Luchford. That in and of itself was a feat, it's pretty insane. Just 'cause, Calvin Klein is so iconic and classic, it's so cool that they showed love to me, that they wanted to work together.
What did it feel like to land this campaign, where they didn't just pick you because you're a model, but for who you are as a person?
Brands, nowadays, want to tell a story. So the person doesn't just have to look decent, they're affiliating your life with the brand. So you are the brand identity. It's cool, 'cause it tells a story, and there's more depth to it, so it's more interesting. It's not just like, "This is a rad photo shoot."
For this campaign specifically, it's for a gender-neutral fragrance. Do you think that a gender-neutral approach to things, be it in beauty or fashion, is the way forward?
Yeah. I never really thought about if this was a woman's piece of clothing or a men's piece of clothing. My first pair of jeans were a women's pair from Ross. I wanted them so bad. They're like the worst fit, but I was into skating, and I needed skinny jeans, 'cause I thought that's what skaters wore, which they did at that time. [I think] especially now, my generation growing up, they're the most genderless or fluid. For me, it was always that. I think it's cool that people aren't trapped inside of a bubble where they feel like they can't speak about anything now. 'Cause if you believe in something, people get behind it.
Where do you think that your free-spirited outlook on things came from, especially when society so often tells people told to stay in your lane?
I think growing up in Hawaii, and being able to do so many different things... [and] being outdoors also plays into being free. Hawaii has such a mixed culture, so you're around a lot of different people and a lot of different things. There are skyscrapers, but there are also deserted beaches, so there's a lot of different aspects to it. I think growing up allowed me to be into everything and be open to everything; it made me feel like I could be anything. And why not be everything at once?
What's one thing that's still on your list?
I feel like it's kind of typical and what happens when you've done the modeling thing, but acting is the next feat that I need to figure out. I'm working on it now, but, for me, it will be challenging, so I know I'll really try to do it good when I get into it.
How have you managed to approach things with that "I want to do it, so I'm going to do it" attitude?
I feel like it's the only way to accomplish the things you want to do. You, yourself, have to know you can do it before anyone. You can have everyone around you saying you can do it, which obviously helps, but you have to know yourself, because you're not going to be with someone every time.
Is that a learned mentality, or do you think you've always felt this way?
I think just like starting to skate, you kind of develop this attitude of "I'm not going to stop until I get it." I've filmed tricks for five hours and still haven't gotten it, and my body was so broken, I had to just try again the next day. I think that was ingrained in my mind pretty early, learning not to give up. It's a trial-and-error thing, that's how I go through life. If it means something to you, it'll probably take a while.