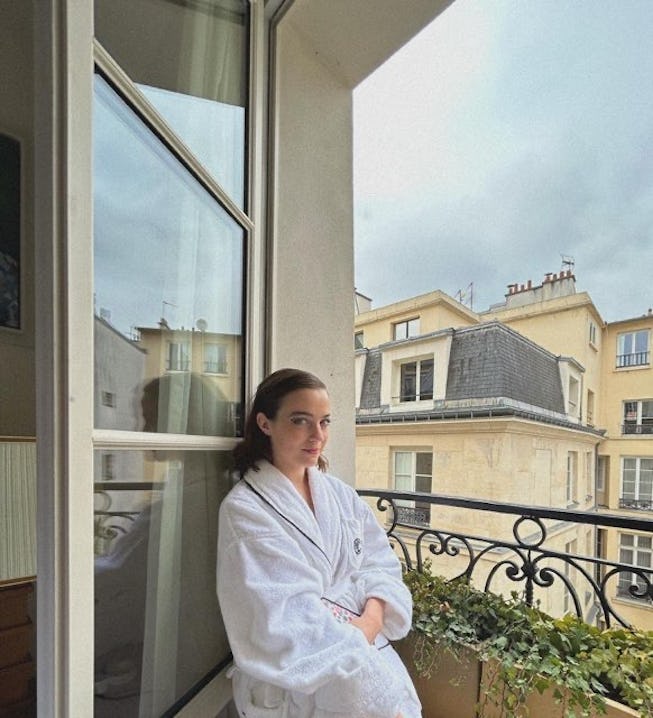 'The White Lotus' Star Beatrice Grannò Gets Ready for COS in Paris
The breakout actress attended the COS Atelier fashion show alongside Diane Kruger.
Beatrice Grannò may be best associated with the country of Italy thanks to her breakout role as aspiring singer Mia on season two of The White Lotus, but this week she hit another European hotspot: Paris. On Wednesday, April 26, the actress — who was just cast in her first American speaking film, Daniela Forever, opposite Crazy Rich Asians star Henry Golding — sat front row at COS's first ever Paris presentation, showing the brand's Spring Summer 2023 Atelier collection.
"The city is a constant source of inspiration, and we feel incredibly honored to debut in a city recognized for exceptional Haute-couture," COS Creative Director Karin Gustafsson tells NYLON. "We value the exceptional quality of its artisans and creators, their know-how and the quality of their products." Gustafsson described the collection as pieces made to be both beautiful and functional, with an emphasis on neutral colors (save for the occasional burst of bright orange). "Many of the pieces in the collection have been created using the art of draping, a technique frequently used in couture and regularly used in COS' designs," she adds, noting a through-line of weaving and tailoring, as well.
Among the looks was a three-piece suit done in beige linen that Grannò also selected to wear front row, where she sat next to Diane Kruger and Lena Mahfouf. "What I love about COS is that it's always very chic and minimal, so this suit gave me the ability to bring my own attitude to it," she says. "It's like my own canvas, where my personality can come out." Here, the actress talks her personal style and must-sees in Paris, along with exclusive pictures from her day.
What did you think of the collection today?
I loved it. I loved the attitude and how simple and immediate it was. It was very chic — I really loved it.
How would you describe your style on a typical day?
I love to play and change a lot. I love skirts and miniskirts and striped shirts. But I do always want to feel like I'm comfortable.
What are your favorite places to visit when you are in Paris?
I love Montmarte. I love the Marais. Paris is just so beautiful, I love coming here.
What is your go-to order when you're at a French bistro?
Okay, I'll definitely get a crepe with cheese and ham. Lots of cheese. Red wine. Or Sancerre, I love the Sancerre here.