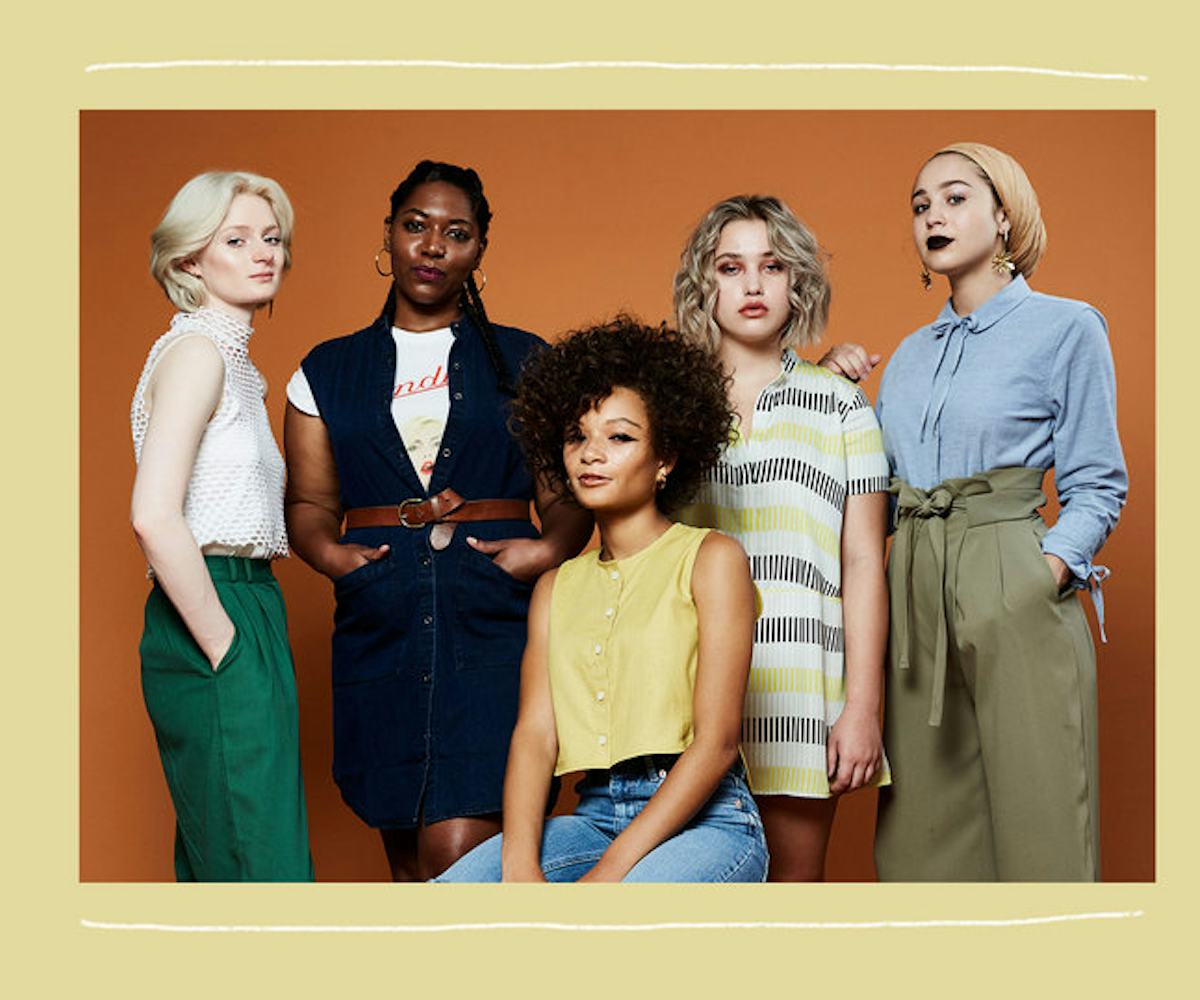 Photographed by Lauren Perlstein. Styled by Heather Newberger.
Meet The Brands Designing With The Petite Girl In Mind
They're putting in the legwork
The trials of a petite person are endless, but perhaps one of the most persistent—and potentially expensive—is that the fashion industry likes to pretend we don't exist. This isn't surprising considering that even Cara Delevingne, the stunning 5'9" supermodel, was once dubbed a "dwarf" by Marc Jacobs before she made it big (so to speak). And Delevingne is considerably taller than the average American woman, who typically tops out at 5'4".
So if even relatively tall women like Delevingne are maligned by the industry, where does that leave those of us who are actually shorter than average? Swimming in our clothes, for the most part. The less lazy among us take our clothes to the tailor, a boring activity that pays off for nearly everyone, but which takes extra time, money, and energy many of us either can't or don't want to spend. When so many of us are relegated to cutting three inches off our jeans and awkwardly shopping in the children's department, it's an absurdly missed opportunity not to capitalize on a segment of the market that is desperate to give up our hard-earned money for clothes that actually fit.
Luckily, though, designers are starting to take note.
STATURE is a NYC-based brand for women 5'3" and under. Founded by Avani Agarwal and Camille Moroz, the online shop is a small, carefully curated virtual oasis of items specifically sought out for their suitability for the petite body. 
"The petite market is considered a 'niche' one," wrote Moroz in an email. "The industry standard of 5'9"-plus fit and fashion models only accounts for approximately 3 percent of the extrapolated population." That disconnect, and the fact that more than 50 percent of American women are shorter than the average fit model, is what prompted the two petite women to start their own company. 
Although it's well-known that fashion has long had a diversity problem, the industry is, remarkably, even more unfriendly toward diverse sizing. Pattern grading—in which an item of clothing, designed for the sample size, is "graded" up or down to accommodate different sizes—is so ingrained in design and manufacturing that designing for a non-standard size is incredibly difficult—and costly.
"Grading for non-standard sizing is uncharted territory for a lot of brands," says Moroz, and "creating different design patterns and/or specs for petite—and plus!—sizes is an entirely separate set of costs that can be quite high." This explains the hesitation many brands have towards diversifying their sizing: Designing from a smaller, or larger, sample size and adjusting from there is an additional cost that many companies simply don't see as worth the effort.
The industry's fixation on tall, thin women, however, is an exercise in futility. The number of short and/or plus-sized women is large enough that, if a brand is willing to commit to the research and development costs necessary for targeting such populations, the success can—and has proven to be—worth the work.
"One of the amazing things about the petite market is that it really is like a network," said Jenny Howell, founder of the new NYC-based clothing brand Petite Studio. "We've been really lucky to find that our customers are loyal and are becoming returning shoppers in the long term." That loyalty speaks to the ingenuity of the founders of these brands, who will, it stands to reason, reap the rewards for putting in the elbow grease and building companies with little pre-existing foundation upon which they could rely. 
Petite Studio, with its delicate, feminine looks, and STATURE, which skews more quirky and bright, are at the forefront of this new movement in fashion, but they are, thankfully, not alone. Mainstream brands like J.Crew, Abercrombie, Anthropologie, Reformation, and Ann Taylor LOFT and Lou & Grey all have sizeable (so to speak) petite collections at a variety of price points. One can only hope that more designers recognize the success of the enterprising first few brands so that we, small girls, can have as great a selection of clothes from which to draw our wardrobe as our taller sisters.
Chloe wears dress by Dusen Dusen, sized for stature via staturenyc.com, stylist's own shoes, Walysia wears shirt by ASOS Petite, dress by Abercrombie & Fitch Petite, stylist's own belt, shoes by Eileen Fisher, Simone wears shirt by In God We Trust via staturenyc.com, Pants by Abercrombie & Fitch Petite, shoes by Rachel Comey via staturenyc.com, Lily wears tops by Missguided Petite and ASOS Petite, pants by Wray, shoes by MM6, Maria Alia wears shirt by Abercrombie & Fitch, pants by Petite Studio via petitestudio.com, shoes by Rachel Comey via staturenyc.com.
Photographer: Lauren Perlstein assisted by Sara Maria Jones
Stylist: Heather Newberger
Hair: Felicia Burrows
Makeup: Tony Tulve at Kreative Kommune
Models: Simone @ MSA, Maria Alia @ Muse, Lily @ Ford, Walysia @ WeSpeakNY, Chloe Pultar