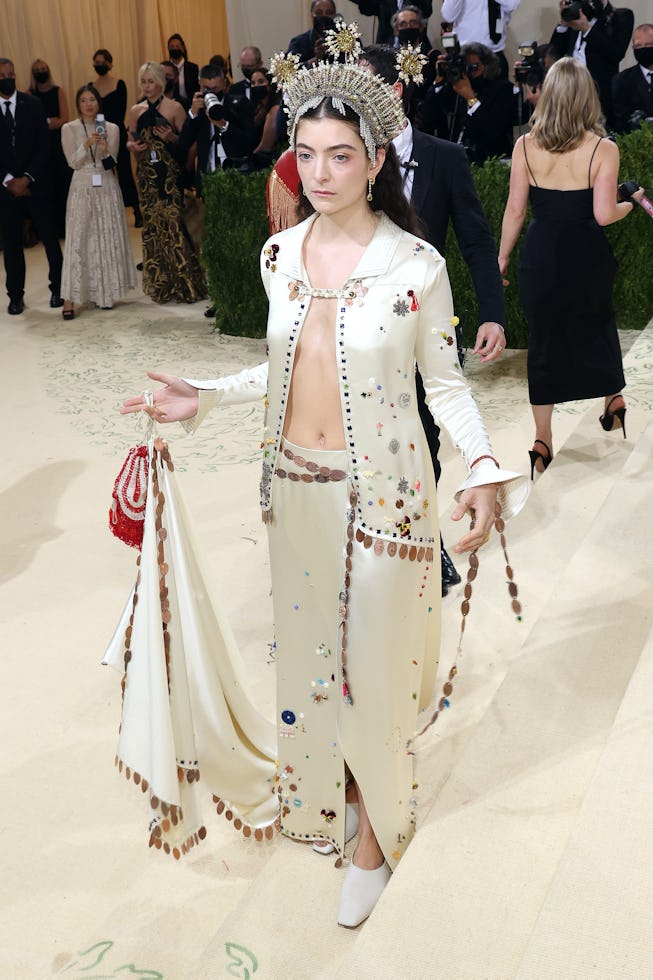 Taylor Hill/WireImage/Getty Images
A Bode Women's Line Is Coming
Get ready for Bode's signature antique fabrics and '70s Americana, all inspired by the matriarchs of her family.
In college, Emily Adams Bode Aujla found women's clothes so easy to make that they didn't inspire her. While this is a largely unrelatable problem to have, it's one that helped propel Bode's recent but swift rise to success as a menswear designer. Now, seven years after launching her brand Bode, the designer is on the brink of launching her first-ever women's clothing line, which debuts on Saturday at the Paris menswear shows.
Bode has always been inspired by antique fabrics, mixing menswear with American craftsmanship to create pieces that ooze history and feeling, like they could have been passed down through generations but also sold on SSENSE. Her womenswear collection will share this same ethos, only bringing it to dresses, skirts, silk tops, and what Vogue describes as "her version of lingerie." (Please be crochet!)
According to Vogue, the collection includes everything from a form-fitting and floor-length gown sparkled with emerald green sequins to 70s color palette textured cardigans in olive, brown, and red, along with bolero jackets, a black satin camisole, and a sheer dress with beaded flowers.
"In the '70s, there was more of this idea that if you couldn't buy it, you'd make it," Bode told Vogue, "so there are lots of pieces that are like that dress that you make for a competition, or a costume party, or something like that—I want to keep that home element, that domestic and emotional element as part of the collection."
The collection is also largely inspired by the women in Bode's family, especially her mother and her three sisters, who Bode refers to as her muses. Speaking of muses, Gracie Abrams, as it turns out, is a huge Bode fan — and is among the first to be styled for a photoshoot in the new pieces, including a floor-length muslin dress and a 1920s crepe paper hat, with an oversized turquoise ring.
"There's such confidence and security and stillness in Emily's pieces," says Abrams, who says that when she met Bode, she was schooled on a history lesson on the women in her family. "When I saw and felt the clothing, it genuinely is so her—and the woman that I want to be—in clothing."
You'll be able to see the collection at Paris Fashion Week, where Bode will make its first runway appearance since 2020.