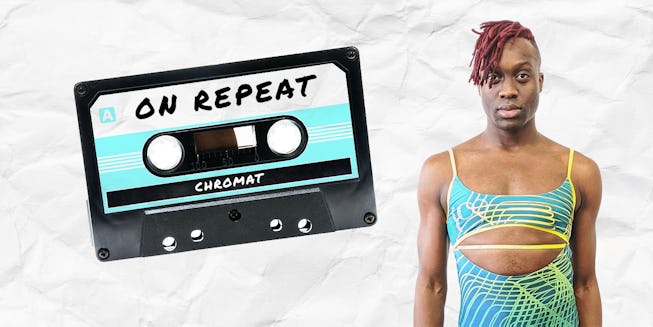 Photo Courtesy of Chromat
On Repeat: Chromat Turns To Dancer Basit For Fashion And Music Inspiration
The non-binary dancer and fitness instructor will lead a cardio dance class for the brand's Fall 2020 presentation
On Repeat is a brand new music series where NYLON asks our favorite creatives — designers, artists, and more — about the songs they can't stop playing while they work. You're going to want to add these to your playlists and streaming platforms ASAP.
Music plays a large role when it comes to Chromat's runway shows at New York Fashion Week. (In case you missed it, past seasons included surprise live performances from K Rizz and UNIIQU3, as well as a show outro song from TT The Artist with the lyrics proclaiming, "Fuck Donald Trump.")
So it comes to no surprise that designer Becca McCharen-Tran has turned to non-binary dancer and fitness instructor Basit to lead a cardio dance class for the brand's Fall 2020 presentation on Sunday.
Dubbed "Chromat 2020 Olympic Team Training Session," the special event will debut McCharen-Tran's reimagining of the Olympics (and its uniforms) as a gender-inclusive space. "Why are intersex and non-binary athletes forced to undergo body modification and possible mutilation to compete as their true selves within an outdated and oppressive gender binary?" asks McCharen-Tran for Elle.
Since Basit is collaborating with Chromat this season, McCharen-Tran turned to them to curate a playlist of songs for fashion and music inspiration for NYLON. Plus, the designer included a song pick of her own, inspired by Olympic runner Caster Semenya.
Read on to find out more about what Basit and McCharen-Tran are listening to on repeat.
"Tia Tamera" - Doja Cat (feat. Rico Nasty)
"Doja Cat is an openly queer POC artist who celebrates her body in her music in such a playful and sexy way!"
"Jungle Queen" - LP Giobbi (feat. TT The Artist)
"This track by LP and TT really blends club/house music with Afro-beats, and this is a recipe for a booty-shaking good time."
"Bling Bling" - Junglepussy
"New York native Junglepussy brings her authentic New York style to this femme dance anthem."
"Dbl Any" - Dionne Slay
"Brooklyn-based drag artist Dionne Slay is serving elegance to elevate any environment in 'Dbl Any.'"
"Tomboy" - Princess Nokia
"Princess Nokia's infamous bop is an ode to non-binary and GNC queers across the lands."
"Do What I Want" - UNIIQU3
"This is a song I've been playing on repeat as I edit videos of Caster Semenya and her fight against the oppressive gender police of the International Olympic Committee and International Association of Athletics Federations."