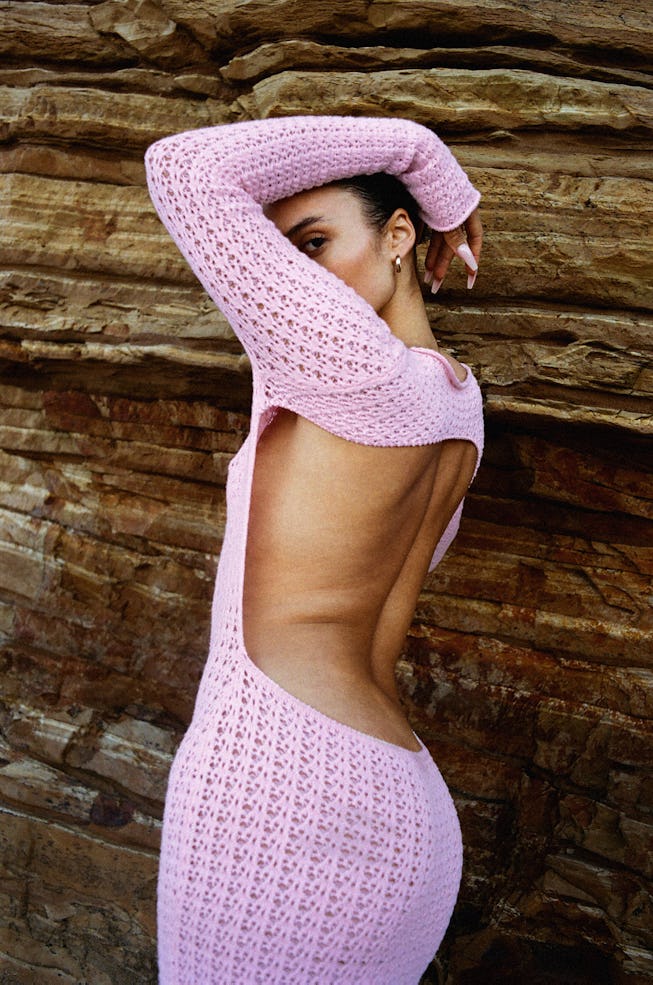 GUIZIO x Frankies Bikinis
Frankies Bikinis & Danielle Guizio Dropped A Flirty Summer Collaboration
Your two favorite hot girl brands joined foreces to bring you bikinis, camis, corsets, and maxi dresses.
If you're a fan of the beach, chances are that the brands Danielle Guizio and Frankies Bikinis are on your radar. Both have built a cult following for their flirty summer dresses, corsets, and (of course) swimwear. Today, the two released their first collaboration, the Frankies Bikinis x GUIZIO collection, available on the Danielle Guizio website and the Frankies Bikinis website.
The 14-piece collection (which starts at $90) includes delicate details woven into lightweight summer swimwear and clothing essentials. The entire collab is ultra-feminine, with bright rosette accents, floral embroidery, and dainty ribbons. Just in time for the summer, the release includes a pink crochet maxi dress, a cozy pointelle knit lounge set with lace, a corset top, and a mesh dress.
The Frankies Bikinis x GUIZIO collection also includes a new rose gingham print, and intricate knitted patterns on some of Frankies Bikinis' classic swim styles. Danielle Guizio, Founder of GUIZIO, says she's always drawn inspiration from watching shows based in California, like The O.C. and The Hills, despite growing up in New Jersey. "I wanted the collection to feel as though it was a puzzle piece put together of both Malibu and New York City — but when looking at it as a whole, it still felt complete in its own way," she said in a press release on the launch.
Both known for their feminine designs, the Danielle Guizio and Frankies Bikinis collaboration is a match made in heaven. "It was a dream designing this collection together as we're both always aiming to create timeless and feminine pieces to be cherished by everyone wearing them," Francesca Aiello, Founder of Frankies Bikinis, said in a press release. Essentially, this one's for the girls.