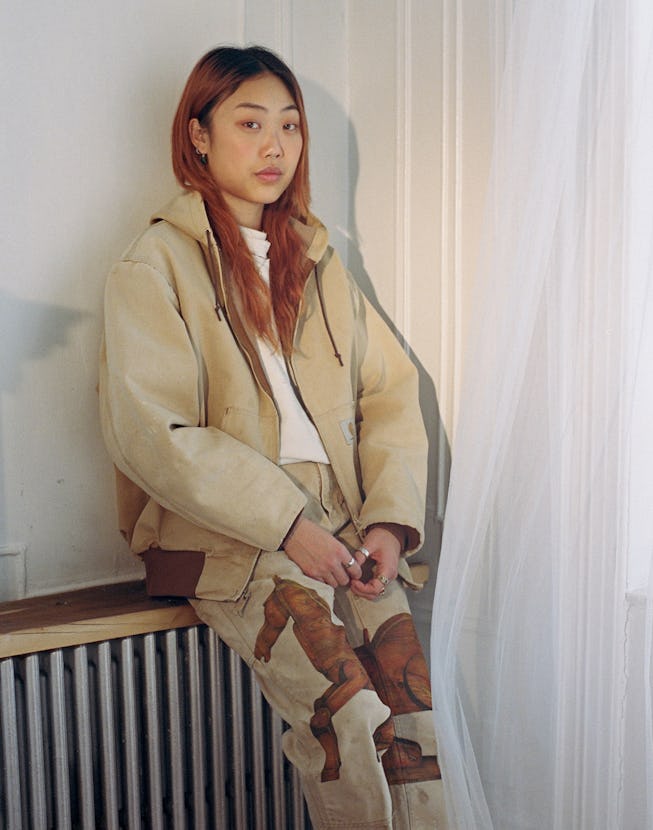 Nicholas Shaya/Courtesy of Rhee
With Rhee, Korean-Kiwi Designer Cherry Kim Pays Homage To Her Mother
The New York-based designer's latest collection is an ode to her childhood home.
Designer Cherry Kim, 24, describes her childhood home as a mess. "My mom is a huge hoarder and there were always weird trinkets everywhere that we'd pick up at garage sales," she tells NYLON. Growing up as a first-generation Korean born and raised in New Zealand, this clutter became the basis of her latest collection for her brand Rhee, a New York-based label she launched in 2020 and christened after her mother's maiden name.
Kim didn't intend to launch a fashion brand mid-pandemic, but after losing work as a freelance stylist and designer, she often found herself doodling detailed illustrations on worn-in pairs of Stan Ray trousers with permanent markers. After posting her first creation on social media, she started gathering friend requests and, eventually, commissions from strangers that rolled in "really organically."
Her latest collection, titled the "Mothball Collection," is her third but Kim says it's the first one in which she drew inspiration from her own life. "Growing up around clutter, like discolored books and toys, trinkets, china and glassware, and stacked vacuum-bagged clothes, was stressful because I like minimalism," she says. "A lot of what I illustrated in this collection were things that were lying around at home while I was in my teens."
Despite disagreeing on minimalism versus maximalism, it was Kim's mom who guided her into a career in fashion. A sewer herself, she took Kim to after-school programs that were specifically creative. "My mom was super invested in that choice," she recalls. "From around 6 or 7 years old, it had become my ideal pathway and I kept on doing crafts at home." She says her mom is excited for her brand to not only have her name but to also reflect back on and explore her childhood together.
In another tribute to her upbringing and experience as a Korean-New Zealander living in New York, Kim chose to donate 25% of the new collection's sales to Heart of Dinner, a nonprofit organization delivering meals to Asian elders in New York, in light of the recent rise in anti-Asian hate crimes.
"When releasing my collection, it felt wrong to be Asian and not to address it, instead just taking up real estate on the internet," she explains. "It's a difficult time to be POC in general and there has been a lot of discussion between myself and Asian friends about how to navigate this heightened anxiety and worrying every time you commute into the city." She says she recognized this could only be worse as an older or a more vulnerable member of the Asian community and wanted to make something actionable.
She's also currently producing some custom workwear pieces and merch for the cast of the Oscar-nominated film Minari, a Korean-American drama by A24 with which Kim instantly found a connection. "I was very invested in the project because it's a movie about Asian immigrants moving into a very white community," Kim says. "The racism is very subtle and it's more about making a living for the family in a situation where racism is not at the forefront of every thought you have." Kim cried multiple times while watching the movie — a rarity for her during films, she notes. About a week later, A24 asked to collaborate.
These types of commissions are the foundation of Rhee, with her small range of stock from each collection raising awareness for the brand and attracting the interest of new customers. While each piece is hand-painted and technically one-off, sourced locally from vintage stores and eBay, she often receives commission requests using her previous collection as a reference point. Her half-pair of painted pants (with just the front painted) usually take her seven to eight hours to complete; a full pair takes her around 12 to 14 hours.
Both Kim's business model and garments, such as the reworked vintage "Mothball Vests," put sustainable practices into action, but she doesn't consider herself the creator of a sustainable brand. "I feel like every brand should consider it," she says. She does, however, enjoy the collaborative nature of creating custom garments. "If people are spending over $400 on a pair of pants that have their name on it and their favorite things, they're also going to keep it for a very long time," says Kim. "It's nice to know that every client is investing money into this long-term."
Despite enjoying the process, Kim says she doesn't want to illustrate forever. Instead, her work for Minari has opened her eyes to the opportunity to work with and do commissions for bigger brands or projects that excite her. "I know there's a problem with accessibility in terms of price point, so this feels like a middle ground to be able to collaborate with a company that I feel very passionate about," she says. Often working with friends, she's most excited by the thought of more future partnerships.
Drawing from her personal experiences and continuing to be inspired by her loved ones, it's no surprise that Kim's latest collection — like her brand's beginnings — blossomed organically as she continues to stay true to herself and her direction. With the self-awareness that the fashion industry is oversaturated and in an economic crisis, she has worked tirelessly to carve her own space to create something meaningful — something that's already connecting with her community and beyond.