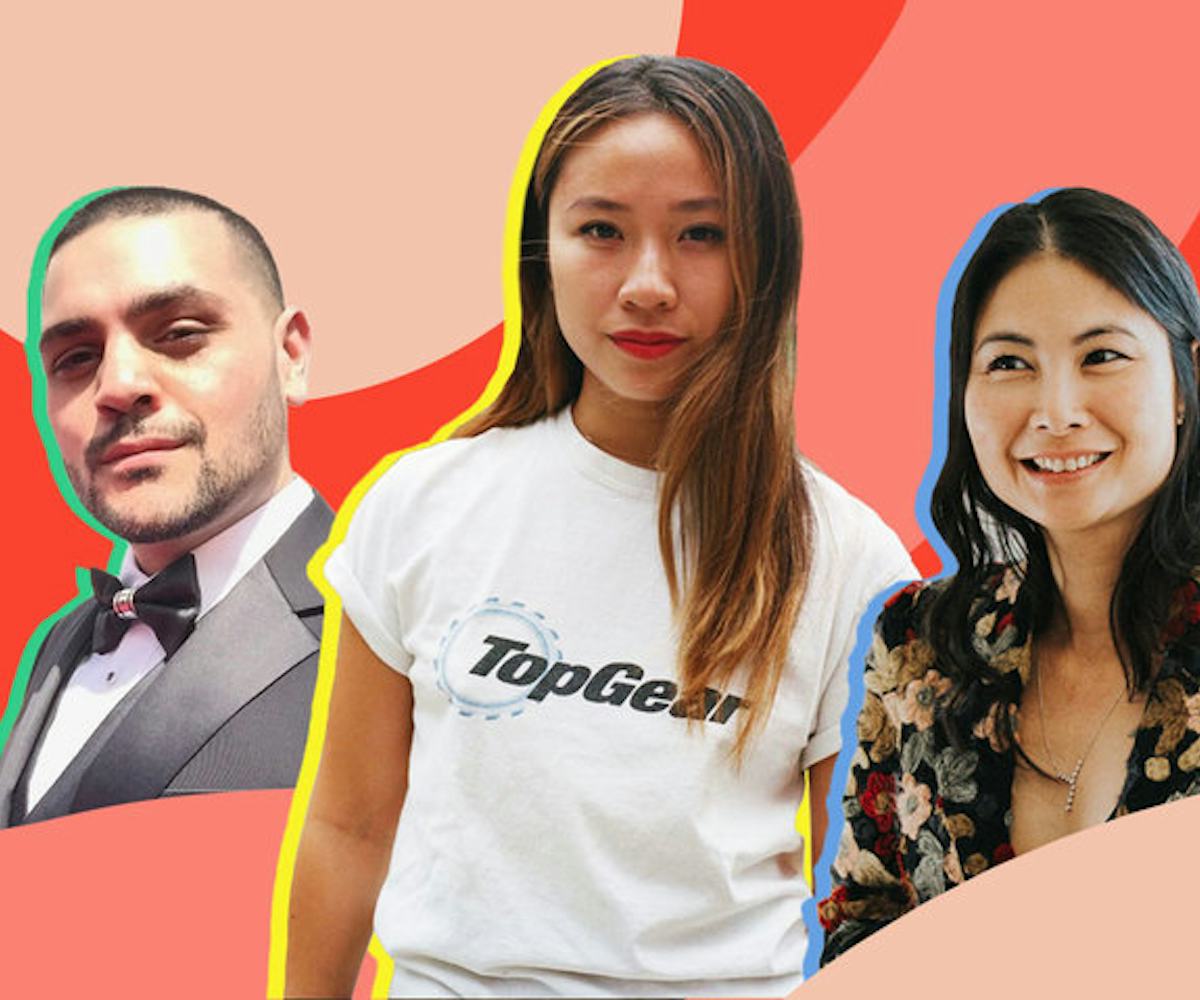 photos courtesy of designers
How 10 Designers Prepare for New York Fashion Week
Spoiler: Caffeine is involved
Every designer knows what a big deal it is to show at New York Fashion Week. It's one of the most-watched and highly anticipated events in the industry, and the expectations get greater each year, with collections now being instantly broadcast around the world thanks to social media.
Each designer has a different approach to handling the pressures. Some completely disconnect and relax, while others spend the time leading up to their shows running back and forth to the Garment District to pick up last-minute materials. From SoulCycle to soul-searching, we interviewed 10 designers, ranging from NYFW first-timers to seasoned pros, to find out how they prepare for the craziness of NYFW. 
Michelle Smith of MILLY
"It's impossible to properly prepare for the madness of NYFW, but I try! I make sure to pencil in a few relaxing weekends away in August to really check out, clear my head, and find inspiration. In the weeks leading up to NYFW, while I spend most of my nights and weekends in the studio finishing up the collection, I make a point to find time every day to fit in a quick workout—either a morning run in Central Park or a SoulCycle class for an afternoon break. It truly keeps me sane and helps keep my creativity flowing. Plus, I have to burn off that late-night pizza somehow!"
Sally LaPointe of Sally LaPointe
"Keep calm and carry on. Honestly, the whole process can be overwhelming. Sometimes I try to pretend like it's not happening, until it does. And then it's go time—I'm in 100 percent." 
Sandy Liang of Sandy Liang
"I don't know if there is anything I do differently prior to Fashion Week in terms of my routine, but it just so happens that I always find a new pair of shoes I like around that time, and my excuse for buying them will be so that I can wear them at my presentation. A little Fashion Week splurge. I try and drink lots of water and take probiotics. If I feel crazy, I go to my acupuncturist, who always calms me down and reminds me that I need to take time to not work in order to do good work."
Michael Costello of Michael Costello
"I put all of my ideas and inspiration onto a wall. I stare at it for about five to seven days before I even start anything, and then ideas start to come together. I try to envision what it is that I want to portray, without following trends while trying to reinvent myself through feelings, fabrics, and new silhouettes."
Audra Danielle Noyes of AUDRA
"Fashion Week prep is full of final fittings, castings, running around the Garment District for last-minute trims, and sleepless nights, all leading to that moment when you finally see the garments you have labored over for months readied for buyers, editors, and industry professionals. It is a thrill, full of lots of moving parts, caffeine, and adrenaline joy-filled moments. Each season, I select a woman with a unique artistic talent to embody and further interpret the collection, whether through video or photography which debuts at Fashion Week. This is such a highlight for me, seeing the artist I have chosen to collaborate with bring new depth and life to the collection through their own creative outlet."
Stephen Wong and Kirk Pickersgill of Greta Constantine
SW: "Kirk [Pickersgill] and I work complementary schedules, him in the daytime and me at night, but at crunch time, we overlap. While coffee does its part, we also have an iPod playlist with enough Beyoncé, Rihanna, Kelis, and M.I.A to make it never feel a minute past noon—or for the sequins to ever feel like a bad choice."
KP: "After a few too many 15-hour days fitting and styling—and hopefully not still making—the collection, few things keep me sane like my dogs Bea and Jet. In the mornings, they're my one and only chance to be outside and exercise, and their companionship helps me forget that I'll be back in the studio in as many hours as I have fingers on my hand."
Kasuni Rathnasuriya of KÛR
"Though it's been busy finishing up the collection and working across all teams, I love the energy and dynamism of Fashion Week preparation. One of my favorite parts of the design process, especially in this time, is working with the weavers and seamstresses—it's almost therapeutic to craft intricate, beautiful materials in an organized way. To destress, I also love drinking Ceylon tea, and chocolate has always been a guilty pleasure and gives me some extra energy!"
Minh Le of 831MINHLE
"Preparing for NYFW has been the most rewarding time of my professional life. Having a strong team by my side that makes sure that I am able to create and articulate my vision is priceless. When I am not attached to my sewing machine or chasing down my favorite bolts through local fabric stores, I am enjoying time with my family and dreaming up what will come next for my designs. I have many stories to tell and I have chosen my collections [as a way] to share them." 
Dennis Basso of Dennis Basso
"In the final days before the show, I'm focused on creating the total look—styling, hair, makeup—to create the full DB Girl. Then we have fittings and work on all the finishing touches to bring the collection to life. Personally, I like to stay completely focused, and I clear my evenings so I can be relaxed and rested and keep my mind on the show."