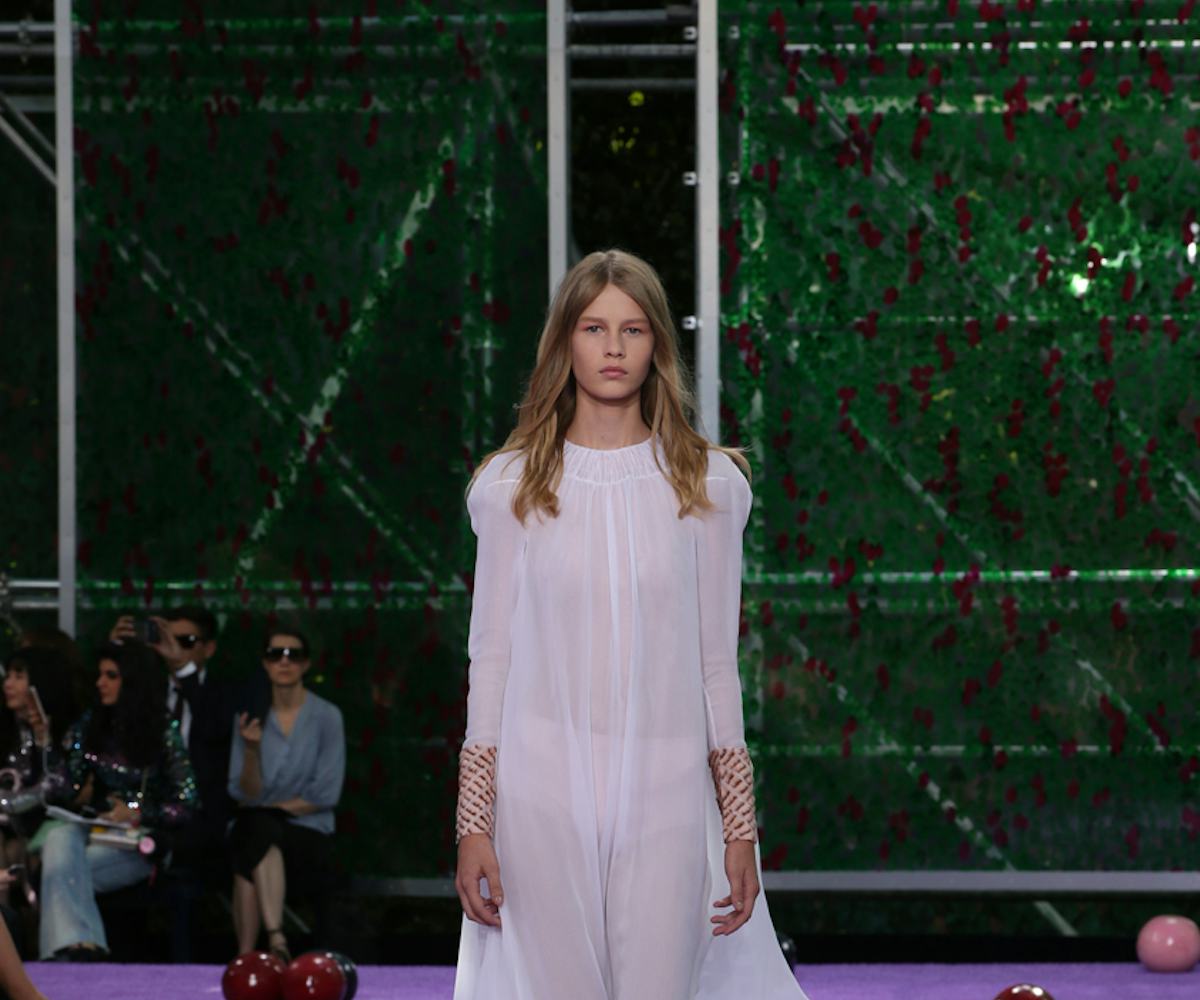 Photo courtesy of Dior
this 14-year-old dior model has her own 'cinderella' story
and this is only the start
Fourteen-year-old Sofia Mechetner was just going about her day when she peeked in the Dior boutique store in Paris. Then, the brand's creative designer, Raf Simons, just happened to spot her and ask her to walk in his next runway show. What he didn't know was that he'd change her life and make a young girl's seemingly impossible dream come true. 
Mechetner, who had little to no modeling experience, struggled with poverty in her family's home town of Holon, Israel (just outside Tel Aviv). She lives with her single mother and two siblings, who she helps care for. When she isn't in school, she spends time cooking and cleaning, and ends each night on her mattress on the floor because a bed is more than her family can afford.  
After constantly being asked if she modeled (or played basketball) due to her height, she decided to give modeling a go. She signed with a small, local agency in Tel Aviv called Roberto. Mechetner told the Jerusalem Post that prior to being signed, she didn't even believe she was beautiful. Roberto sent her portfolio over to Viva, a small agency in Paris. After visiting the Viva agency, she was turned away because of her age. This must have been a blessing in disguise because soon after, she walked in the Dior boutique and her life took a massive turn. 
Now, Mechetner is not only one of the youngest models but also the first Israeli model to open Dior's Haute Couture fashion show. She has signed a two-year contract with the Paris fashion house, and we're sure that's only the start. When asked what she will do with the money, Mechetner said that she hopes she and her family can move to a new house where maybe she can have her own room. 
Her story is often referred to as a Cinderella story, but instead of fitting in one glass shoe, she's got thousands to walk the runway in. Her "rags to riches" story has already inspired and motivated many, and shows that when one door closes a new window is likely to open.