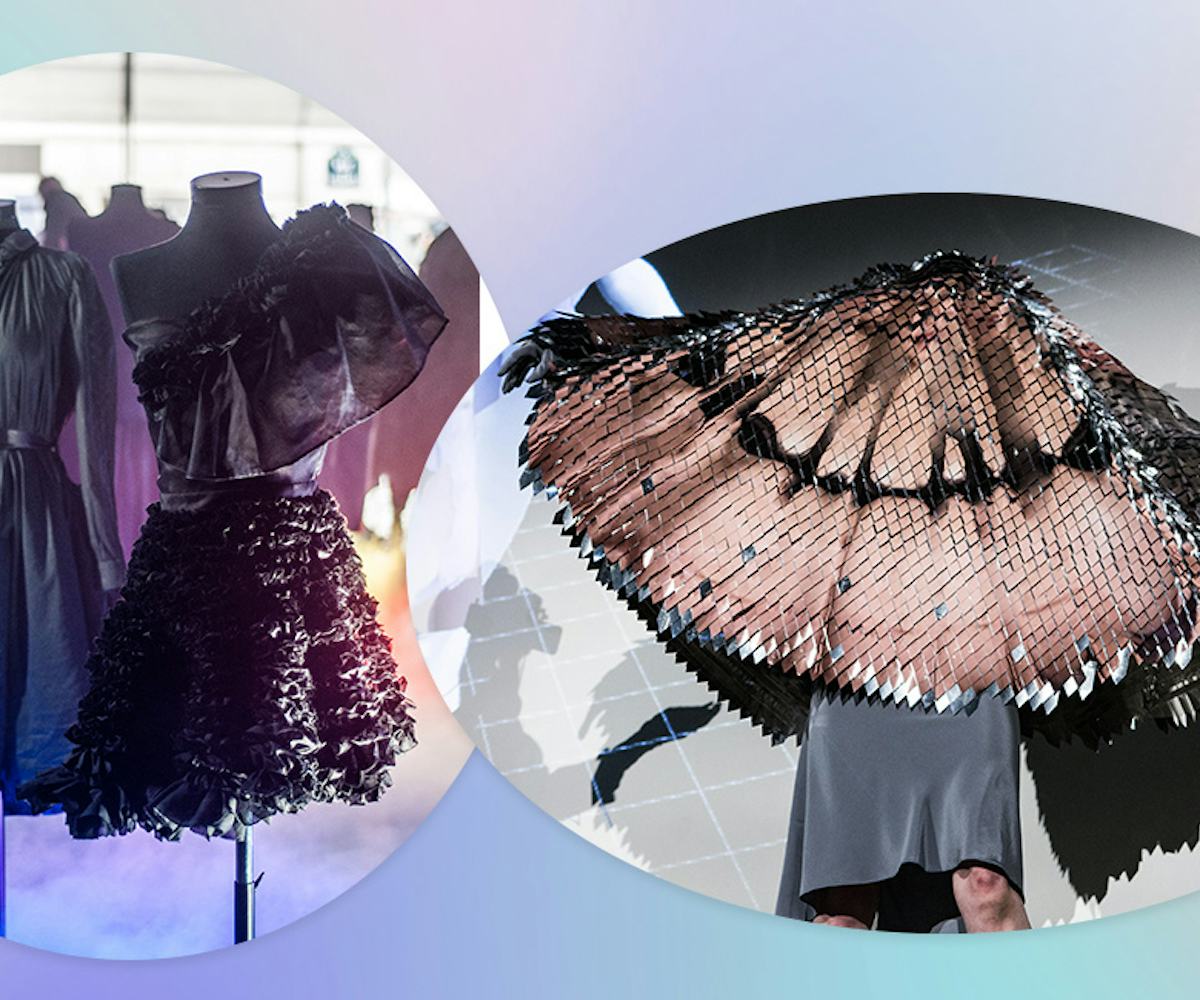 Meet The Emerging Designers Of Paris Couture Week
Here's who to know in the specialized world of haute couture
Couture: It's the most rarified form of fashion. Garments are often made entirely by hand, and few people even have the opportunity to ever see a couture piece in real life. It's such a special segment of the fashion industry, that each season, the Chambre Syndicale de la Haute Couture has a meeting in Paris (the home of couture) during which they appoint a very select group of designers to present as "guest" designers on the official Couture calendar. These guest designers must meet certain criteria ranging from production in France to numbers of members in its atelier. Of course, there are also plenty of labels that opt to host an off-schedule show and do couture their own way too.
Most of the time, the emerging designers of Paris Couture Week are extremely interesting, totally edgy, young, and cool. They show alongside major fashion houses, such as Chanel, Dior, Armani, often opening up the public's eyes to what the definition of couture can and should be. Some of them do not do couture in the traditional sense, but rather fuse the techniques with their own creative design sensibilities. Here, meet five of this season's bold and brightest.
Flora Miranda
As an Austrian designer working in Antwerp, Belgium, Flora Miranda has elected to show her designs during couture season in Paris twice a year. Inspired by technology, she uses computer data to create couture and often hosts shows that verge on theater. This season's collection starred photographer Signe Pierce as a keynote speaker covered in selfie sticks. "The collection has been designed as a keynote presentation, by which I intend to communicate some basic terminology of what I will be doing in my future work, to my audience," Miranda explained during the show. "We are researching on the creative computer, and in the keynote each outfit visualizes the steps we have to take to teach a machine what clothing is."
By starting with the a 3D scan of the shape of transgender model Amanda Lepore's body, and uploading to a UV heat map, the computer tags specific areas of the body to create clothing. The presentation is inspired by the process of machine learning, and Miranda also worked out a way that the computer can recreate a person's handwriting by collaborating with the gothic band Christian Death; the online tool to generate one's own piece with handwriting by the band members will be released soon. "To me couture originally meant the inspiration for the whole fashion industry," she says of why she opts to show during couture week. "This has slipped in the last decades and with the rise of technological processes in fashion, this is the time when couture can again be the platform for research and a space for free ideas to serve the commercially driven industry."
Aganovich
Last year, Aganovich joined the couture calendar for the very first time. The brand, created by Nana Aganovich and Brooke Taylor is just shy of five years old. Their debut couture collection was inherently edgy. Think: deep black tops with winding ruffles, tough molded leather jackets worn over layer and layers of poufy skirts, and coats made of luxurious Rubelli brocades from Venice, their raw edges showing.
In that respect, this season was just as intriguing, with extreme checkered suits in daring silhouettes, lots of black leather, structured opera gloves and fabrics that looked like they had been hand-dipped in bleach. Aganovich may have just started showing on the couture calendar, but they're a welcome addition.
Yanina
Yulia Yanina may have founded her couture house 25 years ago, but for many unfamiliar with Russian fashion, the label still remains relatively behind the scenes. The atelier is located in a former private mansion in the center of Moscow, opposite the Red Square. She specializes in formal couture, and her atelier has over 80 artisans, including but not limited to eight designers, 24 embroiderers and 33 seamstresses.
This season, Yanina was inspired by the idea of a modern Audrey Hepburn. "It was about Hollywood and the two sides of our lives: the red carpet and what's inside of your soul. You can be really confident on the red carpet but also very tender inside. It's a new Hollywood and the new Audrey," she said after her runway show. The minimalist white and black mini gowns covered in sequins, feathers and rosettes were anchored by bright pink and orange floor-length dresses.
Xuan
As one of the few guest designers that is consistently listed on the official couture calendar, designer Xuan-Thu Nguyen produces her clothing in Holland and France. The Vietnamese designer grew up in the Netherlands with parents who founded a textile company, giving her a rich knowledge of fabrics and how to use them when it comes to couture. Nguyen launched her own label after graduating in 1999, first showing on the couture calendar in 2008. She then took a bit of a sabbatical and returned to the runway just two years ago, remaining an under-the radar-gem in the couture scene.
This season, Nguyen focuses on the color black, but not in the way you think—the abstract idea of happiness, joy, and bliss was represented through ever-evolving shapes and beautifully rendered silhouettes, with lots of pleating and conceptual construction. "For me, cheerfulness and joy doesn't need to be colorful," she said during her presentation. "Black represents all the colors that go into it. It's my own interpretation of it."
Yuima Nakazato
From using NASA technology to inventing new ways to create custom, one-of-a-kind clothing in sustainable ways, Japanese designer Yuima Nakazato constantly pushes the limits of what haute couture is. Last year, the Japanese designer created a collection inspired by the technology, the multipurpose elements and the resilient nature of space suits.For his spring 2019 couture collection, Nakazato expanded on concept he previously touched on in other collection as a way to make clothing more adaptable and permanent. Thinking about the impacts of consumerism in fashion, he created a system in which allows every single garment he makes to have the ability to change materials or size, or even renew or repair it by swapping out interconnected panels of recycled fabric from sentimental clothing that is no longer worn, held together with grommets and no thread. From a Swarovski-studded patchwork gown to a repurposed wedding dress, the pieces still feel incredibly high-end and are at the forefront of sustainability. "This collection features the stories of eight different people," he says, while the children's garments and wedding dress were presented exhibition-style. "These pieces pass on memories and traditions."