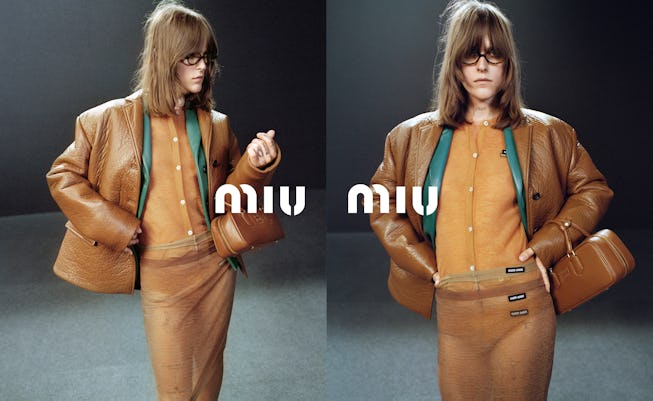 Courtesy of Miu Miu
Ethel Cain and Mia Goth Co-Star in Miu Miu's Latest Campaign
Featuring librarian glasses and beaded underwear.
Largely thanks to Bella Hadid, '90s The Devil Wears Prada-esque small glasses have become a hot commodity on fashion TikTok. "When no one notices I'm wearing Miu Miu eyeglass channeling Gisele Bundchen on Devil Wears Prada bc I live in a small Town" one creator posted in May this year. But on Thursday, the Miu Miu Fall 2023 campaign dropped and confirmed that this season, oversized librarian glasses will be the move for Miu Miu girls everywhere.
The campaign stars a bunch of fasion favorites: Ethel Cain, Emma Corrin, Mia Goth, Zhao Jinmai, Amelia Gray Hamlin, Annabelle Weatherly, and Zaya Wade. Photographed by Zoë Ghertner, styled by Lotta Volkova, and creative directed by Edward Quarmby, the new campaign features familiar items of clothing, including knee-length pencil skirts and oversized tailoring. Alongside the library-chic fits are some unexpected pairings (think Amelia Gray's black turtle neck with pink beaded underwear and tights).
Set in a large grey, empty space, the brand said that the images "occupy a place between real time and time to come" in a press release. "Between transient, democratic spaces in shades of grey – an airport? a TV studio? - and the notion of movement everywhere and nowhere. The characters who inhabit this world are both outward- and inward-looking."
Naturally, there's a video of the campaign exploring the "here and now" up on the Miu Miu website. "The performance of characters who inhabit this world is immediate – LIVE! – one moment, then self-absorbed, even remote, the next," it reads. "A studied disorientation occurs – the familiar is disrupted." If "artsy and mysterious" is your thing, this one's for you.