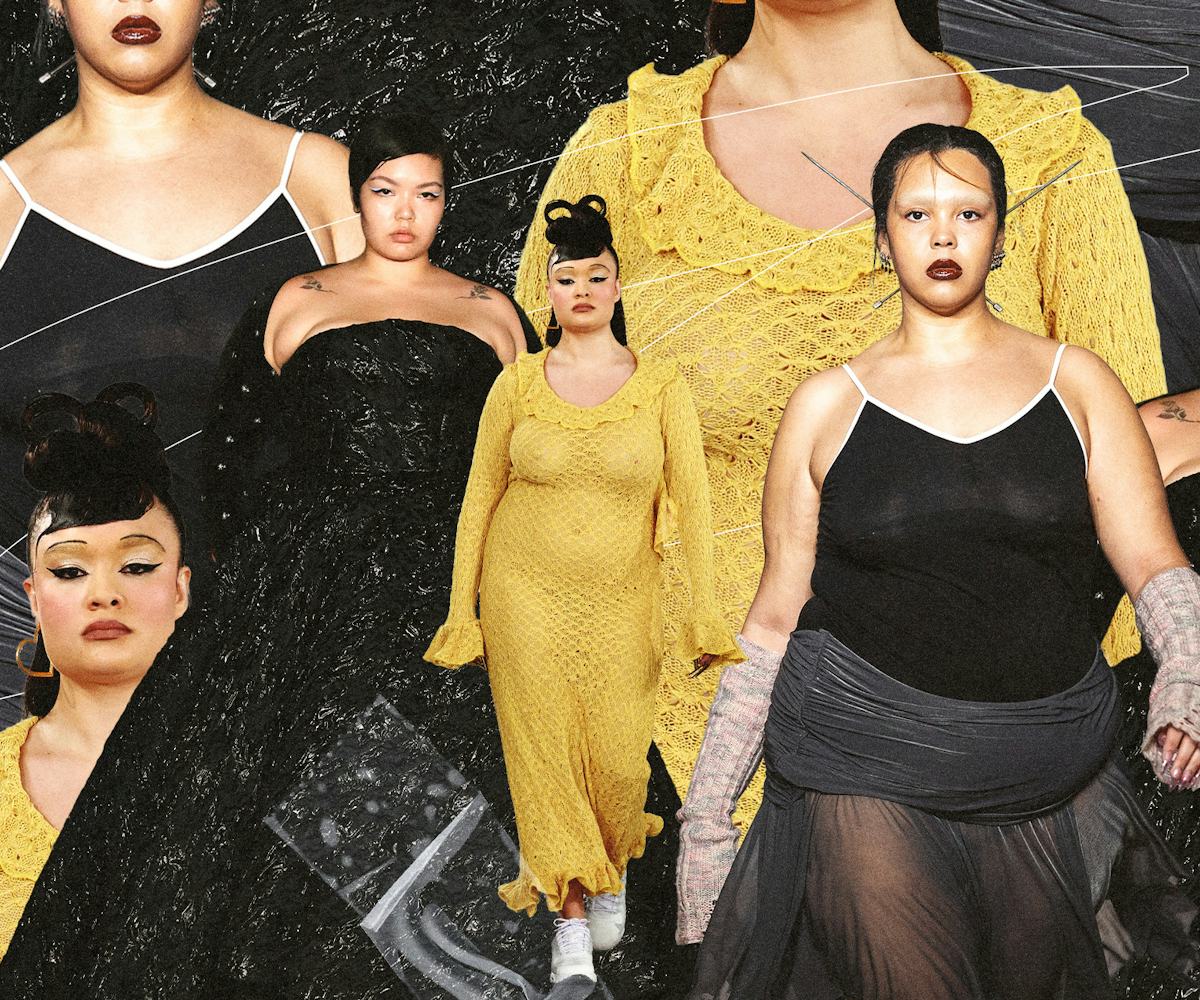 Lindsay Hattrick/Nylon; Masato Onoda/WWD/Penske Media/Arturo Holmes/Justin Shin/Getty Images
How Fashion Month Let Down Curve Models Everywhere
The industry's "body positive reckoning" was always performative, and the most recent runway season just confirmed it.
For Roseline Lawrence, who's worked as a model in New York for the past three years, New York Fashion Week has always served as a biannual reminder that, as a plus-size model, "you'll never truly be a part of the fashion world." For the past couple of years, Lawrence says she thought the industry was making baby steps toward size inclusivity, but this fashion month, the rug was pulled out from under curve models across New York, London, Milan, and Paris. This season, they went from being tokenized to not being invited or cast altogether.
For Lawrence, the shift from fashion week making some small attempts at size inclusivity to sending out a model lineup that looks straight out of the Kate Moss era has been trackable. "Usually I'm sent to maybe 10-15 castings for NYFW, but this year there were 0-2 castings that I heard of that were inclusive," she says. "I felt very unseen and also worried...what does that mean for the rest of the year? Outside of plus-size brands, am I even going to work?" This, of course, is all taking place after fashion's recent "body positive reckoning," with mainstream brands like ASOS and H&M extending sizes, to much fanfare.
According to The Fashion Spot's seasonal report, body diversity at NYFW was on a steady incline from Spring 2016 to Spring 2020. Despite this supposed progress, the one curve model on the runway was often a size 12 or below; representation for models above that size was nearly nonexistent. Since 2020, these efforts have dropped drastically. Last season, 49 out of 4,000 models at New York Fashion Week were plus size, and this season, that number fell to 31 out of roughly 3,200. At London Fashion Week, out of roughly 2,640 models who walked in shows this season, only 71 could be considered plus size, and Milan Fashion Week had 77 percent less plus-size models than London.
For some curve models, like New York-based Enga Domingue, this year was the final straw. After recently feeling "extreme pressure to lose weight," she posted on Instagram that it's clear to her "heroin chic skinny energy is really making a comeback," encouraging other curve models to "remember why they started." Domingue says the influx of diet culture rhetoric has triggered feelings she hadn't had since the height of battling an eating disorder from 2014 to 2016. "Brands make it very clear how they feel about curve models," she explains. "It's not a mistake, it's all very intentional."
At the end of last year, the NY Post controversially declared that "butts are out," after the internet declared "the end of the BBL era". We've also seen celebrities scramble to lose dress sizes, with whispers of Ozempic, in the face of a full-blown return of the painfully thin, "heroin chic" aesthetic. This pattern of dropping specific models was also seen after the 2020 Black Lives Matter protests; after all, the fatphobia the fashion industry perpetuates is rooted in anti-Blackness. "During the pandemic, we saw a huge wave of brand allyship, increases in casting diversity, and brand activism," says Domingue. "Now that the trend has passed and new trends like 'bimbofication' have come to the surface, brands are realizing that some of their consumers don't really care about their performative choices."
Human rights advocate and model maya finoh says the timing of this regressive behavior from brands feels intentional. "Towards the end of 2020, there were infographics popping up about 'ally fatigue', which was ridiculous, but I honestly feel like these brands just decided it's too much work to think about anti-Blackness and fatphobia all the time," they explain. "Part of me feels like 'BBLs being over' was a purposeful push from the fashion industry to justify caring less about having diversity on the runway." Additionally, finoh says that brands are now marketing "mid-size" models (or, size 12-14 models) as plus size, pushing those who are over a size 16 out of the industry completely.
By hiding behind what's trending, brands are able to serve a fatphobic agenda with very little pushback — despite having undeniable power in the creation of these trends themselves. This not only goes back on their previous commitments and statements, but it also lacks true creative vision, according to Lovisa Lager. "I just think it's boring," she says. "It's very lazy work and the effort isn't enough." With brands bending at the mercy of the trend-focused TikTok algorithm in an attempt to stay relevant, Lager says the platform itself is also pushing curve models out of the industry. "Just being a curvy girl on TikTok, you have much higher chances of your video being deleted," she continues. If the TikTok algorithm is actively suppressing creators in larger bodies at the same time that TikTok influencers are taking over front-row seats at fashion week, the result is an ugly manifestation of the fatphobia of social media algorithms playing out in real life.
The lacking presence of curve models on runways and in front-row seats is already impacting plus-size customers. "We're hearing from brands that retailers and department stores are canceling orders of plus-size clothing, which of course will make it harder for plus-size customers to shop," says Nadia Boujarwah, CEO and co-founder of Dia & Co. "We should expect that style counts will come down if we continue to see representation regression on the runways." Historically, brands have blamed this on manufacturing restrictions, but with a number of brands making it work, halting any progress on that front will let down the majority of customers with massive spending power (after all, the average American woman is a size XL).
For models like Rebecca Louisy, who's based in London, it's become impossible not to notice other plus-size models slimming down, then becoming "suddenly booked and busy." This has confirmed something that she's always felt: there's been no real awakening. "The fashion industry is just responding to trends and the progress is microscopic," she says. "Unfortunately, fashion week wasn't made for girls that look like us. I feel like we've taken five steps forward and 10 steps back this year, more than any other."
There's no doubt that most brands that showed at fashion month this season missed an opportunity to rebuke the return of heroin chic and the chance to send a strong message that the merry-go-round of trends won't distract them from having a true artistic vision (and an attention span that lasts longer than what body type is "hot" right now). "Bodies are not trends. Period." says New York-based model Diana Veras, who opted out of events this season to protect herself from spaces that don't value her. "We must hold other people accountable for the part that they play in this system. If you are in a position of power and can make change, this problem is also on you. If you feel like it's not on you, point us in the direction of who is responsible— we have a couple of questions."