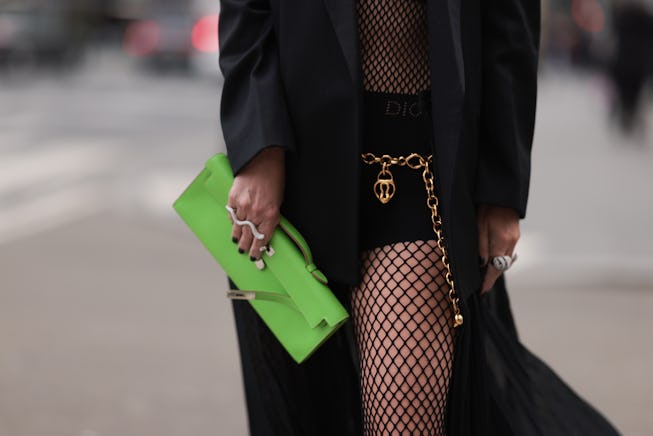 Jeremy Moeller/Getty Images Entertainment/Getty Images
10 Unexpected Fishnet Fits From The Streets Of New York Fashion Week
Fishnet tights are a staple of fashion — and are getting updated for 2023.
We may receive a portion of sales if you purchase a product through a link in this article.
Originating from nets used to catch literal fish, the fishnet has been reimagined by everyone, from 1920s showgirls to 1980s rockers, becoming a tried-and-true wardrobe staple at the intersection of utility and sexiness. Now, we're seeing fishnets making a comeback on the streets of New York Fashion Week.
It's a trend that's in line with the larger punk and '00s indie sleaze resurgence, but if fishnets feel too rockstar or too Tumblr for you, you can always try a style in a bright color, or try putting it somewhere on your body that's not your legs: We're seeing fishnet tops and dresses in pastel purple and bright orange, as well as the black fishnet bags.
Below, a few street style inspo pics, along with a few pieces to buy when you're ready to try the trend out for yourself.