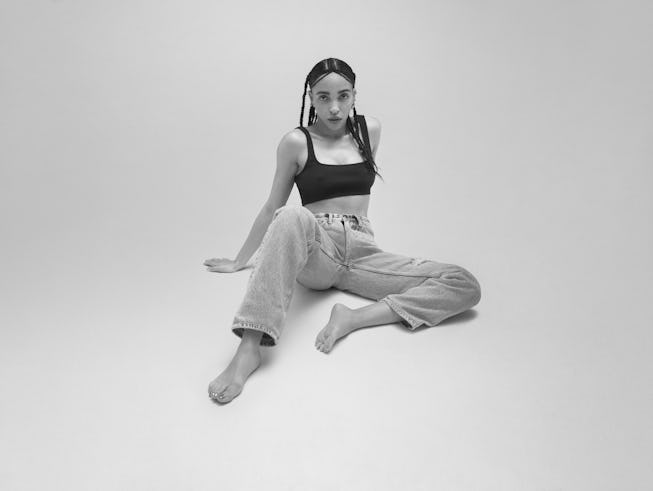 Calvin Klein
Exclusive: Watch FKA Twigs On the Set of Her New Calvin Klein Campaign
The singer talks her favorite Calvin Klein pieces, her new music, her personal style, and more.
FKA Twigs wears her Calvin Klein underwear both in bed and at the club. Who knew she was just like us? But it's easy, especially as an artist known for bespoke movement, to tap into the duality of a brand that's as comfy as it is effortlessly sexy.
"They're pretty hot," Twigs recently said on the set of Calvin Klein's Spring 2023 "Calvins or nothing" campaign, the second installment of which she is the star. "They're really fun because you can style them any way...they're kind of comfy sexy and can go underneath something fancy or go underneath something casual."
Shot and directed by Twigs' close and personal friends Mert Alas and Marcus Piggott, who recently shot Kim K for Dolce's Spring campaign, Calvin Klein's campaign includes a slew of stars as effortlessly cool as Calvins themselves: Jennie from Blackpink, Kendall Jenner, Michael B. Jordan, and Aaron Taylor-Johnson, all portrayed in stripped down, understated glam, as well as new pieces, including athletic cotton performance underwear and cotton lace bralettes, along with 90s-inspired jeans in new silhouettes and washes, and our personal favorites: a sculpted denim bra and an ultra-high cropped wide leg jean.
DIRECTED AND PHOTOGRAPHED BY MERT AND MARCUS
DIRECTED AND PHOTOGRAPHED BY MERT AND MARCUS
DIRECTED AND PHOTOGRAPHED BY MERT AND MARCUS
DIRECTED AND PHOTOGRAPHED BY MERT AND MARCUS
DIRECTED AND PHOTOGRAPHED BY MERT AND MARCUS
Along with the campaign, Twigs will also debut a new, unreleased track in the campaign alongside visuals capturing her distinct movements — movement that her Calvins allow for, no matter what personal style era she's in.
Although now, Twigs revealed she's recently been leaning into a moodier place, both in her style and in her creative work.
"I think my personal style changes depending on what mood I'm in, what country I've been in, what music I'm making, what dance moves I'm learning," says Twigs. "At the moment I'm being drawn back to the darker side of myself and the more brooding side of myself. That started with me dying my hair back to black a few months ago and it's definitely sort of echoing through my musical choices in terms of what I'm choosing to make and also my dance moves. I guess I feel like i'm connecting back with my raw sexuality a lot."
You can shop the collection on calvinklein.com now, and watch the full video of FKA Twigs on set below, where she talks about her movement style, her confidence, and her mom's 1990s Calvins.